Meesapulimala trek: A delightful trek to Kerala's second highest peak
"Have you seen snowfall in Meesapulimala?" Charlie asks Kani who is about to commit suicide. It is a dialogue from the famous Malayalam movie 'Charlie' released in 2015. Ever since the release of this movie, Meesapulimala became an overnight sensation, and there was one more reason to visit Munnar now.
The Meesapulimala peak is the second highest peak in Kerala, located in Munnar along the borders of Tamil Nadu and Kerala. It is named so as one of the peaks in Meesapulimala resembles the whiskers of a tiger.
The Meesapulimala trek, organised by KFDC (Kerala Forest Development Corporation), covers eight hills in total on the way to the peak. The hike is through open meadows and is very scenic as it surrounds you with tall mountains, green valleys and a bird's eye view of Munnar.
I did the Meesapulimala trek with my friends with the help of KFDC. The following guide tells you everything you need to know about the Meesapulimala trek, including an itinerary that you will follow during your journey.




KFDC Meesapulimala package
The Meesapulimala trek is conducted exclusively by KFDC, Munnar. Hence, there is no possibility to do this trek on your own.
There are three different types of trek and camping packages offered by KFDC. Every package includes food, accommodation and a trekking guide. You get evening snacks with tea, dinner, breakfast with tea, and packed lunch in terms of food.
Base Camp
It is the most economical and popular option available for trekkers. You stay in tents situated in the base camp (located inside a reserve forest), and every tent accommodates two people.
The base camp has a small pond and a building that houses the staff and the kitchen. There are separate shared bathrooms as well, in case you want to freshen up.
The cost for two persons is INR 4,000.
Sky Cottage
Sky Cottage is a secluded house ideal for honeymooners and located on the top of a cliff with open views. You can view valleys and a waterfall from the comfort of your room here. You can view the night sky from your room as they have a glass ceiling.
The cost for three persons is INR 9,000.
Rhodo Mansion
Rhodo Mansion is the costliest of the lot and is at the highest point out of all the three stay options. The actual trek to Meesapulimala starts from here, and this is where the off-road limit ends.
Hot water is available here as solar energy powers this place. The main advantage of Rhodo Mansion is that you can observe the sunrise and sunset from a viewpoint nearby, and you have in-house chefs who cook food for you.
The cost for two persons is INR 6,000.
Note: The rates keep changing, so check the KFDC website to get the updated rates.


How to confirm your KFDC Meesapulimala booking?
You can confirm your Meesapulimala trek booking from the KFDC website. If you have any doubts, you can also call them up (Ph: +91 4865 230332, Mob: +91 8289821408), and they will be more than happy to help you.
Apart from the camping packages, you can also ask any other general questions you may have about the trek. I was able to get many questions clarified through a phone call I had with one of the forest officials.
If you are in Munnar, you can also book the KFDC Meesapulimala package by visiting their KFDC office in Munnar. However, it is better to book the trek in advance as they allow a limited number of tourists per day.


Meesapulimala Route Map
The journey starts from the town of Munnar. You have to collect your pass from the KFDC office in Munnar which is at a distance of 2.5 km from the centre of Munnar. After that, you proceed towards the KFDC base camp. Although it shows 1 hour on the map, the journey from the KFDC office to the KFDC base camp may take up to 1.5 hours due to the road conditions.
The roads are narrow as you will be passing through tea plantations and some stretches of the road are in good condition while other stretches of the road are untarred. Moreover, there are a lot of twists and turns that you need to navigate through. So, drive slowly if you are taking your own vehicle.


Meesapulimala Trek itinerary (1 day/1 night)
Day 1
Your journey to Meesapulimala starts only in the afternoon. Please reach Munnar in the morning so that you have time to roam around Munnar before making way for Meesapulimala.
You can choose to visit the Mattupetty dam and Top Station since both are on the same route. However, these are commercial tourist places in Munnar, but the drive through this route is pretty scenic. If you don't have your vehicle, you can easily find shared jeeps in Munnar and even buses that go through these places.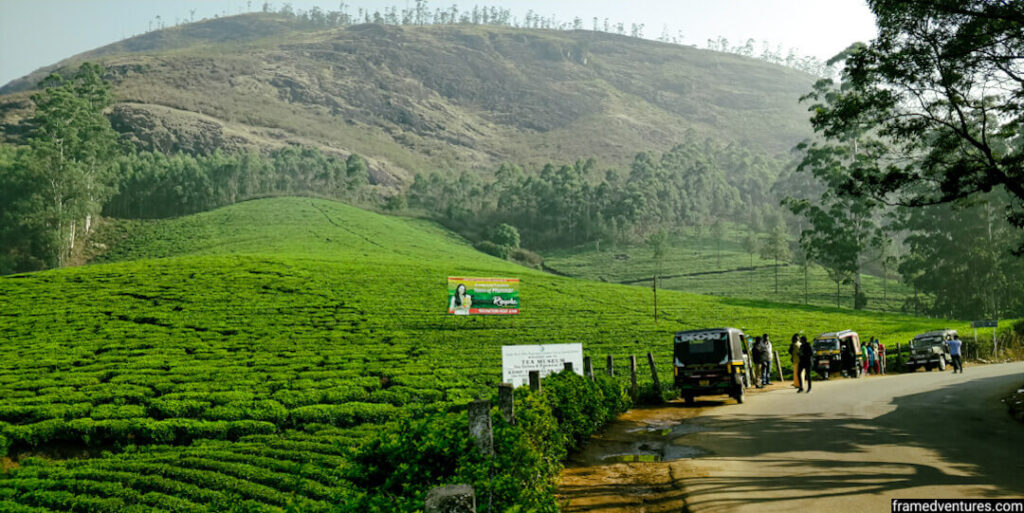 Irrespective of where you travel in Munnar, come back to Munnar town by early afternoon and have lunch. Ideally, you should start your journey towards Meesapulimala at least by 2 pm so that you reach your destination by 4 pm. It ensures that you arrive in Meesapulimala well before sunset.
Before starting for Meesapulimala, visit the KFDC office in the town and collect your pass for Meesapulimala. Whether you booked your package online or offline, you need to take your ticket for Meesapulimala from the KFDC office. Your journey towards Meesapulimala starts from the KFDC office, and it can take up to 1.5 hours, depending on your speed.
If you don't have a vehicle, you would need to hire a jeep from the KFDC office. It costs INR 3,000 to take you to and from Meesapulimala. It is better to call them up in advance and inform them to be on the safer side.
Suppose you are coming by your vehicle. In that case, it is preferable to have an SUV because the final stretch to the Meesapulimala base camp and beyond is entirely off-road and bumpy.
One of my favourite aspects about Meesapulimala was the drive to Meesapulimala itself. You will be passing through varying landscapes. A vast stretch of tea plantations, tall mountains and quaint villages welcome you on your journey. There are ample opportunities to take photos, so be sure to take breaks in between.
On the way, we stopped at a village to have tea from a roadside stall as we saw some village kids playing football in an open field amidst the backdrop of huge mountains. These are sights that you usually don't see anywhere else, and you will find many such views on your ride.
The last 2 km to the base camp and beyond will be completely uphill and off-road, so you need to park your vehicle if it's not an SUV right before the ascent (you will know it when you see it) and trek 2 km to the base camp. We did this since we weren't able to drive further with our Maruti Swift.
The Sky Cottage is 300 metres behind on the way to the base camp, whereas the Rhodo Mansion is another 4kms from the base camp. Irrespective of where you are staying, report at the base camp first, after which an officer will guide you to your respective accommodation.
Once you reach your stay, you will be checked in and provided with tea and snacks. If you stay at the Rhodo Mansion, you will also be taken to a nearby place to watch the sunset if you make it on time.
The kitchen staff serves you dinner by 8 pm. KFDC has both vegetarian and non-vegetarian options.
Keep yourself warm by spending some time at the bonfire afterwards. If you are at the base camp, you can socialise with other trekkers and travellers.
Retire for the night.
Day 2
The following day, tea and breakfast are served in the morning. Get ready and obtain your packed lunch from one of the forest officials. 
A trekking guide will be assigned to each traveller group and will be with you during the entire duration of the trek.
Your trek starts at 8 am or 9 am but may vary depending on where you are staying. If you are at the Rhodo Mansion, your trek will start earlier so that you get to see the sunrise as well.
If you stay at the base camp or the Sky Cottage, you need to take your vehicle or hire a jeep that takes you to Rhodo Mansion (additional charge for the same). The Meesapulimala trek route starts from here. It is 4km from the base camp. The drive to the Rhodo Mansion is through the thick rainforest.
Once you reach Rhodo Mansion (from the base camp or the Sky Cottage), the entire landscape becomes different. You will only see mountains and open grasslands around you.
From the Rhodo Mansion, the Meesapulimala peak is at a distance of 4 km. The trekking route is pretty flat until the last portion of the trek, which ascends to the top. However, being an open area, the sunlight is a bit harsh, so wear a hat, take breaks in between and hydrate yourself regularly.
There are eight hills to cross on the way to the top. The hills are open meadows with grass and some shrubs growing on them. If you are lucky, you might get to see some rare animals like Nilgiri Tahr and Wild Gaur that reside here. We were able to spot some from a distance.
Keep an eye on the small water streams around these hills. These are constantly flowing from the top of the mountains. The water from these streams is the purest form of water you can have. Drink it directly from the stream and fill your bottles as well. It will energise you like no other energy drink ever will!
Once you reach the top, if you're lucky, you will be engulfed or surrounded by clouds. You can see other mountains from Tamil Nadu neighbouring Meesapulimala. Kolukkumalai, the famous mountain peak with the highest tea plantations in the world, is located opposite Meesapulimala. There is even a route from Kolukkumalai to Meesapulimala, but trekking is strictly banned.
Spend some time at the top of Meesapulimala and take in the beautiful scenery around you. Have your photo sessions and observe the panoramic views from the top. In our case, we could not see much apart from a few mountains nearby because we had constantly moving clouds for company. Have your packed lunch afterwards.
After spending some time, make a move for Rhodo Mansion. The trekking route will be parallel to the path you took before, and it takes around 3 km to reach the Rhodo Mansion. You will be descending through the open grasslands until you pass through a forest cover. The Rhodo Mansion is right next to the forest cover.
If you have booked your accommodation at the base camp or Sky Cottage, you will be taken there by your jeep (or use your vehicle). It will be evening approximately by the time you reach your accommodation. We reached base camp by around 4 pm.
You can ask for tea and some snacks again and start your journey back to Munnar before it becomes dark. On the way back from Meesapulimala to Munnar, reminisce all the beautiful experiences and memories you had in the mountains before you enter civilisation again.


How to reach Munnar
Get to Munnar first before going to Meesapulimala. There are different ways in which you can reach Munnar.
By bus
If you are coming from Kochi, the cheapest way to reach Munnar would be by taking a government bus (KSRTC) which is available frequently. If you are coming from nearby states like Tamil Nadu and Karnataka, you can get inter-state government buses to Kochi.
By train
The nearest railway station to Munnar is Aluva, which is 110 kilometres from Munnar. Ernakulam Railway station (Kochi) is the nearest railway station after that at a distance of 130 km from Munnar.
By flight
Cochin International Airport is the closest airport to Munnar at a distance of 110 km from Munnar. If you are coming from a distant state, the most practical option would be to take a flight to Kochi and then take a bus to Munnar.


How to reach Meesapulimala
The distance from Munnar to Meesapulimala is close to 20 km, and it takes around 1.5-2 hours to reach there. Your journey starts from the KFDC office. Either take your vehicle to Meesapulimala base camp or hire a jeep from the KFDC office.


Travel tips for Meesapulimala
You need to collect your passes from KFDC Munnar even if you have booked your tickets online.

Wear proper trekking/sports shoes and carry a towel.

Wear active clothes instead of cotton clothes because you will be sweating a lot while trekking.

Make sure you start your journey by 2 pm from KFDC Munnar so that you reach your accommodation in Meesapulimala by 4 pm at least. It starts getting darker after that. As a bonus, you can also view the sunset if you are staying at the Rhodo Mansion.

You can take your vehicle and drive to Meesapulimala base camp, but it is preferable to have an SUV suitable for rough terrains.

Carry one warm layer or a jacket as it becomes colder when you reach your destination. The temperature in Meesapulimala, especially at night, goes down to single digits.

You will be trekking with a forest ranger always. Try to ask as many questions as you can about Meesapulimala as they have tons of useful knowledge and wisdom to share about this place.

The water at your accommodations will be icy cold except for at Rhodo Mansion, where you will get warm water as well.

Carry a hat and hydrate yourself regularly while trekking. It is also advisable to carry other healthy snacks like dry fruits and peanuts.

Don't expect any network once you start your journey to Meesapulimala.




Frequently Asked Questions
Is Meesapulimala and Kolukkumalai same?
Meesapulimala is the second highest peak in Kerala located along the borders of the Idukki district (Kerala) and Theni district (Tamil Nadu). On the other hand, Kolukkumalai is a hilltop located exclusively in the Theni district with the highest tea plantations in the world. Both the peaks are located close to each other but trekking between both the peaks are highly restricted.
How can I get to Meesapulimala from Ernakulam (Kochi)?
There are a number of private and government (KSRTC) buses that run from Ernakulam to Munnar on a daily basis. After reaching Munnar, you have to report to the KFDC Floriculture Centre (KFDC Office) from where you can hire a jeep to Meesapulimala.
How do I get to Meesapulimala?
After reaching Munnar, you have to report to KFDC Floriculture Centre (KFDC Office) from where you need to hire a jeep to Meesapulimala. If you have your own vehicle, collect the pass from the KFDC Office and continue on the Munnar-Gudarala road. You will also be provided with directions from the KFDC Office. It takes 20 km to reach the Meesapulimala base camp.
If you are staying at Rhodo Mansion, you have to drive 4 km further from the base camp to reach your destination.
Which is the best time to visit Meesapulimala?
The best time to visit Meesapulimala is from October onwards, right after the monsoons are over. The landscape becomes a lot greener and vibrant. Till February, the climate in Meesapulimala is pleasant and suitable for trekking. You can also trek in March and April but be prepared to face higher temperatures.


Conclusion
If you are coming to Munnar, make sure you give this place a visit because, as Charlie suggested in the movie, you need to visit this place at least once before you die. Thanks to Meesapulimala, I experienced a different side of Munnar, one that is less explored and far away from the maddening crowds in Munnar town.
Unaware to many people, the famous purple-blue flowers of Neelakurinji bloom here as well once every 12 years. Another lesser-known fact about Meesapulimala is that it is a UNESCO World Heritage Site.
So there you go. I have given you enough reasons and a complete guide to help you plan a trip to Meesapulimala. What have you decided? Have you been to this less-explored destination in Munnar? Let me know in the comments!