Brahmatal Trek Itinerary: The Perfect Trek To Unwind Your Soul
After taking some time off for a week, I returned to my office. However, this time, something felt weird. I was not able to focus on work. For the first time, I had an existential crisis at my workplace and kept asking myself questions like these:
"Where am I?
"What am I doing here?
"Was I in a dream last week?"
It took me almost a week to familiarise myself with my workplace surrounding. As my first-ever Himalayan expedition, the Brahmatal trek profoundly impacted me, unlike any other trip that I had done before.
I'm sure it will do the same to you, especially if you've never done a Himalayan trek before. Located in Uttarakhand, the Brahmatal trek is known for its vast meadows, panoramic views of snow-laden Himalayan peaks, and its everchanging colours across different seasons of the year.
There are plenty of other attractions on this trek that make it worth it for any beginner trekker. In this guide, I will walk you through some of them via the Brahmatal trek itinerary I followed with Himalaya Trekker that made me fall in love with the mountains.



Where is Brahmatal?

Brahmatal, also known as Brahma Tal, is a Himalayan trek located 200 km from Nainital in Uttarakhand. The base camp of the trek is Lohajung which it shares with another famous trek in the region, the Roopkund trek. While trekking in the Brahmatal, you can even see the trails of the Roopkund trek on the opposite side.
However, the Hon'ble High Court of Uttarakhand banned the Roopkund trek in 2019. Since then, the Brahma Tal trek has gained popularity as it has a similar landscape to the Roopkund and is much easier than the former.
The Brahmatal trek starts from Lohajung, covering 30 km and spanning six days. Being a popular trek in Uttarakhand, various trek operators conduct this trek.


Why should you do the Brahmatal trek?
There are so many reasons you should do the Brahma Tal trek in Uttarakhand. Given below are five of the most important ones that make this trek a memorable one:
1. Camp near two different alpine lakes
The Brahmatal trek goes through two alpine lakes: Bekaltal and Brahmatal. Not just that, as part of your Brahmatal trek itinerary, your campsites are set up near these two lakes, thereby giving you time to sit beside these lakes and enjoy the scenery.
Both lakes are in distinct settings as well. The Brahmatal lake appears as a heart-shaped crater on a meadow, whereas the Bekaltal lake is tucked deep inside a forest surrounded by oak trees.
Spend some time besides both these and enjoy the sights and sounds of nature.
2. Stunning expansive meadows and ridgelines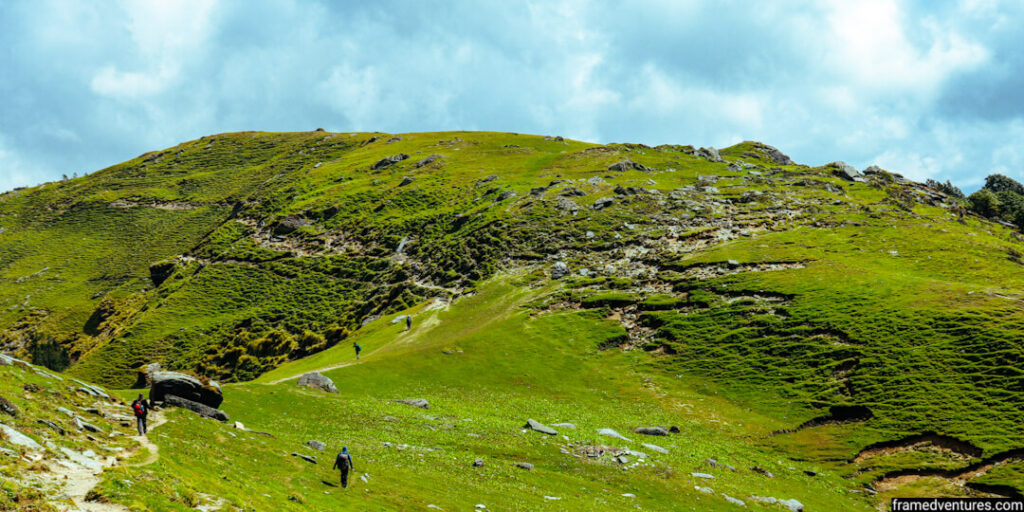 One of my personal favourites, the meadows and ridgelines of this trek, is sure to leave you spellbound. It feels as though you are in Switzerland.
This walk starting from Tilandi gives you clear views of enormous mountain ranges, the bluest of skies and snow-laden peaks. In short, everything you could ask for appears in one place in front of you.
But that's not it, as you walk further, you'll see the landscapes changing. If you're a shutterbug, the photos you get on this portion of the hike will be among your favourites.
3. Different seasons, different landscapes
One of the best things about the Brahmatal trek is that apart from being a beginner's trek, it remains accessible most of the year. You can do this trek during spring (March-April), autumn (September-November) and winter (December-February). There are very few treks in the country that can say that about themselves.
To add to that, the landscapes you experience are entirely different during all the seasons. You'll encounter rhododendron blooms during spring, clear mountain views during autumn and a winter wonderland filled with snow during winters.
4. Huge snow-laden peaks give you company, daily
The most surprising aspect of this trek is that you get views of snow-laden peaks like Mt Nanda Ghunti starting from Day 1 right in front of your guest house.
As you walk on the meadows of Tilandi on Day 3, you'll again see the peaks of Mt Nanda Ghunti and Mt Trishul. After that, you get to witness these peaks and their surroundings almost daily from different angles.
The summit climb, however, has the most memorable scenes. You can witness panoramic views of these vast peaks and their neighbouring mountain in all their glory from Khamila Top (the highest point of this trek), leaving you fulfilled to the core.
5. The best beginner trek to offer a complete Himalayan experience
As I mentioned earlier, the Brahmatal trek made me fall in love with the Himalayas because of all the sceneries and landscapes I witnessed here.
Be it walking through a forest filled with oak and rhododendron trees, camping near alpine lakes, hiking on expansive meadows or seeing snow-laden peaks daily, you'll feel rewarded, especially if this is your first-ever Himalayan trek.
And the best part is that it doesn't demand a lot of time or energy from you to have these experiences because the Brahmatal trek is a 30-km trek averaging only 4-5 km daily. It makes the Brahmatal trek one of the most value-for-money Himalayan treks for beginners.


How to reach Brahmatal?
To reach Brahmatal, you need to get to Lohajung first. Now, there are a couple of ways you can reach Lohajung.
1. Reach Dehradun
Dehradun is on the western side of Lohajung. From Dehradun, Lohajung is close to 300 km and a 9.5-hour drive. You could choose this route because Rishikesh is near Dehradun and on the way to Lohajung. As such, you can come early before the trek commences and spend some time in Rishikesh.
If you're coming from a different part of the country, you can take a flight to Dehradun. You can also take a flight to New Delhi and then take an overnight train/bus to Dehradun to save some costs. There are plenty of trains/buses to Dehradun.
From Dehradun, you need to hire a private/shared cab to reach Lohajung.
To make it convenient for you, you can use the shared cabs/tempo travellers provided by trek operators that start their journey from Dehradun.
2. Reach Kathgodam
Kathgodam is an alternative to Dehradun, located on the south of Lohajung. You can choose this option to visit Nainital before the trek as it is just an hour away from Kathgodam.
If you're doing the Brahmatal trek from Delhi, the only way to travel to Kathgodam is to take a train/bus from there. Hence if you're travelling from afar, you can take a flight to New Delhi before boarding a train/bus to Kathgodam.
From Kathgodam, just like in Dehradun, you need a private/shared cab to Lohajung.
As I did the trek with Himalaya Trekker, they provided shared tempo travellers for the group right outside the Kathgodam station.


Brahmatal trek route
Day 1: Reach Lohajung from Kathgodam or Dehradun
From Kathgodam
Drive distance: 220 km
Duration: 10 hours
From Dehradun
Drive distance: 272 km
Duration: 10-11 hours
Day 2: Kathgodam to Bekaltal
Trek distance: 6 km
Duration: 4-5 hours
Day 3: Bekaltal to Brahma Tal
Trek distance: 6 km
Duration: 4-5 hours
Day 4: Brahma Tal to Khamila Top/Jatropani and back to Brahma Tal camping ground
Trek distance: 7 km
Duration: 5-6 hours
Day 5: Brahmatal to Tilburi
Trek distance: 4-5 km
Duration: 4 hours
Day 6: Tilburi to Lohajung via Wan
Trek distance: 5 km + 15 km
Duration: 3 hours + 1 hour
Day 7: Drive from Lohajung to Rishikesh or Nainital
To Rishikesh
Trek distance: 256 km
Duration: 8 hours
To Nainital
Trek distance: 200 km
Duration: 7 hour


Brahmatal trek itinerary
Different operators take different routes and break to conduct the Brahmatal trek. For example, Indiahikes has a campsite at Tilandi on Day 3, while other trek operators camp at Brahmatal. However, one constant thing is that it takes six-seven days to do the Brahmatal trek (including the journeys to and fro Lohajung).
In the Brahmatal trek itinerary below, I share the itinerary I followed during my experience with Himalaya Trekker. Note that I did the Brahmatal trek in October so your experience may be different depending on the season you choose.
Day 1: Reach Lohajung (7,600 ft)
Your Brahmatal trek itinerary begins from Lohajung. You'll cover the 10-hour, 220 km long drive from Kathgodam to Ranikhet in a shared tempo provided by Himalaya Trekker.
Note: Some trek operators start their Brahmatal trek itinerary from Dehradun/Rishikesh to Lohajung.
I booked the Ranikhet Express from New Delhi, which reaches Kathgodam by 5 am. If you're coming from New Delhi, this is the most convenient and economical way to reach Kathgodam on an overnight journey.
Note: As Nainital is only an hour away from Kathgodam, you can travel to Nainital a day before and explore the place.
After reaching Kathgodam, my fellow trekkers and I freshened up at the washroom in the Kathgodam railway station. At the station, we met other fellow trekkers and met our driver.
By 7 am, we started our road trip. On the way, we stopped to have some breakfast from a roadside restaurant.
The route from Kathgodam to Lohajung is a treat to the eyes. As you cover the distance from Kathgodam to Lohajung, you traverse two different regions of Uttarakhand: Kumaon and Garhwal.
Initially, you'll be driving through winding roads as you pass through tall mountains and vast valleys along the way. As you go further, you'll be crossing pine trees, a couple of rivers and small villages.
In short, the drive from Kathgodam to Lohajung is enough to keep you engaged for 10 hours.
We reached our guesthouse by around 7-8 pm, and by this time, it was dark. At 7,600 ft, Lohajung is cold, especially at night and early morning.
We settled in and had our dinner prepared by the staff of the Himalaya Trekker.
One of the best things about Lohajung is seeing the Nanda Ghunti peak in front of you. From our guesthouse, we were able to see the moonlight falling on the peak at night. If you're able to reach before sunset, you can also enjoy the orange colours of the sun shining on the snow-laden peak.
It is the perfect icing on the cake after a long journey from Lohajung.
Day 2: Lohajung (7,600 ft) to Bekaltal (9,670 ft)
We start our Brahmatal trek today. We got ready in the morning, had our breakfasts and left the things we didn't need in our guesthouse.
Note: Always put the excess things you don't need for the trek in your accommodation provided by the trek operator.
At Lohajung, you'll find a few stores that sell clothes and accessories you might need for the trek, like jackets and shoes. However, I recommend carrying everything in advance instead of relying on these shops.
We met our trek leader and his supporting staff. Unlike the usual trek leaders from cities, our trek leader for the Brahmatal trek was an experienced local trekker from Uttarakhand. Hence, we gained some insightful knowledge and hidden secrets about the Brahmatal trek and this region making our experience more immersive.
We started our trek at 9 am from Lohajung. Initially, we walked through the streets of Lohajung, featuring a few general stores and houses. We then enter a forest trail and go through small farms and local homes as we start seeing panoramic views of a valley in front of us.
Today's walk is mostly inside a forest characterised by oak trees and rhododendrons that bloom during February and March. The walk is relatively easy as you'll ascent through this densely-populated forest alongside a stream. Hence, you'll find multiple opportunities to fill your water bottle.
After trekking for 4 hours, we reached our first campsite called Khopdalia at around 1 pm. This campsite is a perfect setting for a picnic spot.
Covered by thick forest, Khopdalia is a small clearing inside a forest with a small pond surrounded by mountain ranges. You're completely immersed in nature here as all you see, hear and feel are the sights and sounds of nature.
As we checked in to our tents, we had a hot lunch prepared by our staff. In the evening, we visited Bekaltal, just 10 minutes from the campsite. Bekaltal is a small lake surrounded by thick oak trees deep inside a forest. It is a great place to chill and spend an evening.
You can also check out the sunset from the campsite in the nearby mountain ranges in the evening. The entire sky becomes orange.
Day 3: Bekaltal (9,670 ft) to Brahma Tal (10,660 ft)
Today, we start our trek to Brahmatal, which is 6 km away from Bekaltal.
We started our trek by 9 am. Initially, we trek through the same forest filled with oak and rhododendron trees. This hike is more or less similar to the forest walk we had yesterday.
However, after an hour, we reach the open meadows (called Tilandi) on the trail for the first time. Known as bugyal, this green expanse is a welcome change from the forests we walked through for the past two days.
This hike from Tilandi to Brahmatal is one of the highlights of this trek.
Tilandi is a vast meadow with clear blue skies, huge mountain ranges and sweeping valleys nearby. The peaks of Mt Trishul and Mt Nanda Ghunti were visible right in front of us.
It is hard to find such open landscapes on any trek. We took a break and spent some time raking in the panoramic scenery around us.
From Tilandi, we continued our trek to Brahmatal, walking along a ridge as the landscape around us opened up even more.
The hike is mostly a descent from the ridge, and we reached the Brahmatal campsite by 1 pm. At 10,660 ft, the Brahmatal camp is half a kilometre from Brahmatal, the second lake on this trek.
Unlike our previous campsite, the Brahmatal camp is on a meadow neighbouring a stream of water and surrounded by a few trees.
In the evening, you can visit the Brahmatal lake or roam around the area as there are many sceneries to take. Around this time, we experienced a hailstorm at our campsite, making the entire landscape appear as if there was snow.
The highlight of the day, however, was the night.
We could see the stars in the sky and the Milky Way Galaxy. It was as clear as you could see. As a photographer, watch out for this occurrence if you're at this campsite.
Note that it becomes cold at night, though, so layer yourself properly.
Day 4: Brahmatal (10,660 ft) to Khamila Top/Jatropani (13,120 ft) and back to Brahmatal
The sunrise from the Brahmatal campsite is spectacular. As you open the zip of your tent, you'll see the orangish horizon line stretching across the sky with the mountain ranges beneath it. To witness the sunrise, try to wake up before 6 am.
The summit of the Brahmatal trek is today. We need to cover a 5-6 km distance that may take up to 6-7 hours to reach the top, i.e. Khamila Top, and come back. As we'll be returning to the same campsite, you can leave your stuff here.
We had our breakfast and started our journey by 8 am.
This hike to reach the top is challenging. You'll only be ascending until you reach the top. One hack you can use is taking small steps and climbing in a circle instead of vertically. In this way, you save energy and enjoy the views in a better way.
After climbing for two hours, we finally reached the top, making our efforts worthwhile. You can see panoramic views of Mt Nanda Ghunti, Mt Trishul and the nearby mountain ranges.
We reached the right time because the sun was high up in the sky, and everything was crystal clear. Apart from the snow-clad mountain peaks, we saw neighbouring mountain ranges with vast meadows, ridgelines and a thick layer of clouds floating across the blue skies.
It is a sight to behold and experience, especially if this is your first-ever Himalayan trek.
We spent two hours at the top and had our packed lunch before making our way back as we reached our campsite by 2 pm.
The rest of the day is yours to explore around the Brahmatal campsite.
Day 5: Brahmatal (10,660 ft) to Tilburi (9,670 ft)
We make our way back to Lohajung starting from today. On the way, we stop at Tilburi, which is our last campsite, before we reach Lohajung.
We started our trek by 7:30 am as we crossed the Brahmatal lake on the way. The Brahmatal lake is a heart-shaped lake sitting in the middle of a grassland. At this time, the lake appears in the deep blue as it reflects the sun's rays.
Today's walk is another one for the soul. After crossing the Brahmatal lake, we hike across a mountain top and circle around its edges. As we do this, we get another chance to see the neighbouring snow-laden peaks at a distance.
What makes it even more remarkable is that the scenery keeps changing depending on where you are. It becomes hard to maintain your pace with the group when your eyes seem fixated on such beautiful settings.
Soon enough, we descended through a forest filled with oak and rhododendron trees. This descent can be slightly tricky so be careful.
After covering 5 km, we reached Tilburi (9,670 ft) by 1 pm. It is a small clearing at the edge of a mountain from where we could see the neighbouring mountains and the Wan village that we cross the next day.
Another highlight of the Brahmatal trek happened at this campsite. As we were having tea at 4 pm, we witnessed not one but two rainbows side by side simultaneously. It was the perfect setting to sip our tea while enjoying the rainbows overlooking the colossal mountain ranges in front of us.
The sunset at Tilburi adds to the experience. Around 6 pm, the sun sets as you see its orange glows on a snow-laden peak nearby. You couldn't have asked for a better ending to the trek.
Day 6: Tilburi (9,670 ft) to Lohajung (7,600 ft) via Wan
The morning at Tilburi is also one for the eyes. We could see tall mountains filled with snow in the backdrop of a forest, among other sights. Make sure you walk up during sunrise.
We had breakfast and prepared for our final hike to Lohajung as we started our trek by 8:30 am.
As you would expect, today's hike is a complete descent. However, I found this walk unique because we went through a local village called Wan. Wan is a welcome change after spending almost a week in the Himalayas.
As we descent, we see houses entirely made of stones and terrace farmlands. Soon enough, we crossed a vast stream of water where we refilled our water bottles.
We met some kids thereafter, and saw some women tending to their farms during the walk.
When we finally reached Wan village, the adventure was not over yet. Due to recent landslides and a broken bridge, we had to descend and ascend on broken stones to cross a water stream.
On the other side, a jeep was waiting for us who took us to Lohajung. By 1 pm, we reached Lohajung as we celebrated our trek back at the guest house.
Day 7: Drive from Lohajung to Rishikesh or Nainital
You have two options today. Either you can drive back to Rishikesh or go to Nainital. Half of our group went to Rishikesh while the other half went to Nainital.
At either of these places, you can spend a day or two before leaving for your home.
To go to Rishikesh or Nainital, you can choose to go with the same vehicle that your trek operator provided you, or you can ask around for shared cabs in Lohajung.
And with that, our Brahmatal trek itinerary comes to an end.


Brahmatal trek difficulty level
The Brahmatal trek is relatively easy meant, especially for beginners. Even if you haven't done a Himalayan trek before, the Brahmatal trek acts as the perfect 'trailer' to show what is in store for you in the Himalayas.
Barring a couple of days, when you have to ascent constantly, the trek covers 30 km, averaging 4-5 km a day. If you feel that 4-5 km a day is a lot, it still feels less, considering the fantastic landscapes and sceneries you encounter on this trek.
However, do keep in mind that you still need some level of fitness to do this trek. You can consider reading this guide by Indiahikes to prepare yourself.


Best time for Brahmatal trek
One of the best things about the Brahmatal trek is that is you can do it during any time of the year, unlike other Himalayan treks. Different seasons bring out different sceneries from the Brahmatal trek.
The summer season is the only time you can avoid this trek apart from the monsoon season, which remains off-limits for all Himalayan treks.
From March to April, you can watch the rhododendron blooms giving the trek a different shade during the spring season.
In the autumn season, which happens from September to November, the weather in Brahmatal becomes clearer from the dust after the monsoon season and hence you get some fantastic mountain views. That is why I did the Brahmatal trek in October. Hence, it is the best time for the Brahmatal trek if this is what you're looking for.
The sunrises and sunsets during this season are out of the world. On top of that, the mountain views of Mt Trishul and Mt Nanda Ghunti are some sights that will stay with you for some time.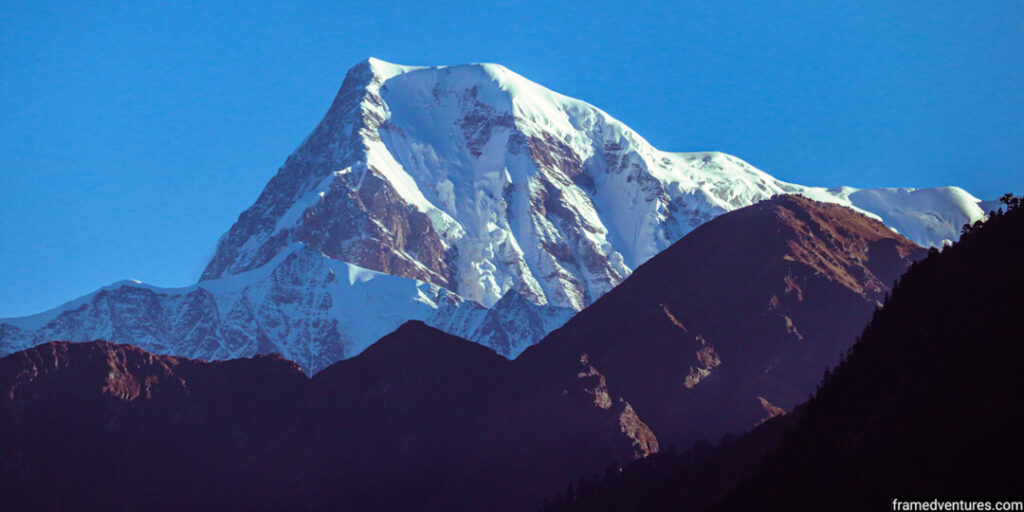 Another reason I enjoyed this trek during the autumn season even more, was that all the trails were empty. We didn't meet anyone during our entire hike, making us feel like this trek was exclusive only for us.
Coming to the winters (December-February), this is the time of the year when the entire trail becomes completely white, turning it into a fairyland. While the experience may be slightly tricky, the trek is entirely worth it.
Both the Brahmatal lake and the Bekaltal lake are frozen, giving it a different look altogether. The campsites cover themselves in snow, and most importantly, while most of the other Himalayan treks are inaccessible, this trek remains perfectly accessible even during winters.
So, in short, you're spoilt for choice when it comes to choosing a season for the Brahmatal trek. It ultimately comes down to what you prefer.


What to carry/wear for the Brahmatal trek?
If this is your first trek, it's essential to ensure that you carry the right things for your trek to have a great first experience in the Himalayas.
You can look at this list below shared by Trek The Himalayas to equip yourself with the right stuff.


Frequently Asked Questions
How difficult is the Brahmatal trek?
The Brahmatal trek is a 30-km trek in Uttarakhand that is known as a beginner trek. On average, it covers 4-5 km daily and barring a couple of days including the summit day, the trek is relatively easy even if it's your first time in the Himalayas.
Which month is best for the Brahmatal trek?
It's hard to choose a particular month for the Brahmatal trek because it is known for all seasons (except summer and monsoon when the weather in Brahmatal isn't ideal). Hence it depends on what you want to experience in your trek.
Choose March-April if you want to see Rhododendron blooms, September-November if you wish to have clear mountain views and December to February if you love snow.
Which trek is best: Brahmatal or Kedarkantha?
Both the Brahmatal and Kedarkantha treks are among the best winter treks in the country. Both the expeditions take six days and go up to 12,500 ft. 
As someone who has done both the treks, I consider the Brahmatal trek to be better when it comes to being less commercialised. However, I still recommend you to close your eyes and choose any of these treks because both these treks offer amazing sceneries.
What is the Brahmatal trek height?
The Brahmatal trek starts at 7,600 ft at Lohajung and goes to 13,120 ft at Khamila Top, which is the day of the summit. 
On average, the trek height is around 10,000 ft during most of the days.

Conclusion
The Brahmatal trek in Uttarakhand made me fall in love with the Himalayas and the mountains in general. The sights and landscapes I witnessed in the Himalayas were secondary to none.
If you're trekking in the Himalayas for the first time, I highly recommend this trek considering the effort it takes to witness the fantastic sceneries the Brahmatal trek offers. Even if you're an experienced trekker, you can view this trek as a more accessible alternative to the famous Roopkund trek, which has similar views.
Be it the spring, autumn or winter, the Brahmatal trek is one of the few treks in the country which you can do during different seasons. As such, it remains a popular trek in the Himalayas if you want to experience the thick forests, expansive meadows and panoramic views of the snow-laden peaks of Uttarakhand.
Having said that, I hope you enjoyed reading this detailed guide on the Brahmatal trek itinerary. Let me know in the comments below if you have any questions.
Also, once you're done with the Brahmatal trek, take your Himalayan experience to the next level with the Goechala trek in Sikkim that takes to India's highest peak, Mount Kanchenjunga.