10 Best Places To Visit In Valparai That'll Take Your Breath Away
After driving for close to five hours, we reached our destination at noon. It was a hill station not very far from Coimbatore.
However, the first time I got out of our car to get a view of the landscapes in front of me, I had a deja vu moment. The tea gardens here, surrounded by tall mountains covered in fog, reminded me of Munnar (the famous hill station in Kerala).
Yet, this place was different. There was hardly any soul here, unlike Munnar, which has become commercialised over the years. Moreover, the weird shape of the trees inside the tea gardens and the surrounding lakes gave it a different vibe altogether.
That is how I would like to describe Valparai, the hill station that I fell in love with as soon as I landed there. It is an underrated tourist destination in South India that you must visit if you want to experience an alternate version of Munnar, without the crowds.
My friends and I travelled to this beautiful hill station and covered all the must-visit places in Valparai within two days. In this guide, I share the top 10 places to visit in Valparai that'll make this trip worth your time and money.



Where is Valparai?

Valparai is a hill station in Tamil Nadu that lies close to the border of Kerala. It consists of the Anamalai Tiger Reserve and lies perfectly between Munnar and Nelliyampathy Forest Reserve in Palakkad, another underrated tourist destination in Kerala.
In terms of the major nearby cities in Tamil Nadu, Valparai is close to 100 km from Coimbatore and 65 km from Pollachi.
When it comes to the major nearby towns in Kerala, Palakkad, Thrissur, and Kochi are nearby as they're within 100-150 km from Valparai.
Therefore, you can arrive at Valparai from different directions, giving you a lot of options to get here.


10 best places to visit in Valparai
We started our journey from Pollachi and reached Valparai. You can take this route as the roads are well maintained with less traffic.
I've shared the list of the 10 best places to visit in Valparai below that I followed chronologically in two days with my friends. I hope it helps you plan your Valparai trip in a better way so that you get the best experience here.
Day 1
We started our drive from Pollachi around 7 am.
I had breakfast from Pollachi and you'll get plenty of options to eat here. You can gorge on South Indian specialities like dosa and idli, made fresh in the morning.
After having breakfast, I continued on the journey with my friends. The roads were in perfect condition, and we could take our own time as the traffic was less. 
As we approached the route towards Valparai, the scenery started changing. Tall mountains surrounded by coconut trees welcomed us. The journey from here till Valparai is a complete ascent, and it will keep you hooked as the sceneries keep changing.
Soon enough, you'll reach the Anamalai Tiger Reserve Entry Checkpost, which is the entry to Valparai. The check post opens at 7 am, and you've to pay a nominal fee here before continuing your journey further.
Now that you crossed this check post, let's cover all the places one by one.
1. Aliyar Dam View Point
The Aliyar Dam is a reservoir at the foothills of Valparai that surrounds itself with tall mountains across all sides.
You'll be passing right next to the dam when you make your way towards the Anamalai Tiger Reserve Entry Checkpost. If you've time, you can stop at the Aliyar Dam Park (before the check post) where you can go for a walk and spend some time beside the dam. We skipped it in the interest of time.
Even if you miss the Aliyar Dam Park, don't worry. It'll be with you throughout the ascent to Valparai. You'll get multiple viewpoints of the dam throughout this ascent including one just before you reach Monkey Falls (our next stop).
At the highest point of the ascent, you'll get the best view as you'll see a panoramic view of the dam along with neighbouring mountains. As such, don't forget to catch this view.
2. Monkey Falls
If you want to refresh your body and energise yourself, stop at Monkey Falls. You can stand below the gushing water here or simply chill at the mini pond nearby. It is one of the best places to visit in Valparai for a relaxing experience.
The Monkey Falls (also known as Valparai Waterfalls) is a natural waterfall that surrounds itself with rocky cliffs and evergreen forests.
It is right next to the main road and there is ample space for parking your vehicle. There are changing rooms as well near the waterfall and you need to pay a nominal fee to visit the waterfall.
Beware of the monkeys that roam around this place and also, be careful of the slippery rocks near the waterfall. As this waterfall is on the main road, you can expect a good amount of crowd on any given day.
3. Loam's View Point (Valparai View Point)
The hairpin curves (40 in total) that Valparai is famous for begins from Monkey Falls. It will be a fun and adventurous ride from now as you ascend completely till Valparai and witness changing landscapes with every ascent. For me, this was one of the highlights of Day 1.
While you go through one of the Valparai hairpin bends, you'll see a demarcated place called Loam's View Point (there's also a signboard) from where you can see one of the hairpin bends below in all its glory with the Aliyar Dam in the background.
Make sure to stop here for some time and take in the scenery. Depending on your luck, you may not be allowed to park here as you may find police personnel at this stretch. In our case, we didn't find anyone so we stopped here for some time.
4. Waterfall Tea Shop/Tea Estate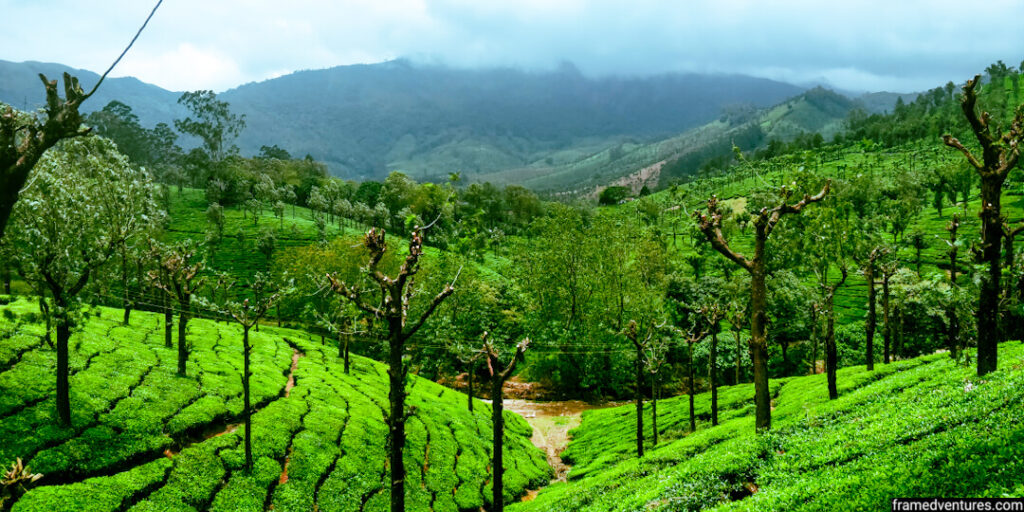 Somewhere between the 25th and 30th hairpin bend, you'll get your first proper views of the vast tea plantations in Valparai that surround themselves with tall mountains. This was the moment when I felt I'd been transported to Munnar (a similar hill station in Kerala).
You can stop here for tea and have some snacks from the Waterfall tea shop at a nominal cost with the beautiful surroundings in front of you. They sell their tea leaves as well and you can also visit the Waterfall Tea Estate nearby. The Waterfall Tea Estate contains a small waterfall and a restroom inside.
This will be your last break before you reach Valparai which is less than an hour from here.
We continued our journey thereafter and reached Valparai by 1 pm, checked into our accommodation, and then went to the town to have lunch.
5. Karumalai Balaji Temple
After having our lunch, we continued our journey to cover the tourist attractions in Valparai. By this time, the weather had become misty and wet which made the landscape around us even more spectacular.
Our first destination was Karumalai Balaji Temple, which was within half an hour from Valparai. More than the temple itself, you'll enjoy the ride to the temple as it is located inside a tea estate called Karumalai Estate.
Hence, you'll be driving through winding roads that surround themselves with tea plantations for close to half an hour. This time, it truly felt like we were driving around in Munnar as we could only see tea plantations everywhere. You can stop for some photos in between.
We finally reached our destination and parked our vehicle. From the parking spot, you have to walk for less than a kilometre to reach the temple. Although the temple is small, you can still feel complete silence and peace here as there is barely any noise.
The temple is managed by Karumalai Estate which is a private entity. For some reason, we were not allowed to take photos even outside the temple.
The temple is open between 8 am-12 pm and 3 pm-6 pm so plan your trip accordingly. If not anything, you'll enjoy the journey more than the destination.
6. Tunnel View Point (Vellamalai Tunnel River)
On the way back, we went to Tunnel View Point, a hidden spot in Valparai. It is a slight deviation from the route we took from Valparai and just half an hour from Karumalai Balaji Temple. You'll still be driving through the Karumalai Estate so the journey remains memorable.
As the name suggests, it is a small tunnel of 8 km cut through the mountains that transports freshwater between the mountains of Valparai and a dam nearby. It is located inside a tea plantation and there's also a mini waterfall on one side where you can take a shower.
There are a couple of shops as well nearby where you can have a light snack.
From Tunnel View Point, you can make your way back to Valparai through the Kuzhankal River. It is a popular tourist attraction in Valparai where the river flows through the tea gardens. As the waters are shallow, you can take a dip in the crystal clear waters here.
There are plenty of small eateries as well besides this river. As we were running out of time, unfortunately, we couldn't stop here. But if you've time, ensure that you stop here to chill for some time.
Our day 1 ends here and we went back to our homestay, had dinner and relaxed for the night.
Day 2
For day 2, our goal was to go on a road trip to Thrissur, a neighbouring town in Kerala and see the tourist attractions on the way culminating in Athirappilly Waterfalls, Kerala's most famous and largest waterfall.
Just like Day 1, our entire journey on Day 2 was picturesque and engaging as we were driving through a reserved forest area throughout the day.
We started our journey on Day 2 at 10 am. In hindsight, we could have started earlier because we came back to Valparai late at night. Hence, I would suggest you leave Valparai by 8 am or 9 am and have breakfast on the way.
Let me take you through the tourist attractions you'll see when you drive through this amazing route from Valparai to Athirappilly Waterfalls.
7. Sholayar Dam (Upper Sholayar Dam)
Sholayar Dam is the first tourist attraction you'll see when you drive towards Athirappilly Waterfalls on Day 2.
It is located 20 km from Valparai and is worth the visit, especially after monsoon season when the dam is full. The drive to Sholayar Dam is also very scenic as you traverse through tea plantations.
There is a small park in front of the dam where you can spend some time. You can find plenty of photographic opportunities here.
Unfortunately, as it was raining, we couldn't get out of our car but we could still see the dam as it was right next to the road.
By the way, there is another dam called Lower Sholayar Dam located in Kerala that you'll be passing through on the way to Athirappilly Waterfalls.
8. Thottapura View Point
From Sholayar Dam, the Kerala border is less than 5 km. On the Kerala side, you'll be reaching Malakkappara, a small hill station in Thrissur. From here till Athirappilly Waterfalls, you'll be passing through a thick forest which is home to many birds and animals.
Hence, before you cross to Malakkappara, you'll have to stop your vehicle at the Malakkappara Forest Check Post. Here, you'll be given a slip with details of your vehicle number and the number of passengers. You'll have to show this slip at the Vazhachal Check Post (which is just before Athirappilly Waterfalls) within two hours of entering Malakkappara.
Being a forest area, you can only enter Malakkappara between 6 am to 6 pm. You also cannot stop your vehicles inside the forest due to obvious reasons.
The drive through this particular forest was the highlight of our trip. As we went after the monsoon season, the fog and the light rains gave the forest a mystic feel.
Throughout this entire journey to Athirappilly Waterfalls, you'll be inside this forest only and if you're lucky, you might even see some animals. There is no traffic as well and the only sounds you hear are those of the birds and animals.
Thottapura View Point is our first destination inside this forest. It is the only viewpoint in this forest and is less than an hour away from Malakkappara.
While technically you're not allowed to stop your vehicle in the forest, this is a great place to relax after a long drive. You can see the reservoir/lake here created by the Lower Sholayar Dam. It is surrounded by thick forests and mountains in the background.
Don't break here for a long time because the forest officials are always patrolling this place.
9. Vazhachal Waterfalls
From Thottapura View Point, we continue our journey to Vazhachal. It takes another hour to reach the Vazhachal Waterfalls from Thottapura and the forest starts becoming denser.
Before you reach Vazhachal Waterfalls, you'll need to stop at the Vazhachal Check Post before it and show the slip you received at the Malakkappara Check Post. Hence, ensure that you don't lose this slip.
Vazhachal Waterfalls is our next stop.
It is a flat and cascading waterfall that flows through rocks inside a park. You cannot visit the waterfalls as it is steep and the water keeps flowing but you can see it clearly beside the park.
You can spend some time here, have some snacks and use the washrooms at the park before making your way to Athirappilly Waterfalls. The ticket that you get here can also be used for Athirappilly Falls.
10. Athirappilly Waterfalls
We reached Athirappilly Waterfalls by 3 pm, our final destination, only 5 km from Vazhachal Waterfalls. Known as the Niagara Falls of South India, it draws a lot of tourists from all across India and several Mollywood films have been shot here.
You can go to the top first from where you can see the river flowing in front of you and falling down the rocks ultimately into the forest in front of it. Like Vazhachal Falls, you cannot go inside the water when the river is full.
Once you're done, you can hike down the hill (from the side) to see Athirappilly Falls gushing from a height in all its glory.
The best time to visit Athirappilly Waterfalls is after the monsoon season when the river is full of water. Also, expect a lot of crowds here during this time.
You could easily spend a couple of hours here at the falls. You can also have snacks or meals outside the falls where you'll find plenty of restaurants.
After visiting the falls, we went back to Valparai and reached at night before making our way back to our respective homes.


4 bonus places to visit in Valparai (if you've time)
As mentioned before, our Valparai trip was only planned for two days. For the second (and final day), we planned an epic road trip to Athirappilly Waterfalls.
But if you've another day to kill in Valparai, there are four other places in Valparai that you can explore. We would have included them in our itinerary had it been a 3-day Valparai trip.
To make it easier for you, I've included them in a chronological order that would make it easier for you to cover all these places in optimal time. Given below are the 4 bonus places you can visit in Valparai if you have a spare day:
1. Birala Waterfalls (Birla Waterfalls)
It is a small, cascading waterfall that flows through the Sholayar Tea Estate in a tiny village in Valparai. To reach the falls, you've to walk through the tea estate.
2. Nallamudi View Point
It is a viewpoint located inside the Nallamudi tea estate which has sweeping views of the mountains, valleys and waterfalls neighbouring the Kerala-Tamil Nadu border. You need to walk through the tea estate for a kilometre to reach the top.
3. Lower Nirar Dam
It is a small dam located inside a forest area surrounded by tea plantations and calm waters. You can also visit one of the tunnels here when the water is less. The last stretch of the road to reach this place is not properly tarred so be prepared for that.
4. Chinna Kallar Falls
This area is known as the Cherrapunjee of South India as it receives a lot of rainfall. It is located in a remote forest that you need to trek through for half an hour. You have to take a pass from the Forest Check Post and one of the officers will be guiding you all the way.


How to reach Valparai?
As Valparai is located close to the Kerala-Tamil Nadu border, there are different ways of going to Valparai.
Palakkad, Thrissur, Kochi and Pollachi are the neighbouring towns from where you can get access to Valparai. You can even combine your Munnar trip with Valparai as it is on the Southern border of Valparai.
Flights
At an approximate distance of 110 km, both the Kochi and Coimbatore airports are the nearest airports to Valparai.
Trains
Pollachi is the nearest railway station to Valparai at a distance of 64 km. Depending on where you're coming from, you can also get trains to Kochi, Thrissur, Palakkad and Coimbatore, all of which are nearby.
Buses
You can get frequent buses from Pollachi to Valparai. Coimbatore also has buses to Valparai but the frequency is less. From the Kerala side, you can get buses at fixed timings from the Chalakudi bus stand in Thrissur to go to Valparai.


Where to stay in Valparai?
We stayed in a homestay called Mary Land homestay which had clean rooms and a balcony with a view of the tea plantations. You'll find plenty of such homestays and hotels in Valparai. There are a couple more homestays in Valparai I can recommend if you're on a budget:
1. Green Mount Homestay
2. Bison Valley Estate by Happy Homes


Best places to eat in Valparai
For all the meals (breakfast, lunch and dinner), I recommend Sri Lakshmi Chettinadu Mess in Valparai. They prepare homely food, have a proper sitting area and the prices are reasonable.
They specialize in South Indian dishes like dosa, vada, pongal and even serve non-vegetarian food if that is your thing. There are plenty of options on the menu so you won't be disappointed.
When you are on the road covering different destinations, you may find lesser restaurants but you can always rely on the roadside dhabas from where you can get home-cooked food at dirt cheap prices.
If you plan to go to Athirappilly Falls, you can find plenty of restaurants outside the falls there.


Best time to visit Valparai
The best time to visit Valparai is from September to March, which is after the monsoon season. During this time, the dams, lakes and rivers are full of water which makes them worth the visit. The weather in Valparai is also cool and pleasant.
If you go during September, you might face light showers but not enough to sabotage your trip.
You can avoid the months of April and May as the weather becomes humid and the water in the lakes and rivers is less.


Frequently Asked Questions
Is Valparai worth visiting?
Valparai is worth visiting if you love to visit a hill station that is full of tea gardens, waterfalls and dams. If road trips are your thing, Valparai is an amazing destination in South India as you'll be travelling through roads surrounded by tea gardens, thick forests and tall mountains.
How many days do you need in Valparai?
If you want to cover all the places within Valparai, two days should be enough. Alternatively, if you want to cover the other awesome destinations around Valparai leading to Athirappilly Waterfalls, you need another day i.e. three days in total to cover all the places.
Which are the places to visit in Valaparai in 2 days?
The following are the places to visit in Valaparai in two days:
1. Aliyar Dam View Point
2. Monkey Falls
3. Loam's View Point
4. Karumalai Balaji Temple
5. Tunnel View Point (Vellamalai Tunnel River)
6. Birala Waterfalls
7. Nallamudi View Point
8. Lower Nirar Dam
9. Chinna Kallar Falls
Which is the best time to visit Valparai?
The best time to visit Valparai is after the monsoon season when all the rivers and lakes are full of water, the landscape is greener and the weather is ideal for you to explore Valparai. These months range from September to March. You can avoid the summer months when the water is less and the weather is humid.

Conclusion
We had an amazing time in Valparai covering all the places in and around this less-explored hill station in Tamil Nadu. Valparai is one of the few destinations in South India where both the journey and the destinations are equally engaging and beautiful.
Decide your starting point for the Valparai trip based on where you're coming from. You can decide between Coimbatore, Pollachi, Palakkad, Thrissur and Munnar. If you're visiting Munnar, you can also club Valparai with your trip and cover both the hill stations in one go.
In any case, having your vehicle is preferred as you can cover all the places in Valparai at your leisure. If not, you can hire a cab from Valparai or ask your homestay for help.
If you want to explore all the places in and around Valparai, keep at least three days for Valparai. If you're short on time, I highly recommend the Valparai to Athirappilly circuit for Day 2. If you don't want to travel much, you can explore the 4 bonus places in Valparai.
With that said, I hope you found this guide to the '10 best places to visit in Valparai' useful. If you have any questions, drop them down in the comments and I'll be happy to help.