7 Vattavada Tourist Places To Visit: Hidden Paradise in Munnar
Would you like to treat yourself to the freshest strawberries in Kerala, dream-like stays near Munnar and unexplored trekking routes in the Western Ghats, all at once?
Look no further than Vattavada.
Unknown to many travellers, Vattavada is a quaint agricultural village neighbouring Munnar in Kerala.
It is known as the 'vegetable capital of Kerala' as it produces a variety of fresh fruits and vegetables like strawberries, butter beans, and the famous Vattavada garlic, known for its unique medicinal properties.
Moreover, if you're an adventure lover who likes offbeat places, Vattavada is the place to be, as it is known for mountain biking, camping and trekking.
I've visited Vattavada twice, and in this guide, I would like to tell you about the top 7 Vattavada tourist places you must cover on a road trip starting from Munnar.



Where is Vattavada?


Vattavada is on the Kerala-Tamil Nadu border, 45 km from Munnar, i.e. almost two hours by car.
It is 10 km after Pampadum Shola National Park, the smallest national park in Kerala, which is the entry point for Vattavada.
Pampadum Shola National Park is a further 2.5 km from Top Station, one of the popular tourist destinations in Munnar.
Being an agricultural village, you'll find plenty of farms in Vattavada growing various kinds of fruits and vegetables amidst the background of tall mountains.
Fun fact: Vattavada lies between Kolukkumalai, home to the highest tea plantations worldwide and Kodaikanal.


7 Vattavada Tourist Places You Must Visit
I want to give a disclaimer that out of the 7 Vattavada tourist places I've mentioned below, two are in Munnar, not Vattavada.
I've included these two places (Mattupetty Dam and Top Station) since you'll cross them while travelling from Munnar to Vattavada.
Hence, I've added them to the itinerary as they're prominent tourist destinations in Munnar.
For your Vattavada tour, I recommend starting your travel from Kochi by renting a car/bike (more on this later).
The following are some benefits if you do so:
1. You can drive from Kochi to Munnar, an amazing route, and stop at various places of interest on the way, including a couple of waterfalls.
2. If you're travelling in a group, renting a car/bike will be cost-effective. Moreover, as the roads are great, you'll enjoy the ride.
3. You can get down at Mattupetty Dam and Top Station on the way to Vattavada. It may not be possible if you're travelling via public transport from Munnar.
When planning a trip to Vattavada, ensure that you leave early morning from Kochi because it takes four hours to reach Munnar.
Moreover, morning is also the best time to drive as the weather is pleasant and you can avoid traffic.
Note: If you're starting your travel from Kochi, ensure you reach there the previous night.
Once you start driving towards Munnar, the landscape starts changing. You'll drive on mountain roads and observe valleys and waterfalls at various points. The journey to Munnar is comfortable as the roads are well-maintained.
Additionally, you can stop for refreshments during the drive as you'll find roadside stalls and restaurants at various points.
After reaching Munnar, you can fill petrol/diesel at one of the gas stations since you won't find them in Vattavada. You can also stop for a meal at one of the many restaurants in Munnar town. However, do note that parking will be a problem.
Thereafter, you can drive to Vattavada via the Munnar – Top Station Highway.
Now, let me walk you through the 7 Vattavada tourist places in chronological order:
1. Mattupetty Dam (Echo Point)
The Mattupetty Dam is your first destination for the Vattavada trip, 11 km away from Munnar.
It is a concrete gravity dam that helps in electricity generation.
The dam's location makes it a popular tourist attraction in Munnar.
The lake flows through a valley of mountains with lush green forests and tea plantations, and blue skies in the background.
You can see the entire landscape's reflection on the dam's still waters.
It is also popular among birds and animals, including elephants, commonly spotted here.
While the dam has multiple points, ensure you stop at Echo Point. You can also halt at other points, but this is the main location I recommend.
As the name suggests, you'll hear an echo of your voice at the Echo Point when you shout. More importantly, you can spend some peaceful time here along the lake or walk while observing the majestic landscape nearby.
Paddle boating and speed boating are two popular activities available at Echo Point.
On the main road, you'll find many shops where you'll get snacks and drinks. You can also park your vehicle on the roadside as there is no official parking.
Overall, the only problem I see with Matupetty Dam is that it becomes heavily crowded on weekends. Hence, I recommend choosing a weekday to avoid this issue.
You can spend up to an hour here as per your time.
2. Top Station
Your drive to Top Station will be one of the trip highlights. You'll pass through gorgeous tea plantations, intimidating mountains and a few waterfalls on the way.
Top Station has an interesting history dating back to the British rule.
It was built as a terminal railway station as part of the Kundala Valley Railway, the first monorail system in India, and later converted to a narrow gauge railway.
Britishers named it Top Station as it was the highest railway in the valley at the time.
They used Top Station to transport tea leaves from the high ranges of Munnar's high ranges to Tamil Nadu's plains. The tea leaves were further distributed across India and then exported to the UK.
However, a flood in Kerala in 1924 destroyed the complete railway line, and only a few remains are left, seen in the Munnar Tea Museum today.
As a tourist, you can visit a couple of viewpoints and a watchtower at Top Station today, where you'll get panoramic views of the Western Ghats. As it falls on the Kerala-Tamil Nadu border, you'll see both the states from here.
The watchtower is at a walkable distance from Top Station's parking area.
However, for the two viewpoints, you'll need to ascend/descend via stairs and walk further from the watchtower. The hike's not very tiring, though, as you'll find a few shops selling snacks and juices along the way.
If you're lucky, clouds or mist will surround you at the viewpoints when the weather is favourable.
After the trek to the viewpoints, you can have lunch from one of the restaurants near the parking area, as you'll reach Vattavada only in the evening.
In my experience, the food I had here was tasty and reasonably priced.
Much like Mattupetty Dam, this is another destination that draws huge crowds. Hence, it's better to come here on a weekday.
3. Pampadum Shola National Park
Also known as Vattavada Forest, the Pampadum Shola National Park is only 10 minutes away from Top Station. The actual journey to Vattavada starts from here.
There's a forest check post at the park's entrance where you stop your vehicle and register your details.
The forest guards at the check post will also inform you that you cannot stop your vehicle in the national park due to the presence of animals.
Note: Entry via this park is allowed between 6 am and 6 pm, and there's no fee.
Thereafter, they'll open the checkpost as you make your way to Vattavada via the Pampadum Shola National Park.
Although it's the smallest national park in Kerala, the drive through the Pampadum Shola National Park is one of my favourites in Kerala.
Keep all your senses open and drive slowly to take in the sights and sounds of this scenic drive; it'll transport you to a different world.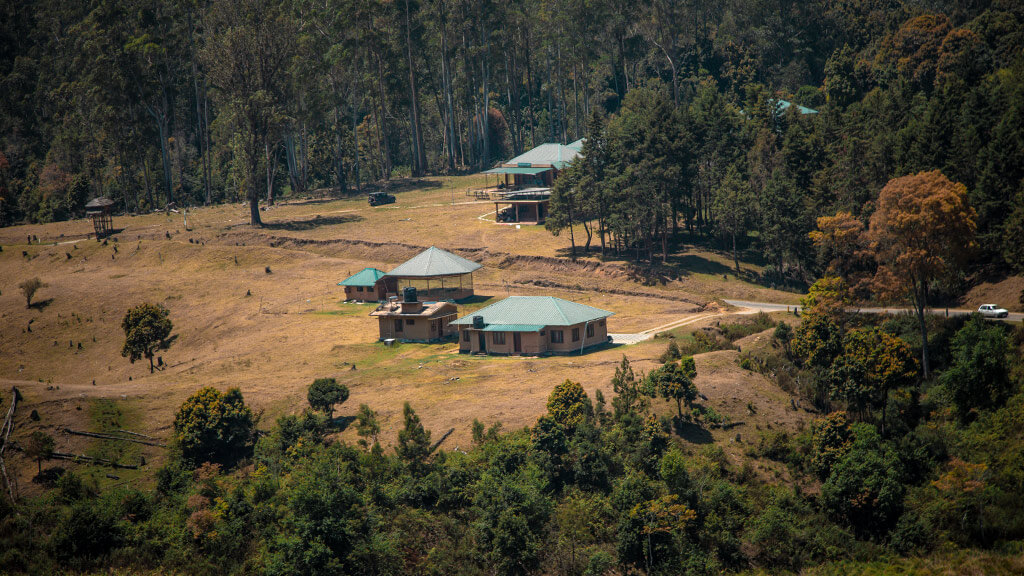 You'll be driving through tall eucalyptus trees inside the forest, that have a unique aroma. The entire landscape eventually opens to meadows and mountains.
If you're lucky, you'll be able to spot some bison or deers on the drive.
If you're interested in staying in the middle of a forest with no people or network, you can do so at the Pampadum Shola National Park.
They provide accommodations of various types along with vegetarian food. Another benefit of staying here is that you may spot other animals like elephants, langurs and guars, among many others, especially in the morning/evening.
If this interests you, I recommend staying here for a night. You can book a room at one of their stays here.
You can also go trekking inside the park with the guidance of forest officers. For more details, check this website.
4. Vattavada Beauty View Point
You'll reach Vattavada Beauty Point, 7 km after the Pampadum Shola National Park. It is the poster boy of Vattavada tourism and also the starting point of Vattavada.
It is a viewpoint from where you'll get panoramic views of Vattavada's terrace farms. This view includes some houses scattered across the farms in the background of tall mountains.
The viewpoint looks amazing, especially after the monsoon season, when there's greenery everywhere accompanied by mists.
5. Strawberry Farm
Among all the Vattavada tourist places, the strawberry farms are its most popular attractions, and you'll find a few near the Vattavada Beauty View Point (ask the locals nearby or check for sign boards).
Owned by the locals of Vattavada, these farms also sell other organic fresh produces like carrots and cabbages, apart from strawberries.
Visiting any Vattavada strawberry farm is free, and you can also pluck strawberries from the gardens with their permission.
The locals sell strawberry jams and wines to tourists on these farms. If you're curious, they'll also give you information on how strawberry is cultivated and made into jams and wines.
The strawberry season in Vattavada is from March to May.
However, I got my hands on strawberry jams and wines, even in August.
While I suggest two strawberry farms in Vattavada – Babu Organic Strawberry Farm and Viji Strawberry Farm, feel free to visit any other farm that may interest you.
6. Pazhathottam View Point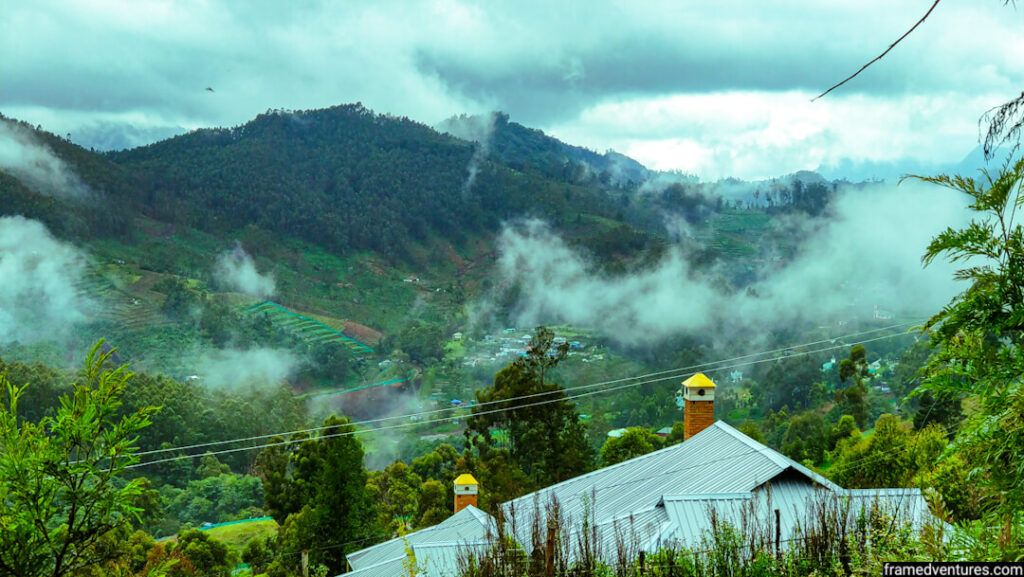 Located 9 km from the Vattavada Beauty View Point is the Pazhathottam View Point.
It is the best Vattavada view point, in my opinion.
You can see the whole of Vattavada at an elevation, including the mountains, tea plantations, villages, step-cut farms and houses. The addition of mists and the blue sky makes the landscape stand out.
The ride to this viewpoint is equally exciting.
You'll cross through narrow roads inside forests and pass through local houses. While the road conditions are not ideal, the adventurous ride to the Pazhathottam Viewpoint makes the trip worth it.
The best time to visit this viewpoint is during the morning/evening.
7. Chilanthiyar Waterfall
Chilanthiyar Falls is the most popular one among all the Vattavada waterfalls.
It is only 5.5 km away from the Pazhathottam Viewpoint.
It is a cascading waterfall deep inside a reserve forest. Being a hidden gem, you'll hardly find any crowds here. The area is quite calm and peaceful.
Parking is available at the falls' entrance, and you'll also find a small shop there that sells tea and snacks.
As the waterfall is 2 km away from the entrance/parking area, there are two ways you can reach the falls:
1. Trek to the waterfall but ensure you have good gripping shoes as you'll be walking on steep muddy roads.
2. Hire a jeep from the parking area unless you have an SUV or a bike that can ride easily on off-roads.
The best time to visit the falls is after the monsoon season when the water streams are full.


How to reach Munnar?
To reach Vattavada, you need to come to Munnar first.
Following are the ways you can reach Munnar:
Flight
If you're coming from another state, take a flight to Cochin International Airport. It's the nearest airport to Munnar, at a distance of 108 km.
Train
The nearest railway station to Munnar is Aluva, at a distance of 108 km. However, the only catch is that every train may not stop at Aluva.
If that's the case, you can take a train to Ernakulam (Town or Junction), the railway station for Kochi.
Bus
If you're in Kerala, you can easily get buses to Munnar via KSRTC, the state's government bus service.
You can check the availability of the bus to Munnar from your location and book tickets from the KSRTC website.
If you're coming from nearby cities like Bangalore and Chennai, you can get private buses to Munnar using apps like Redbus and Abhibus.


How to reach Vattavada?
As I've mentioned earlier, entry to Vattavada is via Pampadum Shola National Park. As it's a reserved forest, you can only enter it between 6 am to 6 pm.
So ensure that you plan your trip accordingly.
To reach Vattavada, you can take a local shared jeep available in Munnar town. You can find them at the designated jeep stand in the town.
You'll also get KSRTC buses from Munnar, but they're unreliable as they have fixed timings.
Cabs are also available in Munnar town, but you'll have to negotiate with them and lower their asking rates.
For the best experience, I suggest renting a car or a bike from Kochi (as I've mentioned before).
For renting a car, Zoomcar is available in Kochi. I rented a car with them from Kochi, and my experience was great.
Kochi also has many shops that give two-wheelers for rent. You can research them online and decide accordingly. If you want my recommendation, I'll suggest Royal Brothers.
Note: You can find a few shops in Munnar that rent bikes. This will be ideal for you if you're coming straight to Munnar and want to begin your journey from there. For more details, do a simple search on Google.


Best time to visit Vattavada
Unlike Munnar, Vattavada has a favourable climate throughout the year as it is a rain shadow village.
Being a rain shadow village means Vattavada receives less rainfall compared to Munnar.
I've travelled to Vattavada twice, in August and September.
Both times, the Vattavada weather was amazing as there were no rains, ample sunlight, and the entire landscape was green.
At night, it is even better as you can see the Milky Way Galaxy (on certain nights) and shooting stars.
In summary, you can visit Vattavada anytime from August onwards to see clear blue skies, green valleys and waterfalls.
If you want to experience the mist additionally, you can visit Vattavada during December and January.


Where to stay in Vattavada?
Despite being a remote location, Vattavada has various accommodations, including homestays and resorts.
Moreover, if you're a solo traveller/backpacker who needs a Vattavada tent stay experience, you'll find plenty of them here.
Hence, I've also added a few campsites to the list below (based on my research) that'll be useful if you want to camp next to nature and have an offbeat experience.
If you're travelling to Vattavada with a group of friends/family, I highly recommend booking a stay at The Only Place Log Cabin.
Although it's slightly expensive compared to other similar properties, you'll have a lifetime's worth of experience at this Vattavada homestay.
I stayed at The Only Place with a bunch of friends, and let me tell you, 'it's the best homestay I've stayed in India'.
The Only Place is straight out of a Hollywood movie. It is perched on a hilltop, isolated from any other location in Vattavada, with stunning sceneries of the mountains and valleys nearby.
It also has well-kept gardens, trekking trails and a friendly dog. The only sounds and sights you experience here are that of nature.
Moreover, the family of two prepare fresh organic food sourced from their farms. Hence, you'll be amazed with the quality and taste of their meals. They prepare traditional South-Indian cuisine with options for vegetarian and non-vegetarian food.
As icing on the cake, the owner, Giri Sir, is very friendly and approachable. You can strike up a conversation with him any time, and in one such talk I had with him, he mentioned that his homestay is 'India's only stay made of Eucalyptus wood'.
I recommend spending at least two nights here for the best experience. And if you book this homestay, say hi to Giri Sir from my end.
I stayed at Mountain Hut Resorts for my second visit to Vattavada. However, I only recommend this place if you want a budget-friendly stay with decent views.
While they have good ratings on Google and beautiful images, I found the resort above average.
Moving on, if you're a solo traveller/backpacker, I recommend the following highly-rated campsites based on my research:
Apart from accommodation, these campsites also provide food, and treks to unexplored Vattavada tourist places along with guides, among others. For more information, DM them on their Instagram accounts or get their number on Google.


Best restaurants in Vattavada
Being an offbeat tourist destination, you won't find many restaurants in Vattavada.
Even the few restaurants you may get in Vattavada or Koviloor, the neighbouring village, don't have a lot of variety in their menu. Regardless, the food is homely, tasty and cheap.
Most of the accommodations in Vattava, including the campsites, provide food, so you won't have to worry about this aspect.

Frequently Asked Questions (FAQs)
1. What is special in Vattavada?
Vattavada is known for its unique produce like strawberries and butter beans, better weather compared to Munnar and many unexplored trails in the Western Ghats.
 
Vattavada also has many campsites and is ideal for solo travellers/backpackers who like exploring offbeat places.
2. What is the Vattavada entry fee?
There is no entry fee for Vattavada. However, you can enter Vattavada only between 6 am and 6 pm via the forest check post at the Pampadum Shola National Park.
3. When is the Vattavada strawberry season?
The harvest season for strawberries in Vattavada is from March to May. During this time, many locals sell strawberry fruits, wines and jams to tourists.
4. How to travel from Munnar to Vattavada?
You can hire a local shared jeep from Munnar town to travel to Vattavada. You can also avail of KSRTC buses from Munnar, but since their timings are limited, you need to plan accordingly. 
If you need flexibility and love road trips, you can also hire two-wheelers on rent from a few shops in Munnar.
5. Which is the best time to visit Vattavada?
Being a rain shadow village, Vattavada has a pleasant climate throughout the year. You can visit this hill station from August onwards for the clearest views and in December to experience the mist.

Conclusion
Vattavada is unlike any other place you'll experience in Munnar. And that's why I suggest you follow the itinerary I've mentioned in this article to get the best of both Munnar and Vattavada in one go.
As I've recommended, start your trip from Kochi by renting a car/bike. If possible, plan a weekday trip, as Mattupetty Dam and Top Station attract weekend crowds. Stay at one of the campsites if you're a solo traveller or at 'The Only Place Log Cabin' if you're a group of friends.
Also, after following the aforementioned itinerary, I urge you to visit this gorgeous hill station again, as I feel there are many more Vattavada tourist places waiting to be explored.
If you have any doubts regarding your Vattavada trip or discover any cool new place there, let me know in the comments below!