Goechala trek itinerary: A guide to India's best 'mountain' trek
We woke up at 3 am. It was pitch dark and cold. We got ready as we had black tea and layered ourselves for the trek's highest point.
With nightlamps across our foreheads, we started walking towards our destination in a line. A trek leader led us at the front and another at the back.
It wasn't easy as cold winds were blowing against our faces. But we kept going because all of us signed up for this trek to witness this mesmerising sight that lay ahead in front of us.
After trekking for close to three hours in the dark, we finally reached the summit on time. The sun was rising through the sky and its rays splashed across the snow-laden peak giving it a golden glow.
We witnessed a majestic sunrise at Mount Kanchenjunga, the third-highest peak in the world, at a stone's throw. We forgot all the struggles and pains we experienced in this trek, as this sight made this trip worth it.
It is a picture that remains in the back of my mind to this day.
If you're into trekking, this is one trek you cannot miss in India. Apart from witnessing Mount Kanchenjunga, the Goechala trek in Sikkim takes you through majestic mountain valleys, rhododendron forests and frozen lakes.
In this guide, I will take you through the Goechala trek itinerary that I had followed with Bikat Adventures. I share my personal experiences and all you need to know to experience one of India's best 'mountain treks.


Where is Goechala?

Goechala, also known as Goecha La, is a mountain pass in West Sikkim along the Himalayan region. The Goecha La Pass goes through the Kanchenjunga National Park, which consists of Mount Kanchenjunga.
The most prominent Himalayan trek in Sikkim, the hike through the Goechala Pass, is considered one of India's best 'mountain' treks. It is because huge mountains surround you as you trek through the Goechala Pass, making it appear like one of the treks in Nepal.
The trek starts from Yuksom, which is 160 km from Siliguri. The Goecha La trek covers close to 100 km spanning ten days, and various trek operators conduct this trek.

Why should you do the Goechala trek?
Here are the five reasons why you should do the Goecha La trek in Sikkim:
1. Experience an amazing sunrise on Mount Kanchenjunga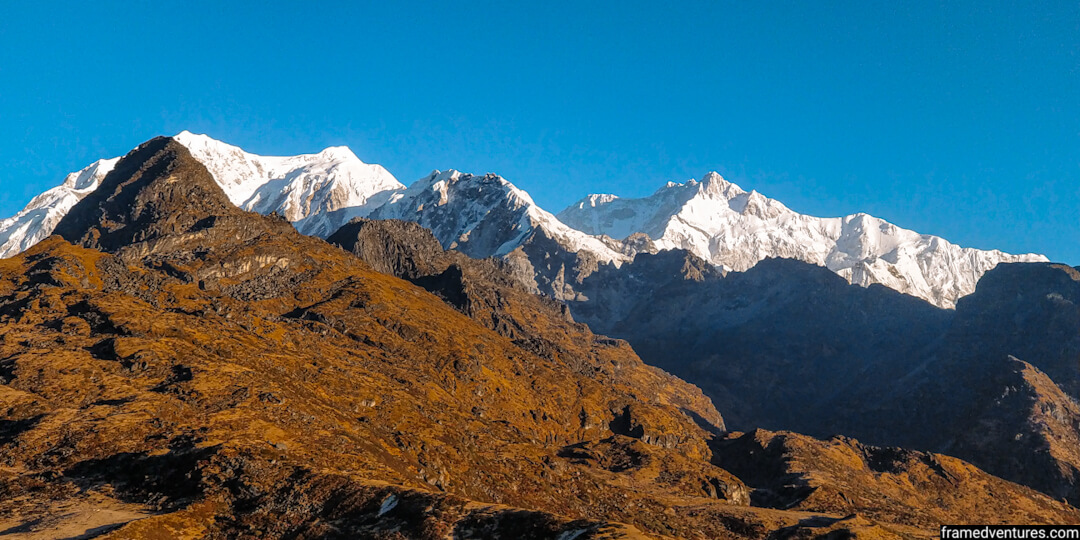 Guess what? Apart from being the only trek in India that takes you to India's highest peak, you get to witness sunrise on Mount Kanchenjunga (and the surrounding mountains) not once but twice! The first one is at Dzongri Top and the second one at View Point 1, the summit day. Also, the views you get on both days are different.
2. Spend some time at an alpine lake at 15,000 ft

Samiti Lake is an alpine lake that you'll be encountering on the way to View Point 1 in the Goechala trek. The water in Samiti Lake is crystal clear, and you can see reflections of the surrounding mountain ranges. As a bonus, this lake is frozen during November, giving it a different allure altogether.
3. Trek through the mountain valleys of the Himalayas

There are few treks in India where mountains will surround you while you're trekking. The Goechala trek is one such trek. While you get intermittent views of the mountains during the initial climb, from day five onwards, you'll be walking between mountains through a valley, i.e. the Goechala Pass. You can see the peak of Mount Pandim in front of you apart from other mountain peaks neighbouring Mount Kanchenjunga.
4. Hike through a jungle filled with Rhododendron trees

The initial walk through the rhododendron forests sets the mood for the Goechala trek. These trees come to life with red-coloured rhododendron flowers during April and September, making the initial walk pretty. If you're lucky, you'll find a lot of birds, especially during April. The highlight for me was the wooden log trails you encounter as you go deeper into the forests.
5. A chance to test your endurance

The Goechala trek is a moderate-difficult trek that requires preparation for at least a month before you try this trek. Covering 100 km in 10 days is no joke. Combined with the cold weather and the upward/downward slope of the terrain, the Goechala trek tests your endurance and mental spirit. As such, you get a sense of fulfilment when you complete this trek.

How to reach Goechala?

To get to Goechala, you need to reach Siliguri first, the nearest major city to Yuksom, the starting point of the trek.
The New Jalpaiguri railway station is the central railway station at Siliguri, while Bagdogra airport is the main airport.
You'll get flights from major cities across India to Bagdogra airport.
The cheapest way to travel to Siliguri is by taking a flight to Kolkata and then taking an overnight train to New Jalpaiguri. A flight to Bagdogra is convenient but may not always be economical.
Note: Make sure you're booking your flight/train tickets in advance to avoid disappointment.
Once you reach Siliguri, you can travel on your own to Yuksom, or you can make use of your trek operator's transport.
If you're trekking with a trek operator, you won't have to worry about transportation. All trekkers assemble at a particular location in Siliguri, taking a shared cab provided by the trek operator to Yuksom.
If you want to explore Pelling, a beautiful hill station near Yuksom, you can try coming one day early to explore this place. To reach Yuksom on your own, you can hire a private cab or a shared cab from Siliguri.
There are very few cabs that travel directly from Siliguri to Yuksom. So take a shared cab to Jorethang and hire another taxi from Jorethang to Yuksom. These cabs have fixed timings, usually before noon, so make sure you reach Siliguri early morning.

Goechala trek route

Day 1: Reach Yuksom from Bagdogra Airport / NJP Railway Station (Siliguri)
Drive distance: 160 km
Duration: 8 hours
Day 2: Yuksom to Sachen
Trek distance: 8 km
Duration: 5 hours
Day 3: Sachen to Tshoka
Trek distance: 7 km
Duration: 5 hours
Day 4: Tshoka to Dzongri via Phedang
Trek distance: 9 km
Duration: 8 hours
Day 5: Dzongri to Dzongri Top and then Thansing via Kokchurang
Trek distance: 10 km
Duration: 5 hours
Day 6: Thansing to Lamuney
Trek distance: 4 km
Duration: 13 hours
Day 7: Lamuney to View Point One via Samiti Lake, and back to Kokchurang
Trek distance: 18 km
Duration: 13 hours
Day 8: Kokchurang to Tshoka
Trek distance: 16 km
Duration: 7 hours
Day 9: Tshoka to Yuksom
Trek distance: 15 km
Duration: 7 hours
Day 10: Drive from Yuksom to NJP Railway Station / Bagdogra Airport (Siliguri)
Note: The time taken for each day on the trek varies depending on your speed.

Goechala trek itinerary
The Goechala trek itinerary followed by different trek operators remains the same; however, there might be slight variations in the breaks taken or skipped campsites. In general, it takes around ten days to do the Goecha La trek (including the journey to and fro Yuksom).
In the Goechala trek itinerary below, I cover the exact itinerary followed during my experience with Bikat Adventures.
Day 1: Reach Yuksom (5,700 ft)

Today, you'll complete the eight-hour drive from Siliguri to Yuksom in a shared cab provided by Bikat Adventures. This cab leaves around 2 pm from Laddoo Gopal restaurant on Sevoke Road, so make sure you reach this restaurant on time.
Note: If you plan to explore Pelling, arrive at Siliguri one day before and travel to Pelling on your own. The distance from Pelling to Yuksom is 40 km.
In my case, I landed in Kolkata the previous evening and then took an overnight train to New Jalpaiguri (NJP) station. I reached Siliguri around 11 am and took a shared auto near the NJP railway station to Laddoo Gopal restaurant, Sevoke Road. The entire journey takes about 30-45 minutes, and you'll find plenty of shared autos near NJP.
Once I reached Laddoo Gopal restaurant, I met four other fellow trek mates and had lunch. Our cab driver waited for us outside, and by 2 pm, we were off to Yuksom.
The distance between Siliguri to Yuksom is around 160 km, and it takes close to seven hours to reach Yuksom.
The journey to Yuksom is a road trip in itself as you get to take in different views and landscapes of Sikkim.
Initially, you will be driving through forests, after which you'll get the company of Teesta river, which is the largest river in Sikkim.
The roads are perfect, and within 4 hours, you'll reach Jorethang. By this time, it will be dark. After Jorethang, the streets are not always that great, and you'll have plenty of off-roading experiences till Yuksom.
But the overall journey from Siliguri to Yuksom is fun and exciting. It's hard to avoid the ever-changing landscapes surrounding you throughout this journey.
We reached Yuksom around 9 pm and checked in to the hotel provided by Bikat Adventures. I shared my room with two other trek mates in a 3-bedroom accommodation. There we met other trek mates as well.
As we were hungry, we had dinner at Gupta restaurant. I recommend this restaurant if you want to have lunch and dinner. They provide North Indian, Continental and Chinese cuisine, and their food is homely.
Day 2: Yuksom (5,700 ft) to Sachen (7,200 ft)
Today is the day you start your trek. As we got ready, we had breakfast from another restaurant nearby. On a side note, if you're at Yuksom, you shouldn't miss out on Yak bread and cheese. You'll get these only in these regions of India where yaks are ordinary.
After breakfast, we met our trek guide, who gave us instructions to follow while trekking. We left the things we didn't need in our hotel rooms. All trek operators allow this.
We started our trek together at 10 am, and we were a group of 10-15 people from different parts of the country. The goal was to reach Sachen, the first campsite of the hike. The distance from Yuksom to Sachen is 8 km.
Initially, you'll pass through a monastery, some local houses and a government school. The trail becomes offroad only after half an hour.
The trail enters a dense forest that will accompany you for a couple of days. Today, you'll be crossing three suspension bridges and plenty of water streams and falls along the way. You can refill your water from these water streams.
The trail for today is moderate as you'll ascend and descend at different places. Be wary of mules and yaks. Allow them to cross first and stay on the mountainside instead of the valley side.
We stopped to have our packed lunch provided by Bikat Adventures in between the trail. Note that your tour operator offers food and accommodation as part of the package once you start your trek.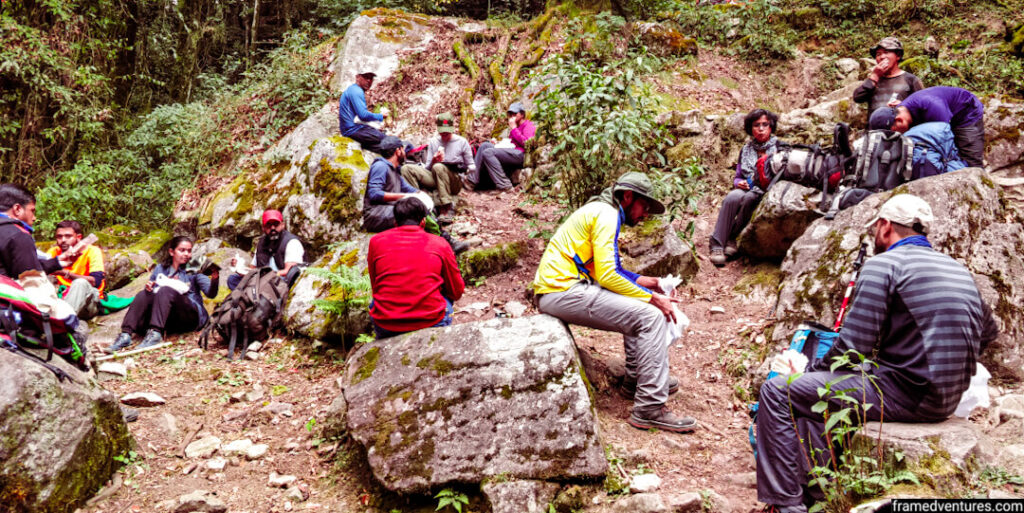 You can carry your snacks, but make sure that you don't litter anything on the trails.
After trekking for close to five hours, we reached Sachen, the first campsite of the trek.
At 7,200 ft, Sachen is a small clearing in the jungle next to a log hut and a shelter. Bikat Adventures set up our campsites, and two people shared every tent.
After checking in to our tents, we assembled in the nearby shelter, had tea, and played games to familiarise ourselves with each other.
Day 3: Sachen (7,200 ft) to Tshoka (9,700 ft) via Bakhim
In the morning, we assembled at the shelter again to have our breakfast. We had to reach Tshoka, our next campsite, via Bakhim. This trail covers around 7 km.
We started our trek by 9 am. As you trek towards Tshoka, you go deeper into the forest, and you'll find plenty of oak trees. Rhododendron trees further follow it.
You'll discover rhododendron blooms during the spring months of April and May. As we were trekking during November, there were no blooms.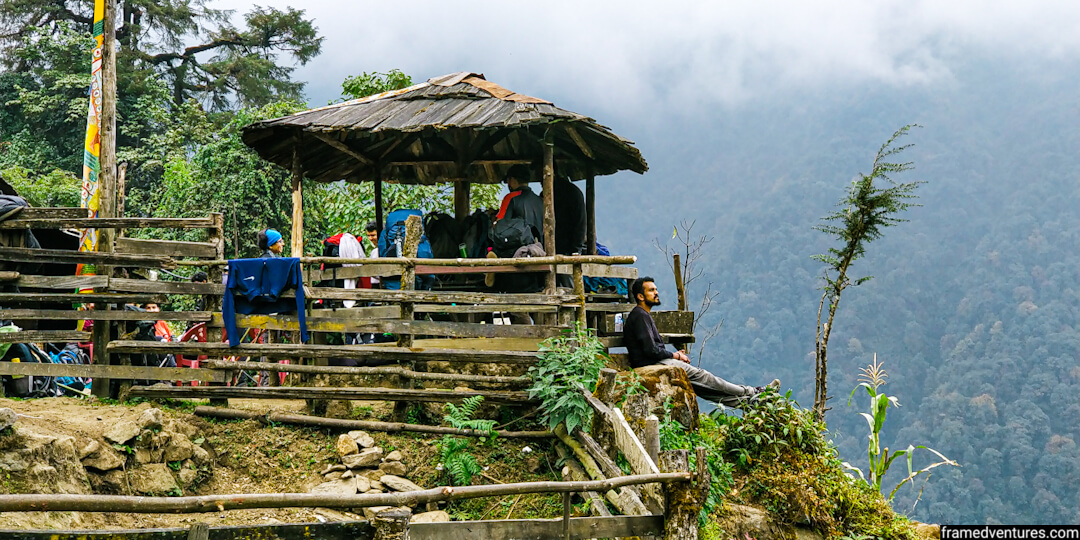 The forests open up eventually, and you'll notice the air becoming cooler. Halfway through the trek, at around noon, we reached Bakhim. From Bakhim, we get panoramic views of the Yuksom valley. It is a great place to chill, and some trekkers also camp here before moving to Tshoka.
We broke at Bakhim to have some snacks and met trekkers from other groups. Bakhim has a forest rest house and tea stall where you can have refreshments like Maggi and bread omelette.
From Bakhim, we continued our trek and experienced heavy fogs throughout this trail. We reached Tshoka (9700 ft) in a couple of hours. In total, it took us 5 hours to get to Tshoka from Sachen.

Unlike Sachen, Tshoka is an open plain that surrounds you with views of the Kanchenjunga range. It is a small settlement with an old monastery, a pond and a trekkers hut apart from small shops and houses.
We pitched our tents this time on the flat terrain of Tshoka. After that, we assembled for lunch.
As you have the rest of the day, you can explore Tshoka. You can chill at the local cafes, visit the monastery and spend some time by the lake. If you want to get views of the Kanchenjunga range, including Mt Pandim, you need to go to the monastery. It is the best view of the day.
Day 4: Tshoka (9,700 ft) to Dzongri (12,980 ft) via Phedang
We woke up by 6 am, and if you're a photographer, you should try to wake up by this time. You'll get amazing views of the mountain ranges in front of you with the sun shining on the snow-laden peaks.
Our next stop was Dzongri via Phedang. It takes around 8 hours to reach Dzongri from Tshoka, and the total distance is 9 km.
We started our trek at 7 am after having breakfast. Today's journey was the most exciting and challenging of the lot. You'll continue your journey through the forests, but you'll see more rhododendron trees and shrubs along the way.
After some time, you'll be walking on wooden log trails with wooden benches at some corners surrounded by thick forests. The wooden log trails make the landscape enjoyable.
Fog engulfed us soon, and the visibility got less. As we were gaining altitude, it got cold as well.
After two/three hours of trekking through these trails, we reached Phedang, a large clearing with great views of the snow-clad mountains. We couldn't see anything, though, as thick fog surrounded us.
We stopped at the wooden log house seen in Phedang and had our lunch.
We still had 4-5 hours more to cover to reach Dzongri, so we continued into the rhododendron forests soon after lunch. The path started opening up, and soon we were surrounded by thorny rhododendron bushes covered by ice.
The trek to Dzongri wasn't easy because it felt as if it was never-ending. There are many upward climbs involved, which makes the climb even harder.
Note: Ensure that you take breaks in between not to tire yourself.
Soon though, after trekking for more than 8 hours, we reached the Dzongri trekkers' hut. You'll find plenty of camps around here as there is plenty of space here.
At 12,980 feet, Dzongri is a dry meadow surrounded by the mighty peaks of the Kanchenjunga range across all sides. It is a trailer of what is to come as you'll be trekking through valleys surrounded by huge mountains in the coming days.
Many trekkers also do the Dzongri Goechala trek, which finishes in Dzongri before returning to Yuksom. However, all major trek operators continue from Dzongri to ViewPoint 1.
This night was the coldest night we experienced as the temperatures dropped to zero. The water inside our bottles froze, and our fingers also became numb. Hence layer yourself properly once you reach the Dzongri campsite.
Day 5: Dzongri (12,980 ft) to Thansing (12,900 ft) via Kokchurang
Day 5 is one of the best days of the trek for everyone who does the Goechala trek. You wake up at 4 am. With the help of your headlamps, you climb for close to an hour to Dzongri Top in the dark. From Dzongri Top, you get the first glimpse of Mount Kanchenjunga's peak during sunrise.
Every trek operator organises this climb; hence you can expect to see many trekkers giving you company at Dzongri Top. Apart from Mount Kanchenjunga, you'll get panoramic views of other peaks and mountain ranges from the top.
We spent around half an hour at the top watching the sun rays giving the Kanchenjunga peak a golden hue before making way. On the way back, you'll also get a bird's eye view of your campsite, among other sights that you may have missed during your climb.
We returned to our campsite, had breakfast, and started the trek to Thansing via Kokchurang.
Note: Some tour operators rest at Dzongri for the day to acclimatise the trekkers, while organisations like Bikat Adventures continue with the trek to Thansing on the same day.
The trek from Dzongri to Thansing via Kokchurang takes 4-5 hours and covers 10 km. While it may seem a lot, the hike is relatively easy as you'll mostly be descending through your trek. While doing so, be careful of the slippery rocks that may lose your balance.
The hike from Dzongri to Kokchurang is the turning point of the trek and one of my personal favourites. Initially, you'll be descending through a forest with intermittent views of the valley that lies ahead in front of you. But as the descent ends, you reach Kokchurang, entering the valley surrounded by majestic mountains and peaks on either side.
We stopped at Kokchurang, where you'll find a trekker's hut next to the Prek Chu river. We had our lunch right next to this stream of water, enjoying the sounds of nature.
From Kokchurang, Thansing is a further 2 km ascent. You walk alongside this river that will stay with you till Lamuney (the next campsite). By now, you're firmly in the middle of the valley. The landscape becomes rocky, and all you see are huge mountains on all sides.
We reached Thansing (12,900 ft) by 4 pm. It is a vast meadow in the middle of the valley with a perfect view of Mount Pandim in front of it.
Don't forget to witness the mesmerising sunset and sunrise over Mount Pandim.
Day 6: Thansing (12,900 ft) to Lamuney (13,650 ft)
The next campsite is Lamuney. It is our final campsite before we climb the summit and return.
Lamuney is further 4 km from Thansing and takes 2-3 hours. It is the most accessible trail as the terrain is flat. The only challenge is that cold winds will be blowing against your face, so cover it adequately.
Initially, you'll be walking through a small forest cover and then a path that is surrounded by shrubs.
As you go deeper into the valley, you'll notice barren mountains on either side of you and snow-clad peaks in front of you. Moreover, a small stream of river Pekchu gives you company till Lamuney.
You can take breaks in between witnessing the scenery as you trek. The entire landscape is surreal and a delight for photographers.
We reached our campsite at Lamuney (13,743 ft) by 1 pm. We pitched our tents right next to the snow-laden peaks beside us.
We prepared ourselves for the summit climb the next day as we had lunch. As we had the day to ourselves, we walked around and watched the sunset over the snow-clad peaks neighbouring us.
Day 7: Lamuney (13,650 ft) to View Point 1 (15,100 ft) to Kokchurang (8,600 ft)
Today is the day that all of us have been waiting eagerly. We witness the sunrise on the Mont Kanchenjunga peak for the second time, but this time in front of us.
We woke up in the middle of the night, had some refreshments and started trekking to ViewPoint 1 around 3 am. We'll be coming back; we left our stuff at the campsite.
With the help of our headlamps, we marched along in the dark. We have to ascend till ViewPoint 1 as we reach an altitude of 15,100 ft, the trek's highest point.
This climb is moderate, and it takes around 3 hours to reach ViewPoint 1. On the way, we also cross Samiti Lake, where we spend some time on the way back.
We reached just in time for the sunrise at Viewpoint 1 as we met trekkers from other groups who waited for the same. We could see the horizon line in the sky from the other end. We were standing on moraines, and the temperature was sub-zero. Ice was covering streams of water and plants nearby.
At 6 am, we watched the first rays of the sun hitting on the peak of Mount Kanchenjunga, giving it a golden glow. It was one of the best things we experienced in our lives. We took many pictures as we could see all the ranges of Mount Kanchengu right in front of us in all its glory.
You cannot stay at the ViewPoint for more than 30-45 minutes as it becomes cold irrespective of the layers you wear. We stopped at Samiti Lake, an alpine lake with crystal clear waters, on the way back. The lake was frozen as we could see the reflections of the neighbouring mountains on the ice.
After spending close to five hours, we reached back at our Lamuney campsite. We had our breakfast, packed our tents, and went back to Kokchurang, which would be our next campsite.
It took us 4 hours as we reached Kokchurang by 2 pm. Instead of pitching our tents, we spent our day inside the trekker's hut, which had enough space to accommodate us.
As the day went by, we discussed our experiences at the top and waited to go back to Yuksom.
Day 8: Kokchurang (8,600 ft) to Tshoka (9,700 ft) via Phedang
Our next campsite on the way back to Yuksom is Tshoka via Phedang. Some trekkers in our group trekked to Yuksom today itself as they wanted to visit Pelling. You can do the same but note that it takes time and energy to reach Yuksom from Bakhim.
Day 8 and 9 were the most difficult ones for me as you cover close to 15 km on both days. Plus, as you've already seen everything and are preparing to return home, it becomes difficult to motivate yourself mentally to trek further.
From Kokchurang, we made our way to Phedang first. The trail is relatively moderate, and it takes around 4 hours. From Phedang, it takes another two hours to reach Tshoka.
As you cover this journey, you get another chance to walk through the wooden log trails and the rhododendron trees that surround you inside the thick forest.
In total, you cover close to 16 km today. In the evening, at the Tshoka campsite, our cooks prepared a cake for us to celebrate the summit and the trek we had completed.
Day 9: Tshoka (9,700 ft) to Yuksom (5,600 ft) via Sachen
It is the final day of the trek.
We cover 15 km as we trek from Tshoka to Yuksom. There is a lot of descent that happens today. I couldn't feel my knees at some moments as they became weak.
It took us six hours to reach Yuksom. After checking in to our hotel, we had some snacks at a cafe, had the local beer and celebrated the occasion. It was a memorable trip that we conquered together as a family.
If you're at Yuksom, don't forget to try momos, some of the best you'll find in the country. The rates are also reasonable.
Day 10: Drive from Yuksom to NJP Railway Station / Bagdogra Airport (Siliguri)
On day 10, we woke up early as we took a shared cab back to Siliguri. We started early, around 4-5 am and reached Siliguri around 2 pm. And hence, our Goechala trek itinerary and experience comes to a conclusion.


Goechala trek difficulty
You cannot understate the difficulty of the Goechal trek. It is a moderate-difficult trek that is ideal for seasoned trekkers or trekkers who have some experience in moderate Himalayan hikes.
The Goechala trek distance is close to 100 km, i.e. you'll be covering 10 km on a daily average. As such, even if you're an experienced trekker, you need to prepare your stamina a month before going for this trek.
You can refer to this guide by Indiahikes to prepare yourself.
Additionally, you can try the Kumara Parvatha trek in Karnataka to prepare yourself for this trek as it is considered one of the most difficult treks in the Western Ghats.


Best time for Goechala trek
There are two seasons for the Goechala trek: Autumn and Summer.
The Autumn season spans from September to November, whereas the Summer season spans from April to May.
If you want to witness the rhododendron blooms, I suggest doing the trek in April. You'll see these blooms from Sachen to Dzongri. You can do a lot of birdwatching as well during this time. Moreover, you'll be encountering snow, while doing this trek, especially in April.
As it rains from June to August, the weather becomes clearer from September onwards. And hence, you'll get some fantastic views of the mountains that surround you. The sunrises and sunsets never disappointed us when we trekked in November.
As I love photography, I chose to trek in November for this primary reason. You'll get plenty of opportunities to capture the landscape of the Himalayas. Therefore, you can select September to November if you love clear and high-definition views of the mountains.

What to carry/wear for the Goechala trek?

You can refer to this infographic shared by Trek The Himalayas on their website. It is what I carried for my trek. In any case, always consult with your trek operator to be on the safer side.

Frequently Asked Questions
What is the Goechala trek height?
The height of the Goechala trek touches 15,100 ft when you reach View Point 1, which is the highest point of the expedition. It starts from Yuksom, which is at 5,700 ft. During the days in between, you'll be touching 12,00 ft on average.
How long is the Goechala trek?
The Goechala trek distance goes up to 100 km, and it takes around ten days (including the journey to and fro Yuksom) to do this trek. The distance may vary depending on the trek operator's Goechala trek itinerary, but you can generally expect to cover at least 90 km.
Is Goechala trek for beginners?
The Goechala is only for seasoned trekkers. You need to have done some moderate Himalayan treks in the past before attempting the Goechala trek. If you're a beginner, try to get some experience in other Himalayan treks because this one requires some endurance.
How do you do Goechala trek?
You can do the Goechala trek with operators like Bikat Adventures or Indiahikes. The trek operators organise group treks consisting of 10-15 trekkers in a group. They also provide food, accommodation, itinerary along with trekking guides.
What is the Goechala trek price?
The price of the Goechala trek goes up to INR 20,000. A typical trek package at this price includes food, accommodation and camping. This package excludes your journey to and fro Yuksom, for which you have to pay separately.
Conclusion
The Goechala trek in Sikkim is the closest you can get to experience the highest peak in India, i.e. Mount Kanchenjunga. Apart from witnessing the sunrise from Mount Kanchenjunga, the thick forests filled with rhododendron trees, frozen lakes, Buddhist monasteries, and the company of huge mountains makes this Himalayan trek a picturesque one in Sikkim.
But don't get fooled by the magnificence of the Goechala Pass. It is as challenging as it is beautiful. There will be moments throughout the trek where you'll have to push yourself and experience cold weather. Hence, do this trek only if you're a seasoned trekker and want to spend some time in Sikkim's deep valleys and thick forests.
I hope you enjoyed this complete guide, including the Goechala trek itinerary. If you have any questions, do let me know in the comments below.