Kumara Parvatha trek guide: Everything you should know
Would you like to challenge yourself as a trekker in the Himalayas but without actually going to the Himalayas? If so, Kumara Parvatha is a trek in South India that you shouldn't miss out. In fact, if you plan to trek in the Himalayas, do this trek before to prepare yourself physically and mentally.
Standing at 5,617 ft, Kumara Parvatha (also known as Pushpagiri) is the fourth highest peak in Karnataka and probably the most challenging trek I've undertaken as a trekker in the Western Ghats. Thick forests, open grasslands and tall mountains are some of the highlights that make this trek worth it.
While the terrain and the conditions may be different to the Himalayas, this trek tests you both physically and mentally, thereby giving you a similar experience to trekking in the Himalayas.
I did a solo trek to Kumara Parvatha on the weekend from Mangalore. In this Kumara Parvatha trek guide, I tell you everything there is to know about this trek so that you can do it on your own.
Where is Kumara Parvatha?
Kumara Parvatha is in the Coorg district in Karnataka. To be more specific, it is a part of the Pushpagiri Wildlife Sanctuary in the Somwarpet area of Coorg.
In terms of major cities nearby, it is 152 km from Mangalore and 258 km from Bangalore.
Kumara Parvatha trek route
You can trek to Kumara Parvatha from two different directions: Kukke Subrahmanya and Somwarpet. You can start your trek from Kukke Subrahmanya and exit from Somwarpet or vice versa. The choice is yours.
In terms of differences, the Somwarpet side is 7 km from Kumara Parvatha, whereas the Kukke Subramanya side is 14 km. Moreover, the climb from Kukke Subramanya is much steeper than Somwarpet, which is more gradual.
I started and ended the Kumara Parvatha trek from Kukke Subramanya as I wanted to challenge myself. So I'll be talking only about this route in this guide.
The route is as follows:
Your starting point is near the Kukke Subrahmanya temple.
On the first day, you have to trek to Bhattare Mane, a homestay located near the check post for Kumara Parvatha.
The next day, you'll be hiking to the peak, i.e. Kumara Parvatha. On the way, you'll also be crossing Shesha Parvatha, its sister peak.
The same day, you'll be trekking back to the Bhattare Mane homestay by afternoon and then to Kukke Subrahmanya temple by the evening.


Kumara Parvatha trek booking
You don't have to make any booking for Kumara Parvatha in advance. It is a DIY trek that any experienced trekker can do. However, as you will be staying at the Bhattara Mane homestay, it is better that you call them in advance to tell them about your schedule. It helps them prepare meals for you accordingly. You can find their number easily on Google.
Pro tip: As Bhattare Mane is located inside the hills, your call may not connect most of the time. In case you aren't able to connect, don't worry. They usually have space and meals remaining. Kumara Parvatha trekking plan/itinerary
I did the Kumara Parvatha trek from Kukke Subrahmanya on the weekend. You can follow this same itinerary or customise it at your convenience.
Kumara Parvatha trek itinerary (2 days, 1 night)
Day 1
I arrived at Mangalore early morning before taking a KSRTC bus to Kukke Subrahmanya. You can find buses at regular intervals from the Jyothi Circle bus stand. The total travel time is 2.5 hours by bus.
Note: If you're coming from Bangalore, you have to take a bus/train the previous night because the time taken is double compared to taking a bus/train from Mangalore. This is the main benefit of starting the trip from Mangalore.
The road journey from Mangalore to Kukke Subrahmanya is smooth, and you'll find lots of trees and vegetation on the way. The landscape looks similar to Kerala.
Once you reach Kukke Subrahmanya, you'll find many hotels and restaurants to freshen up and have your lunch. As you'll be embarking on a tedious trek today, try to have a wholesome and healthy meal before starting your walk by at least 2 pm.
I had lunch at Hotel Kumarakripa. I found their food to be fresh, delicious and cheap. The menu options are limited but whatever they prepare is on the money. Their cuisine is mainly South Indian.
Neo Mysore Cafe is another restaurant I recommend. I didn't go there due to the crowds; however, they have a similar cuisine to Hotel Kumarakripa.
Both these hotels are near Kukke Subrahmanya temple.
After having your food:
Get ready for the trek.
Ensure that you're in the proper trekking attire, as you'll be embarking on a challenging hike.
If you have to, use the washroom at the hotel to change your clothes as I did.
The plan for today is to cover 6 km on foot today to reach Bhattara Mane, the only homestay you can find on this trek. Either you can stay here, or you can carry your tent and pitch them near the homestay. The folks at Bhattara Mane provide food at a nominal cost.
The way to the starting point of the trek is from the side of Kukke Subrahmanya temple. Unfortunately, there is no clear signboard anywhere, but you can consider Adarsh Audio-Video shop the landmark where you take a right turn. In any case, you can ask the shopkeepers around who'll be able to help you. The walk is through a by lane, and you cover 1.5 km to reach the starting point of the trek.
Pro tip: The entire trekking trail from Kukke Subrahmanya temple to Kumara Parvatha is available on Google Maps. You can download the map offline and use it while trekking.
The entry point of the trek has a parking area nearby that you can use to park your vehicles. The Kumara Parvatha trek route begins from here, and it takes around 4 km to reach Bhattara Mane homestay.
Note: The trail to reach the Kumara Parvatha peak is quite clear. You will have various signs telling you the directions throughout the trek. If you're confused, you can always follow the people you'll be meeting during the trek.
Your initial hike is through a thick forest. There are different varieties of trees and plants during this trail. The trail throughout the forest is covered densely; hence you won't be affected by direct sunlight. However, the track is entirely upwards, due to which you'll get tired quickly.
Therefore, you must hydrate yourself regularly and have dry fruits or protein bars in between. Depending on your pace, it takes close to 1.5-2 hours to exit this forest cover.
The trail from thereon is through open meadows, and the entire landscape becomes clear. This area is my favourite part of Day 1. You get panoramic views of mountain ranges and forests as you traverse through this area. Even though you are in direct contact with the sunlight now, the good news is that the intensity is less as you'll reach this section only by early evening.
It takes another 1 hour to reach Bhattare Mane through the open meadows. You can take your time and pause for photo breaks as you'll get many opportunities for the same. At one point, you'll also be able to see the Bhattara Mane homestay amidst the tall mountains in the background from a distance.
In total, it will take 3-4 hours to reach Bhattara Mane homestay, depending on your pace.
After reaching Bhattara Mane, you can freshen up. There are no bathrooms/toilets in the vicinity; however, you can use the tap to wash your face in front of the house. You can also drink this water as it comes directly from the mountains. This water energised me more than anything I had that day.
After resting for some time, you can hike to a viewpoint nearby to catch the sunset. Every trekker will be heading for this place in the evening. You get a bird's eye view of the mountain ranges nearby, and it is an excellent place to chill and relax for some time after a strenuous trek.
As it becomes dark, the caretakers at the homestay serve dinner. It is a vegetarian meal consisting of rice, dal and buttermilk. You can consider carrying extra snacks if you want more variety.
Talking of sleeping arrangements, Bhattara Mane has limited mats; hence there is no guarantee that you'll get one. You'll at least get newspapers to lay on the ground (inside the homestay) as I did. The only drawback is that you'll feel the hard surface beneath you as there is no cushion.
Note: You can also consider carrying a sheet/blanket to cover yourself as it becomes cold at night.
Now, you need to wake up early the following day to climb to the Kumara Parvatha peak. There are two options available for you:
Wake up by 4 am, freshen up and start your trek if you want to catch the sunrise at the Kumara Parvatha peak by 6 am. Quite a few of my fellow trekkers chose this option.
Wake up by 6 am, freshen up, have breakfast and start the hike. It is ideal if you want to rest for some more time and have breakfast before leaving.
I choose the second option, but you can decide for yourself depending on your convenience. Retire for the night and keep an alarm accordingly.
Day 2
I woke up by 6 am, freshened up and was waiting for breakfast; however, for some reason, there was a delay in preparing breakfast that day. Hence I decided to skip breakfast and go for the trek as I had to return to Mangalore the same night. Additionally, I also had bananas and dry fruits with me, so food wasn't an issue.
Less than 500 metres from the Bhattara Mane homestay is the forest check post. Here, you have to pay a fee of INR 350 to get the permit. You will also be required to pay a nominal amount of money for carrying plastic items, refunded if you show the same plastic items on return.
Before I proceed, it's important to tell you that if you're a solo traveller, you'll find trekkers like you who will be trekking to the summit along with you. As you have a long journey ahead, it always helps to have company. So try to mingle with your fellow trekkers. I was lucky enough to tag along with a group of trekkers who made my trekking experience more memorable.
The trek to the Kumara Parvatha peak is 6 km from Bhattare Mane. This stretch is an upward hike primarily through open meadows and dry mountains. Initially, you'll see patches of forest cover and mountain views neighbouring you as you trek along.
Within 2 km, you reach Kallu Mantapa; a small, abandoned structure carved out of stone that reminded me of Hampi. You can rest here for some time, take in the views and have a snack or two before continuing with your journey.
Shesha Parvatha is your next stop. Being an upward climb, the trail to Sheesha Parvatha takes some stamina; however, it treats you with views that are worth the effort. As you climb towards Shesha Parvatha, you'll start seeing landscapes that were hidden from you previously. Tall mountains surround you in no time, and panoramic landscapes become all the more common.
Shesha Parvatha is a rocky peak atop a hill from where you get sweeping views of the Western Ghats. You can stop here for some time before making way for the final peak, i.e. the Kumara Parvatha peak.
From Shesha Parvatha, the hike to Kumara Parvatha is less than 2 km and is my personal favourite in the entire trek. You climb down through a path before entering a forest cover. It is the only forest cover you'll find today.
The forest cover then opens up to a rocky patch inclined at 45 degrees. You have to climb upwards on this rocky area, so be careful, especially if the surface is wet.
After this, you enter a small forest cover again before opening up to a dry and rocky mountain area. These climbs are easy as you near the end.
Within a few minutes, you reach the Kumara Parvatha peak. From here, you get a bird's eye of the mountain ranges of Coorg. These views are only visible from here as this peak is on the backside of the mountain. So take in the atmosphere and enjoy the views. Have some snacks to replenish your energy.
In total, it took me 3 hours to reach the Kumara Parvatha peak from Bhattara Mane. It will vary for you depending on your pace and the number of breaks you take.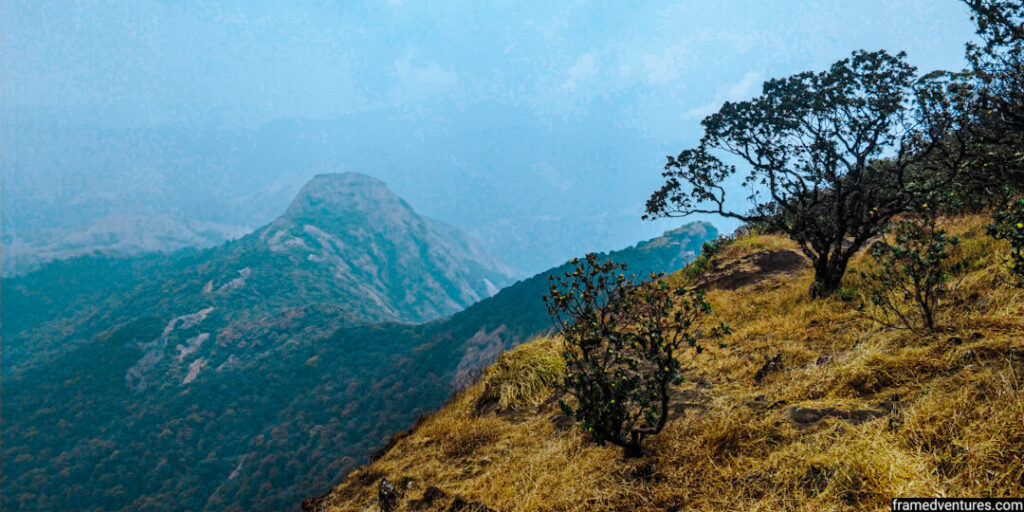 In any case, try to leave for Bhattara Mane by 11 am. Doing so ensures that you're back at Kukke Subrahmanya by 5 pm at least.
You follow the same trail to go back towards Kukke Subrahmanya.
Note: If you had deposited any money at the forest check post for carrying plastics, you'd get a refund for the same after showing all your plastic items.
Once you're at Bhattara Mane, freshen up and have lunch. Trek back to Kukke Subrahmanya. Ideally, you should reach the starting point of the trek by 5 pm.


How to reach Kumara Parvatha?
By bus
You'll get buses from Bangalore and Mangalore frequently to and fro Kukke Subrahmanya, the starting point for the Kumara Parvatha trek. You can book the buses in advance from the KSRTC app/website. The journey from Bangalore to Kukke Subrahmanya takes 7-8 hours on average and 2-3 hours from Mangalore to Kukke Subrahmanya.
By train
Trains are also available both from Bangalore and Mangalore to Subrahmanya Road railway station. The total duration remains the same as the bus durations from both these places.
From here, it takes another 13 km to reach Kukke Subrahmanya. You can avail shared jeeps/autos from the railway station.
By flight
You can fly in from almost any part of the country to Bangalore and Mangalore. This option will be convenient to you if you're coming from a far-off state.


Best time to visit Kumara Parvatha
I trekked to Kumara Parvatha in February. The weather was humid on day 1 when strolling through the forest cover, and it became scorching on day 2 when walking through the open grasslands. However, the trek was bearable due to the constant cold winds.
The months from September to March are perfect for trekking Kumara Parvatha because the conditions are optimal. The trek remains closed during summers, whereas trekking during the monsoon is a risk due to the slippery trails and rocks found on this trek.


Frequently Asked Questions
How difficult is the Kumara Parvatha Trek?
Kumara Parvatha is not a trek you should do if you're a beginner in the world of trekking. At the same time, you should also not take it lightly, even if you have experience. I recommend that you do some stamina-building exercises for a month or so before going for this trek.
Is camping allowed in Kumara Parvatha?
Kumara Parvatha is not a trek you should do if you're a beginner in the world of trekking. At the same time, you should also not take it lightly, even if you have experience. I recommend that you do some stamina-building exercises for a month or so before going for this trek.
Is Kumara Parvatha open for trekking?
Kumara Parvatha is open for trekking throughout the year except in summers because of forest fires. Try to go for this trek post-monsoon or during winters.
What is the Kumara Parvatha trekking distance?
The entire trail from Kukke Subrahmanya to Bhattara Mane, Bhattara Mane to Shesha Parvatha, Shesha Parvatha to Kumara Parvatha and back is close to 16 km.
Conclusion
Kumara Parvatha trek is regarded as one of the most challenging treks in the Western Ghats, and rightly so.
If you're a seasoned trekker, you need to do this trek to test your endurance and stamina. You can also do this trek to train yourself before trying any of the Himalayan treks.
I hope you found this guide valuable. Let me know down below if you have any questions.