5 best places to visit in Chikmagalur in 2 days
Did you know that Chikmagalur, a small hill station in Karnataka, is responsible for bringing the coffee revolution to India? A Sufi saint called Baba Budan smuggled coffee beans from Persia in the 16th century and planted them in his garden here in Chikmagalur. Since then, Chikmagalur has been known as the coffee capital of not only Karnataka but also India before the coffee cultivations started spreading to other parts of the country.
But Chikmagalur has a lot more to offer than just coffee. It is a paradise for nature lovers. Tall mountains, cascading waterfalls and nature hikes are some of the many attractions you'll find at this scenic hill station.
I went on my first-ever solo trip to Chikmagalur from Bangalore on a weekend, and I wish I had stayed much longer as Chikmagalur has so many experiences to offer. Regardless, in this guide, I give you a rundown of the 5 best places to visit in Chikmagalur in 2 days and some additional places as well in case you have time.




Where is Chikmagalur?
Chikmagalur is a hill station located in the southern part of Karnataka. It lies somewhere in the middle of Mangalore and Bangalore. Mangalore is at a distance of 150 km, whereas Bangalore is at a distance of 250 km.
Popular hill stations like Agumbe and Shimoga lie nearby. Being close to the major cities of Karnataka, it is a popular getaway for people coming from Mangalore and Bangalore.


5 best places to visit in Chikmagalur in 2 days
I hired a cab driver through my hotel to take me to the following places (in chronological order) around Chikmagalur. You can choose to follow the same or tweak it at your convenience.
Day 1
Mullayanagiri
On day 1, I started my journey to Mullayanagiri, the highest peak in Karnataka (1,930 metres). It has to be on your itinerary of the top places to visit in Chikmagalur in 2 days.
The valley views from the Mullayanagiri peak are amazing. Being at a high altitude, clouds and mist cover the peak more often than not. Witnessing a sunrise/sunset from the top is the icing on the cake. You will also find a temple dedicated to Lord Shiva here.
The journey to this mountain is as exciting as reaching the peak itself. You will be travelling through winding ghat roads to get to this place. As you start ascending, cool mountain airs welcome you, and everything around you becomes misty.
Chikmagalur to Mullayanagiri is a 20 km drive. Once you park your vehicle at the base, you need to hike approximately 300 steps to reach the peak. The hike is 2-3 km long and is perfect for beginners. As the weather is generally calm, you won't feel tired quickly.
As Mullayanagiri is a commercial tourist place, try to reach the peak by sunrise to avoid the crowds and enjoy the sun rising through the valleys.
Baba Budangiri (Datta Peeta)
Baba Budangiri, also known as Datta Peeta, is the second-highest peak in Karnataka, standing at an elevation of 1,895 metres. It is at a distance of 25 km from Mullyanagiri.
This mountain derives its name from the Muslim saint Baba Budan. It is said that Baba Budan smuggled coffee to these hills from Persia in the 16th century, courtesy of which the first coffee plantations were grown in Chikmagalur.
At the top, you will find a small temple inside a cave. It is a famous pilgrim site for both Hindus and Muslims.
You can get a bird's eye view of the hills and valleys covered in greenery from the summit.
You can reach the top by your vehicle. But if you are adventurous enough and have more time on your hands, you can try the 12 km trekking trail between Mullayanagiri and Baba Budangiri.
Jhari Waterfall
Jhari Falls is a tall cascading waterfall at a distance of 12 km from Baba Budangiri. It is also known as Buttermilk Falls due to its appearance.
The falls are inside a dense forest cover surrounded by coffee plantations. There is a small pool at the base of this waterfall where you can take a dip and get re-energized.
You need to hire a jeep from the parking lot, which is about 4 km from the waterfalls. The jeep takes you through a rugged road inside private coffee plantations.
The last stretch of 1 km has to be covered by foot on a slippery and muddy trekking path. If you are a nature-lover, you will enjoy this walk as you get to absorb all the sights and sounds of nature inside the jungle.
Day 2
For Day 2, I hired another cab driver near the Chikmagalur bus stand to cover the remaining places. This time, I travelled to Kemmanagundi, a quaint little hill station on the outskirts of Chikmagalur.
I was not aware of what to expect as I hadn't heard of Kemmanagundi before. But in hindsight, this turned out to be one of the best road trips I had taken in Karnataka.
It is no wonder then that Kemmanagundi is known as the Ooty of Karnataka. Known for its lush green vegetation, tall mountains, and panoramic landscapes, a road trip to Kemmanagundi is a must, even if you don't plan to visit many places here.
If you're looking for a peaceful getaway, Kemmanagundi is a better alternative to Chikmagaluru as the crowds are fewer, and this hill station is relatively unexplored. The only caveat is that you need to travel a further 53 km from Chikmagalur to reach Kemmanagundi.
Hebbe Waterfall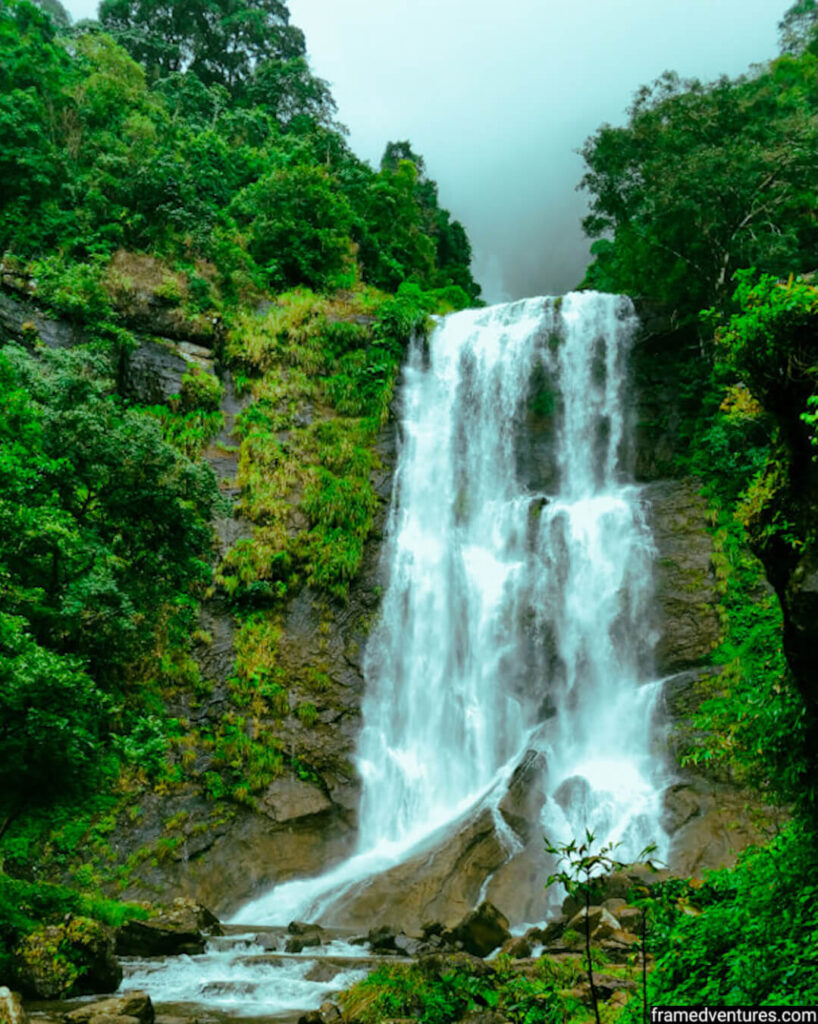 After travelling for close to 2 hours on the road, we reached Hebbe Falls. Unlike Jhari Falls, Hebbe Falls is only for adventurous souls.
Less than 5 km from Kemmanagundi, Hebbe falls is located deep inside a thick reserve forest on top of a hill. Rich flora and fauna, and coffee plantations cover this forest.
You have to hire a four-wheeler jeep to reach the starting point of this waterfall. I was lucky enough to find a family from Bangalore with whom I shared the ride.
The ride will be bumpy as you will be traversing through off-roads for close to 30-45 minutes. While you are at it, make sure to keep an eye out for the beautiful surroundings. The landscape keeps changing, and if you are lucky, you might even spot some animals.
Once you reach the parking area, you need to trek 1 km or so until you reach the falls. Be prepared to face leeches and walk on uneven terrains from here on. You will also pass a few water streams along the way, so getting your feet wet is a no-brainer.
The water plunges from a great height, and as you inch closer towards the waterfall, you start hearing louder roars of the falls splashing on the ground. The effort required to reach the falls might be strenuous, but you will forget everything and be thankful to yourself once you get there.
You can take a dip at the base of the waterfall to rejuvenate yourself but be careful of the slippery rocks. The water here has medicinal properties.
Z Point
Z-Point is another adventurous destination in Kemmanagundi and one of my favourite places in Chikmagalur.
Close to 5 km from Kemmanagundi, Z Point is a trekking spot located on top of a small mountain. It derives its name from the fact that it appears in a Z-shape from the top.
Although the trek is short, what makes it unique is its distinctive slope and the corresponding views. The trekking trail appears to be narrow as you go towards the peak. You feel as if you can roll down this mountain on either side due to its shape.
The trek itself is pretty impressive, especially towards the end as the path becomes narrower. After that, it becomes difficult for two people to walk side by side.
As you reach the peak, you get to see lush green valleys and mountains on one side and panoramic views of green pastures on the other side. However, as Z Point is primarily open grassland, you can feel the cold solid winds, and there is a good possibility that mists or even clouds engulf you.
The entrance to this trek is near Raj Bhavan. You can either hire a forest jeep from there or take your vehicle through the forest until you reach Shanti Falls, a small stream of water.
Once you reach Shanti falls, you can only get to the peak by trekking for 1 km. However, the trek is easy, and anyone can do it.


Other places to visit in Chikmagalur
If not for time constraints, I would have visited the following places as well. You can give them a visit if you have more time on your hands:
Coffee Museum
If you are a coffee and history lover, you can visit this museum to get an idea of the origins and various processes used in making coffee.
Hirekolale Lake
It is an artificial lake surrounded by hills and coffee plantations, 10 km from Chikmagalur. You can spend an evening here to watch the sunset.
Bhadra Wildlife Sanctuary
Located 80 km from Chikmagalur, it is home to various flora and fauna and has a large tiger population. You can go for a jeep safari here with the help of forest officials.


How to travel in Chikmagalur?
Taxis
Local taxis are the most convenient because they are well-versed with Chikmagalur, and they can even suggest places that are not on the tourist map.
You can book a taxi through your hotel/homestay in most cases as they have tie-ups with different taxis. If you are staying in Chikmagalur town, you can also find cabs from the bus stand. In any case, try to bargain with the taxi driver to get a good deal.
Bike rentals
You can hire bikes from local agencies in Chikmagalur at a reasonable cost. Search on Google to get more details about their services.
Royal Brothers is another well-known bike rental agency that operates in Chikmagalur.


How to reach Chikmagalur?
One of the best geographical advantages of Chikmagalur is that is near to all the major cities in Karnataka. It takes 4-5 hours by road on average to reach Chikmagalur from Bangalore, Mangalore or even Mysore.
Flights
The nearest airport is Mangalore, followed by Bangalore. The distance from Mangalore to Chikmagalur is around 150 km, whereas the distance from Bangalore to Chikmagalur is close to 250 km.
Trains
Kadur (40 km) and Hassan (60 km) are the two nearest railway stations. However, Hubli is the major railhead near Chikmagalur, situated at a distance of about 291 km. You will therefore find more options for trains that arrive at Hubli.
Note: Although Chikmagalur has a railway station, there are hardly any trains passing through it.
Buses
If you are coming from Bangalore, the cheapest way to travel from Bangalore to Chikmagalur would be by booking a KSRTC bus online. I did the same.
My journey from Bangalore started close to midnight, and I reached Chikmagalur before sunrise the next day. The best aspect about travelling by bus is that the last stop is at Chikmagaluru bus station, right in the middle of Chikmagalur town.
You can use the KSRTC app/website to make a booking in advance. Similarly, you can book buses from Hubli, Mangalore and Mysore to Chikmagalur online.


Best time to visit Chikmagalur
I travelled to Chikmagalur during September, and I found the weather to be charming. There were some light showers here and there, but in general, the weather was cool and misty.
Although the temperature is excellent throughout the year, the best time to visit Chikmagalur would be September onwards (right after the monsoon). The weather in Chikmagalur is pleasant till March. You would need to carry warm layers as it can become cold, especially during December and January.
You can avoid July and August as the Chikmagalur weather is unpredictable. It rains heavily during this time.


Where to stay in Chikmagalur?
I stayed in a 1-star hotel close to the Chikmagalur bus station called Giri Inn. It was a basic bedroom with an attached bathroom. The overall stay was good, and I also got to have their complimentary breakfast.
You will find a lot of similar hotels in Chikmagalur town.
But if you have more budget or if you're travelling with friends, I would recommend you stay in a homestay because there are a lot of homestays in Chikmagalur that are away from the town and tucked inside coffee plantations. The overall ambience and experience you have here would be much better.


Best places to eat in Chikmagalur
Town Canteen is one of my favourite restaurants in Chikmagalur. It is one of the oldest joints in the town, established around the 1960s.
It is renowned for its benne masala dosa with butter and gulab jamun. They serve filter coffee as well. You can have your breakfast/dinner from here at a reasonable rate.
Siri Coffee is another place where you can get good filter coffee with snacks. You can also have your breakfast from here.
Be prepared to have food from local food joints and dhabas because you may not find decent restaurants near your travel destinations, mostly far away from the town.


Travel tips for Chikmagalur
If you plan to get drenched in water, make sure to carry swimwear and a towel.
Leeches are common, especially during and post the monsoon season. Carry some salt or use anti-leech socks to protect yourself. In any case, don't be afraid of leeches. They are painless.
Use a good trekking shoe or any outdoor shoe with some good grip. You will be walking on muddy paths and uneven terrains.
It is advisable to carry at least a jacket because the weather is generally cold in Chikmagalur.
Carry dry fruits and peanuts if you plan to go for treks to keep your energy.


Frequently Asked Questions
Which month is best to visit Chikmagalur?
If you prefer a colder climate, the months from September to March are perfect to visit Chikmagalur. This is particularly true during the months of December and January when the temperature goes down considerably. But even otherwise, the weather in Chikmagalur is pleasant throughout the year.
What is Chikmagalur known for?
Chikmagalur is a popular hill station in Karnataka known for its pleasant weather, beautiful sceneries and coffee plantations. Coffee was first cultivated in India in Chikmagalur and is exported to various countries across the world. Apart from coffee plantations, there are plenty of waterfalls, nature hikes and off-road experiences for tourists to explore Chikmagalur.
Is Chikmagalur better than Coorg?
Both places are similar in terms of weather, scenery and even coffee plantations. If you are travelling from Bangalore, the distance to both the places are also similar. However, if you plan to visit Mysore as well, Coorg is a better option as it is nearer.
Another thing to note is that since Coorg is much more commercialised than Chikmagalur, you will find more options in terms of food and accommodation in Coorg. Having said that, you may find more offbeat and relaxing experiences in Chikmagalur. Hence, it completely boils down to what you're looking for.
How to reach Chikmagalur from Bangalore?
You can book overnight government buses (KSRTC) from Bangalore to Chikmagalur from the KSRTC website. You can also catch a bus from the Kempegowda bus terminal since it is the starting point. The total journey takes close to 4 or 5 hours. Private buses can also be availed from private bus operators.


Conclusion
Given that it was my first-ever solo trip, I had a life-changing weekend at Chikmagalur. It is what started my love for travelling and exploring places. On my way back from Chikmagalur to Bangalore, I had already planned my next trip to Chikmagalur to explore more hidden gems, especially in Kemmanagundi.
If you are from Bangalore/Mangalore and need a quick weekend getaway to refresh yourself and connect with nature, Chikmagalur might be the place that will do it.
Let me know in the comments below if you have any suggestions or further questions about Chikmagalur. You can also share any travel experience that you may have had in Chikmagalur.