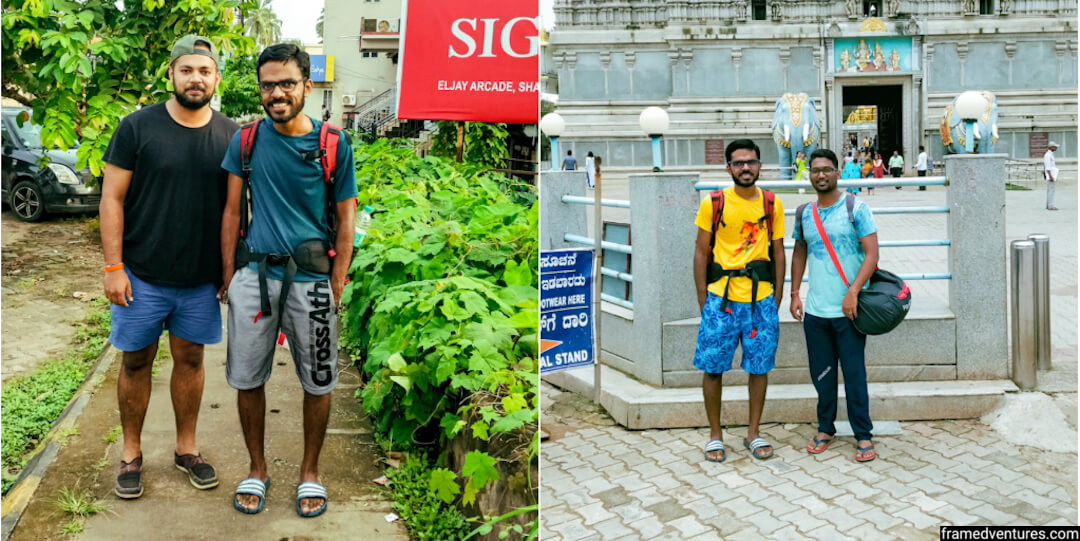 Couchsurfing in India review: The best way to travel solo

After visiting Malpe beach in Udupi in the evening, it was time to take a bus to Mangalore. It was the final leg of my one-week solo trip across coastal Karnataka.
Being a spontaneous trip, I didn't make any hotel bookings in advance. And so, while I was on the bus, I decided to try my luck and found a host in Mangalore. He was renting his apartment for free on Couchsurfing.
After spending two days with my host, it was time to leave Mangalore. I got emotional because my time at Mangalore was the best out of all the places I visited in that week.
I asked myself why I didn't use Couchsurfing while visiting the other places across coastal Karnataka.
That's how I got introduced to the concept of Couchsurfing in India. And I didn't realise its benefits until I started using it.
Just like me at that time, many people still don't know how Couchsurfing works or what it offers. There seem to be a few misconceptions as well.
If you're a solo traveller or a backpacker in India, you need to start talking Couchsurfing seriously. Because once you start using it, there's no going back.
In this Couchsurfing review, I tell you what is Couchsurfing, how you can use it to have awesome travels across India and why it should be your priority if you're a solo traveller.
How does Couchsurfing work?
Couchsurfing is a global hospitality platform much like Airbnb, through which you either stay at a host's place or become a host yourself by listing your home on their app. But unlike Airbnb, there is no exchange of money involved.
It is primarily a social networking community for travellers who love to meet up and spend time with others.
It came into conception in 1999 when computer programmer Casey Fenton found a cheap flight from Boston to Iceland but did not find accommodation. He decided to create a website where people could look for hosts and stay with them for free.
Today, you have a full-fledged Couchsurfing app and a website through which you can send messages and stay requests to hosts, much like how Airbnb works.
Platforms like Airbnb and Booking.com have made it easier than ever for travellers to check out different properties at different prices. As a traveller, you have many options these days to find cheap stays and accommodations in India.
But what makes Couchsurfing stand from its competitors are primarily three things:
1. Free accommodation
2. Personalised stay
3. Experiencing a place through a local's eyes
1. Free accommodation
While you can stay at cheaper costs at Airbnb and Booking.com, staying for free is never an option. Even if you get an affordable stay, your overall costs might increase, especially if you travel over a long period.
This is where Couchsurfing comes into the picture.
As it is available across all cities, hill stations and even some remote locations in India, it becomes easily accessible while at the same time saving you money. You can use this saved money to spend on other essential things like food, travel, etc.
A lot of travel bloggers, influencers and digital nomads finance their travels in this manner.
2. Personalised stay
While you may get to spend time with your hosts on Airbnb, it is not very common for your host to be available at the property. Usually, they have a caretaker who looks after the place.
And even if you do get a host on the property, they may be busy running errands for their property or looking after other guests.
On the contrary, hosts on Couchsurfing list their homes with the primary intention of meeting new people and spending time with them. And therefore, you not only have a free stay, but you also get to make new friends and exchange cultures/perspectives.
For me, this alone makes Couchsurfing in India a valuable proposition for any traveller who wishes to travel more experientially rather than ticking things off a bucket list. It adds more meaning to your travel adventures and helps you create long-lasting memories.
3. Experiencing a place through a local's eyes
As an extension of the last point, your host will likely go out with you and show you the places around. At the very least, they'll make you aware of all the different places of interest and experiences you can have at your destination.
And these places, more often than not, will be places that are off the tourist radar. Because of this, you're not only avoiding the crowds, but you're also having offbeat experiences that you wouldn't have had otherwise.
How cool is that? You don't need to hire a tourist guide or rely on Google anymore.
However, everything said and done, there are a few drawbacks with Couchsurfing in India that you must keep in mind:
While Couchsurfing is usually more accessible in cities and hill stations, finding them in villages or remote towns may be challenging. You are more likely to get a stay on Airbnb or Booking.com than a Couchsurfing host in far-off places.
Also, just because you send a request to a Couchsurfing host doesn't mean your host will accept the stay. Your acceptance depends on how optimised your profile is and how you approach the host (more on this later). Even then, your host has the final say.
You may sometimes encounter hosts who may not have a clean space to crash in, or you may not have great chemistry with your host once you move in. While these occurrences are fewer, it may happen, especially if you don't do proper research before choosing your host.
In the next section, let's take a look at how to use Couchsurfing in India so that you increase your chances of getting an approved stay from your host and make the most of this amazing platform.
How to do Couchsurfing in India?
As a beginner, there are two things you need to do to start your Couchsurfing journey in India:
1. Complete and optimise your profile
2. Start sending requests to the hosts you want to stay with
Note: There are other features on this platform that you can make the most of, but we'll talk about them later.


1. Complete and optimising your profile
You must complete and optimise your profile to ensure that you get the best experience from the Couchsurfing ecosystem.
Once you sign in to the Couchsurfing website/app, go to your profile.
Note: Couchsurfing will appear differently on both the app and the website, but all the features remain the same.
You'll see five main sections here (apart from a few others), namely:
About You
My Home
Photos
References
Friends
Let's go through them one by one:
1. About You
The About You section is probably the most important in your Couchsurfing profile. It is what shows up first when someone checks out your profile.
So it is all the more vital that you optimise this section to create that first impression. As cheesy as it sounds, the first impression truly is the last, especially in the Couchsurfing world.
Your hosts get a lot of requests from travellers on a weekly/daily basis. Hence, they'll be more willing to accept you only if you have a complete profile as it increases their trust.
Most of the fields in this section are self-explanatory. Let me walk you through some of the essential fields, though:
About Me
Use this space to write about yourself, your background and your experiences. It would be best if you show off your personality here, so keep it casual and informal.
It gives your host/guest a fair idea of who you are as a person. So give it the best you've got.
My Interests
These are your hobbies or passions that appear as tags. This space is essential as it helps your host understand more about yourself.
Pro tip: You're more likely to enjoy a stay with a host who has common interests like you. This gives you a starting/reference point to get along with your host. The same applies to you if you're a host.
Teach, Learn, Share
You can mention anything you would like to teach/learn or share with the people you meet on Couchsurfing.
Why I'm on Couchsurfing
Use this space to talk about why you joined Couchsurfing in the first place. While you want to save costs with Couchsurfing, don't mention that here. It shows your profile poorly and gives the impression that you're here mainly to reduce costs by staying for free.
Always remember: Use Couchsurfing as a platform to network with other people and exchange cultures/perspectives. Saving costs should be a secondary reason.
When your host is renting their place for free, they would expect something in return. In this case, they would host a traveller who wants to socialise with them and spend time with them instead of someone who wants to save costs. So use this space wisely.
What You Can Offer Hosts
Mention what you would be willing to share with your host to make the stay meaningful for your host as well. Remember, this works both ways.
Your host would love to give you the best experience by sharing their space with you apart from offering you other things. Similarly, it would help if you showed your hosts that you genuinely want to spend time with them.
Pro-tip: If you're still confused and unsure how to fill your profile, have a look at other profiles on Couchsurfing, especially those that are verified or have a good number of references.
2. My Home
This section is for you if you're a host looking to accommodate traveller(s) in your home. Just like the About section, you need to fill in all the details given here to help your guest understand what to expect.
All the given fields are self-explanatory. Again, when in doubt, refer to other profiles on Couchsurfing who are hosting.
3. Photos
There are two sections here:
Profile Photos
Upload as many high-quality photos of yourself as possible. Upload group photos only if you're clearly visible in the photo. The host/guest should have an idea of how you look as it ensures that they're not dealing with robots or spammers.
Pro-tip: A profile with your photos is more credible and trustworthy than a profile with no pictures or random cat and dog photos.
Photos Of My Home/Couch Photos
Show all the common spaces that your guest can use in your house (for hosts). Also, showcase any neighbouring views or surroundings of your home.
4. References

Just like Airbnb, you can post and receive reviews from your hosts/guests. But the reviews, a.k.a. References on Couchsurfing, are much more critical here.
As a host, you want to know that you're renting your space to a guest who has had a good history with previous hosts. Similarly, as a guest/surfer, you want to ensure that your host has previously taken good care of their guests.
As a surfer, always make it a point to tell your host to leave a review for you once you end your stay with the host. The same is applicable if you're a host.
The more reviews you have, the better is your chance of getting a host/guest as it increases your trust.
There are three review sections here:
From surfers
These are the reviews you receive from your guests.
From hosts
These are the reviews you receive from your hosts.
Personal
These are the reviews you receive from the people you meet on your travels.
Apart from receiving reviews as a host or a surfer, you can also receive reviews from other travellers you meet through events, hangouts, or otherwise. It is handy when you're starting on this platform with no reviews.
More on this in the next section!
5. Friends
You can send friend requests to people you know just like you do on Facebook. It helps increase your profile's credibility.


2. Sending requests to hosts
Sending requests to your hosts works much like how it does in Airbnb. But unlike Airbnb, where you ask about the particulars of your trip or your host's stay, in Couchsurfing, you need to be more personal with your message.
As a surfer, you need to genuinely describe why you'd like to stay with your host and how you can make their experience better by hosting you. Remember that your host is offering you a free place to stay with the expectation that they'll have a good time with you.
This is also your chance to stand out amongst hundreds of other requests that your host may receive. So don't write a generic message or copy/paste anything from the internet.
Protip: Go through the host's profile to see if you have anything in common and use that in the message. Put yourself in their shoes and understand what expectations they may have from a potential guest.
3 other unique features of Couchsurfing
Events
Did you know that you can join events hosted by other Couchsurfers near your location? These events range from road trips to meetups to catching up over coffee.
As a Couchsurfer, you can also create your own events. Other Couchsurfers who are in your location will be able to see your event in their Events tab.
Note: If you're serious about Couchsurfing in India, you should try to attend the local events. It not only enhances your experience on this platform, but you also get to make great friends and get references (reviews) from them. It is handy when you're new to the platform.
Hangouts (available on the app only)
Through Hangouts, you can meet fellow travellers in your destination who are interested in a particular activity.
Consider it as a private version of 'Events'. Instead of meeting a group of people, you're meeting another person in your destination interested in the same activity that you are.
You can also create your Hangout request for others to consider and accept.
Hangouts will be helpful for you if you're interested in a more personalised and one-to-one experience.
And just like Events, this is also a great way to make new friends and get references (reviews) apart from surfing/hosting.
Create Public Trips
Apart from sending personalised trip requests to your hosts for hosting you at a particular destination, you can also create a 'public trip' on Couchsurfing. It becomes visible to all the hosts at your preferred destination.
This means that you can post details about your upcoming trip like your destination, arrival and departure dates and the number of travellers.
But most importantly, you can add a customised description of your trip wherein you can tell people about your trip and request hosts to host you.
And just like in a personalised message, you also need to mention why your hosts should host you and what you can offer them. Again, stay away from posting generalised messages to have a higher chance of getting accepted.

How can you access Couchsurfing?
You can access Couchsurfing via their app or website. You can sign up with them or sign in through your Facebook account.


How to get verified on Couchsurfing?
Although Couchsurfing is a free platform, getting verified is a great way to increase trust in your profile. It is because people who host you or meet you would know that you're a genuine person.
You also receive the following benefits from verification:
24/7 access to the Couchsurfing support team
Green verified badge on your profile
Your account shows up in 'Verified' search results
No ads
Unlimited messaging to hosts (10 per day for free users)
So how can you get verified? Well, there are two ways:
Validate your phone number, government-issued id and your home address apart from paying a one-time fee of $60 (this varies by country)
Every time you host someone, you receive three months of free verification. You can accrue twelve months of free membership at a time.
But is verification mandatory? The straight answer is no. You'll find a lot of people using the platform as free users without any issues.
However, as I mentioned before, verification does increase credibility in your profile which leads to more possibilities of getting accepted by hosts or meeting other travellers (apart from the extra benefits you receive on the platform).
If you're getting started, I would suggest that you meet a few people (through Events or Hangouts) and get hosted as well before thinking about getting verified. In this way, you can figure out if you would like to continue using Couchsurfing in India in the long run.
Should you use Couchsurfing?
Couchsurfing is indeed a great way to save money, create friendships worldwide, and have more profound experiences.
But to make the most of this platform, you need to be flexible with an open mind. And that is the reason why a lot of solo travellers and backpackers use this platform.
If you're using this platform for the first time or haven't used it enough, my only advice is to not go with the expectation that you'll receive a 5-star hotel experience. For that, you have other platforms.
For example, you may get a couch to sleep on instead of a bed or your room may be small, or you may have to share the common spaces with other guests.
Although these are small things, they may make your experience terrible, especially if you're used to staying at fancy hotels or resorts.
Choose your hosts wisely according to your mutual interests, and always remember that you're getting a free stay.
At the end of the day, Couchsurfing is a close-knit community of like-minded travellers who love meeting new people and sharing experiences more than a hospitality service. If you treat it like that, there's no reason why you shouldn't use Couchsurfing in India.

Frequently Asked Questions
Is Couchsurfing free?
Couchsurfing is a free-to-use platform. Anybody can sign up and start using it immediately. Although, if you get verified by paying a nominal one-time fee, you will receive more benefits on the platform.
How can I get verified on Couchsurfing for free?
You can get a free verification by hosting a surfer at your home. Every time you host someone, you get three months of free verification. At a time, you can accrue 12 months of free verification.
Is Couchsurfing worth paying?
Bearing the Couchsurfing verification cost along with your verification is worth it, especially if you want to use the platform for a long time. It helps you increase your profile's credibility, due to which you may get accepted by more hosts. Apart from this, you get a few other benefits from the platform.
Is Couchsurfing a hookup site?
No, Couchsurfing is strictly a travelling community that enables travellers to meet each other and spend time with them. It helps you save costs while at the same time allowing you have more meaningful experiences on the road.
Is Couchsurfing safe for females?
Couchsurfing is safe for females and I know many people who use it. In any case, you should thoroughly research the host you want to stay with or the travellers you meet before deciding to go ahead with them. It helps you have the safest and best experiences across the platform.
What is the difference between Airbnb and Couchsurfing?
Airbnb is a home rental hospitality service wherein you get paid to host someone at your home. At Couchsurfing, you get to do the same as a host but without any exchange of money involved. Moreover, Couchsurfing emphasises meeting people and exchanging cultures/experiences as opposed to Airbnb, a hospitality service.

Conclusion
From the day I started using Couchsurfing in India, I haven't looked back. Why? Because I don't know any other platform that offers the same level of personalised travel experiences that Couchsurfing does.
Ever since it came into conception a couple of decades ago, it has changed how we travel worldwide.
Travel is no more about ticking things off the bucket list and staying at hotels. It is about forming new friendships and having meaningful experiences while being on the road.
So if you use this platform for what it offers, you'll have the time of your life and never look back again.
I hope you found this Couchsurfing in India review helpful. If you have any questions, let me know in the comments and I'll be happy to answer them.