Top 15 Places To Visit In Meghalaya: A Unique Road Trip
With almost 80% of forest cover, Meghalaya is among the few states in India that boasts of an abundance of caves, waterfalls, lakes, canyons and valleys.
And that's not it.
It is home to the world's wettest place, Asia's cleanest village and unique living root bridges not found elsewhere.
In short, if you're a nature lover like me, you must visit Meghalaya at least once in your life because you'll be blown away by the variety of natural sceneries that it offers.
Every corner of Meghalaya offers something unique to keep you engaged throughout.
I visited Meghalaya with my friends on a road trip, and in this guide, I would like to give you a comprehensive itinerary of the top 15 places to visit in Meghalaya so that you have an amazing time there.

Where is Meghalaya?
Meghalaya, meaning 'abode of clouds', is one of the seven sister states in Northeast India. It neighbours Assam in the north and northeast and Bangladesh in the south and southwest.
The Meghalaya map is split into three divisions: Garo Hills (west), Khasi Hills (central) and Jaintia Hills (east). Each of these three divisions represents the tribes present in it; the Garos, Khasis and Jaintias, respectively.
All the major tourist destinations in Meghalaya are concentrated around the Khasi Hills, i.e. the central part of Meghalaya, including Shillong, it's capital.

Top 15 places to visit in Meghalaya
To make the most of your travels in Meghalaya, you need to plan and schedule your itinerary beforehand so that you don't get lost and can experience the best of Meghalaya.
You need a total of four days to visit all of the essential Meghalaya tourist places.
I recommend that you reach Shillong, Meghalaya by the morning of Day 1 so that you get enough time to roam around.
To make it easier for you, I've given a list of the top 15 places to visit in Meghalaya (in chronological order) day-wise.

Day 1
Today, your goal will be to reach Shillong in the morning after reaching Guwahati. Enjoy the amazing road trip from Guwahati to Shillong via the NH6 highway. After reaching Shillong, cover all the places in and around the capital of Meghalaya.
1. Elephant Falls
Elephant Falls is a three-tiered waterfall that is a popular tourist destination in Shillong. There are more than 100 steps on the side of the falls so that you get different vantage points.
The waterfall has a good flow, looks clean and the overall place is well-maintained. They have a rope line beyond which you're not allowed to take pics.
You cannot enter the falls or take a dip.
There are some restaurants and local craft shops where you can get some local handicrafts.
Elephant Falls is a good pitstop in Shillong and can be quickly covered in 30-45 minutes.
The entry fee is INR 100 per person.
2. Khasi Heritage Village/Mawphlang Sacred Grove
The Khasi Heritage Village is a model of the traditional Khasi village situated in an expansive meadow.
The village has a stone sculpture (monolith) at the entrance apart from huts, granary, wells, greenroom and theatre. You'll also find a stall nearby selling tea and other refreshments.
More than the structures, you'll enjoy roaming around the vast stretch of open land neighbouring a forest that doesn't attract many tourists.
The Mawphlang Sacred Grove, the forest opposite the Khasi Heritage Village, is another unique attraction here.
This forest is among 9 sacred forests in Meghalaya, each under the care of the tribal king of that region. Not all sacred forests are open to the public.
Many religious rituals and sacrifices were performed in these sacred forests in ancient times, some of which happen even today.
You can trek through these forests but hiring a guide is compulsory. You can enquire about the guide (named Carri) at the stall near the Khasi Heritage Village.
Fun fact: You'll be seeing the 'three standing and one sleeping' monolith at the Khasi Heritage Village's entrance. Our guide told us that the standing monoliths represent a male and the sleeping monolith represents a female. The forest also has many such monoliths.
As you walk through the forests, the guide will be leading you, explaining in detail the various sacrificial rituals that are performed here and the Khasi culture. This made our trek more enriching as we got context about the forest.
Moreover, you'll enjoy the forest walk as it has thick vegetation, pure air and even a small waterfall. There are various trees (some of which are more than 500 years old), mushrooms, oak trees, ferns and bird species.
Note: You are not allowed to pluck or bring anything from the forest as it is sacred to the locals.
Overall, it'll be a refreshing and pleasant experience for your soul so ensure that you do this trek. It takes an hour to trek through this forest.
The Khasi Heritage Village/Mawplang Sacred Grove is an hour's ride from Shillong.
3. Laitlum Canyon
Another unexplored gem or one of the unique places to visit in Meghalaya is the Laitlum Canyon.
Meaning 'the end of hills', Laitlum Canyon is a mountain ridge and a hilltop that offers breathtaking panoramic views of a green valley with rolling hills, a river passing through the middle and the clouds in the background.
Also referred to as the 'Smit Valley' by the locals, the hilltop is spread across a vast area with multiple viewpoints and yellowish grass all over the place.
Fun fact: Rock On 2 was shot here.
You can also buy tea and snacks from the nearby stalls while you breathe in the fresh air and enjoy the scenery.
Laitlum Canyon is an ideal picnic spot. Whether you're a couple, a solo traveller or a family, you can walk around, or sit and relax for up to two hours.
The entry is free but there is a nominal parking charge for vehicles.
The best time to visit it is after the monsoon season when the valley is covered in green with the clouds kissing it.
4. Police Bazaar
Police Bazaar is the perfect place to unwind in Meghalaya, especially for foodies and shopping enthusiasts. It is among the most popular places to visit in Meghalaya.
Located at the heart of Shillong, Police Bazaar is a market that has street food, restaurants, hotels and a pocket-friendly flea market that sells traditional handicrafts, jewellery and apparel.
It attracts both locals and tourists and can get crowded in the evenings, especially during the tourist season.
I suggest you try the local street food of Meghalaya here apart from buying a souvenir, especially wooden and bamboo handicrafts that Meghalaya is famous for.
You can park your vehicle at the multi-level parking nearby but ensure that you reach Police Bazaar by early evening so that you get a vacant slot. Otherwise, you will have to park your vehicle on the roadside.
Note: Withdraw cash from one of the ATMs found here because you may not find many ATMs across Meghalaya.

Day 2
On Day 2, you travel to Cherrapunji, among the wettest places on Earth. Our goal is to cover all the places in Cherrapunji, 55 km from Shillong.
5. Mawkdok Dympep Valley View Point
The best way to start your trip to Cherrapunji is by taking a halt at the Mawkok Dympep Valley View Point, which is between Shillong and Cherrapunji.
As the name suggests, this viewpoint gives you access to a valley with sloping hills carpeted in green that appears in a v-shape. The addition of the clouds and the mist at the top adds to the charm.
There is also a hidden waterfall near the viewpoint that many people are not aware of. You have to descend close to 1000 steps to visit this waterfall but the experience will be worth it.
You may keep aside an hour for the falls.
But that's not it.
If you're an adventurous soul, you can also try ziplining between the mountains. Pioneer Adventure Tours, an adventure tour company (near the viewpoint), offers ziplining packages that vary between INR 400 – INR 800.
Pioneer Adventure Tours is closed on Tuesdays. Do call them before coming to ensure you have a pleasant experience.
After you're done with everything, you can also munch on the roasted corn, maggie, tea, boiled eggs and dim sums various vendors and cafes sell roadside.
6. Garden of Caves
Garden of Caves is among the most underrated places to visit in Meghalaya. Not many people are aware of this place which is only a good thing for you.
Located 15 km before Cherrapunji, it is a collection of various natural attractions that are concentrated in one place. You'll find caves, waterfalls, water streams, rocky hills and endless greenery inside the Garden of Caves.
In short, it is a 'mini forest' that displays nature in its best form.
While there are many attractions in this place, watch out for the bamboo bridge, heart-shaped carving and a baby-womb carving on a rock.
You can spend up to two hours soaking in the sceneries and the beauty of this place.
The best time to visit the Garden of Caves is during the monsoon season when it comes to life with greenery, the water streams are full and there is the added fog.
7. Nohkalikai Falls
The tallest plunge falls in India will take your breath away.
Located in Cherrapunji, Nohkalikai Falls is a cascading waterfall situated in the rugged mountainous terrain surrounded by evergreen rainforests and a valley.
There is a viewpoint from where you can see the waterfall in all its glory falling into a blue lagoon at the bottom of the forest. At all times, you'll be having a cold breeze and hear the sound of the waterfall adding to the experience.
Due to the occurrence of heavy rains here, Nohkalikai Falls is usually misty and foggy, particularly in the afternoon. If that's the case, do wait for the fog to clear up and reveal the waterfall.
If you have time, you can try the adventurous trek to either the top or the mouth of Nohkalikai Falls.
To reach the mouth of the falls, you need to descend downhill through a staircase trail from the ticket counter. Once you reach the pool, you can swim but don't venture too far into it.
You may spend up to 2-3 hours on this experience.
To trek to the top of Nohkalikai Falls, you can start your trek from the board saying 'top of Nohkalikai Falls'. You can ask any local regarding the same. While trekking, follow the white arrow marks that'll guide you.
The entire trek to the top may take up to an hour. At the top, you can dip yourself in the natural ponds as well.
Either way, you need to be physically fit to attempt both these hikes as they involve a lot of ascents/descents and rock climbing.
The only drawback is that these treks are accessible only in winters when the water levels are less hence we couldn't do it.
After visiting the viewpoint or trying the treks, do try the delicious pineapple cuts sprinkled with masala that you'll find near the viewpoint.
Apart from that, you'll find also find some shops that sell local forest products and souvenirs.
P.S. Nohkalikai Falls has a dark history behind its name that I won't reveal here. I suggest you read the board near the viewpoint to get its full context while you're at the viewpoint.
8. Seven Sister Falls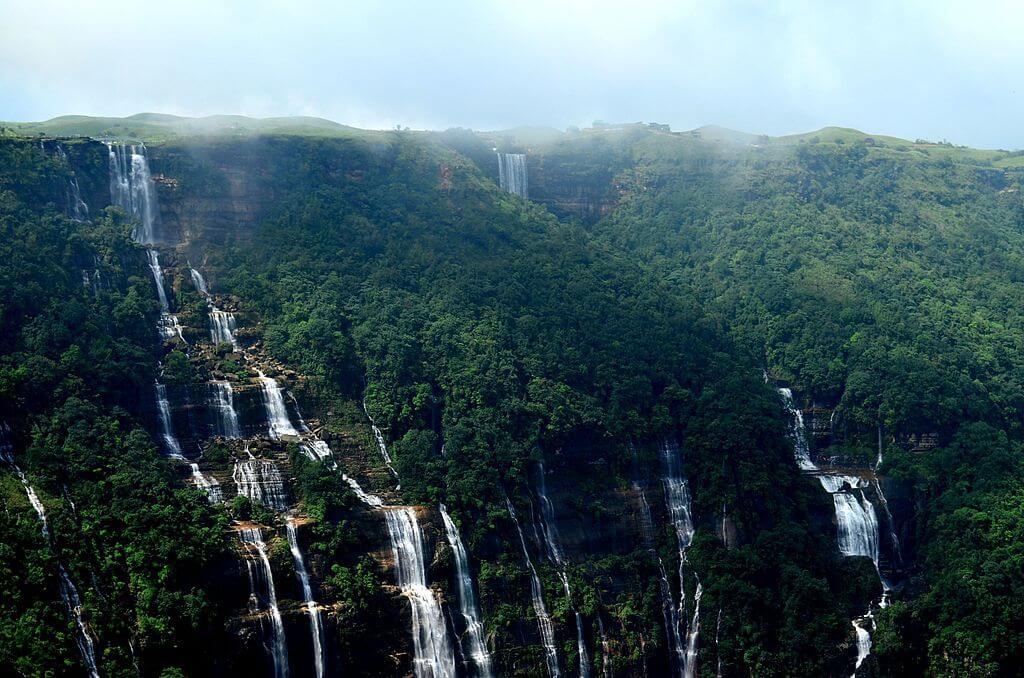 Another famous waterfall that you must visit in Cherrapunji is the Seven Sister Falls.
Also known as Nohsngithiang Falls or Mawsmai Falls, it is a collection of seven falls that fall together from the top of limestone cliffs into a forest.
It is the second highest waterfall in India.
Like Nohkalikai Falls, there may be due or mists covering the mountain top and hence the visibility of the falls may be less during daytime. As before, you may need to wait patiently for the falls to unveil themselves.
During broad daylight, the waterfalls create a rainbow with the reflection of the sunlight on the waterfall.
The best time to visit Seven Sister Falls is during monsoon season when there is an adequate amount of water in these falls.
9. Mawsmai Cave

Mawsmai Cave is a small cave in the village of Mawsmai, 5 km away from Seven Sister Falls.
It is an underground limestone cave with diverse stalactite and stalagmite formations. The entire place is well-maintained and lit enough to guide you through it.
You can easily navigate this cave, however, in some parts, you may have to bend down or crouch. You also need to be careful in some places where the terrain may be slippery.
It's recommended to wear waterproof hiking shoes as there are many puddles in the cave.
Note: The cave is not recommended for claustrophobic people as there are some tricky and narrow passages.
The exit of the cave is also beautiful as it opens into a jungle.
You can finish exploring this cave in 15-20 minutes.
At the cave's entrance, you can buy souvenirs and spices or eat at various shops and restaurants.

Day 3
On Day 3, we visit the Double Decker Root Bridge and Rainbow Falls, both of which will take half a day and are 21 km from Cherrapunji. You then travel to Mawlynnong, Asia's cleanest village, to spend the remaining day.
10. Double Decker Living Root Bridge
If there's only one place I recommend you visit in Meghalaya, it's the Double Decker Living Root Bridge. It was among my favourite places to visit in Meghalaya.
The root bridges are a unique speciality of Meghalaya that are not found anywhere else. While there are many root bridges in Meghalaya, the most famous one is the double decker root bridge at Tyrna.
These root bridges, which grow out of rubber trees, are trained by the villagers to shape into a bridge. The roots are pulled, twisted and braided in the required direction.
A root bridge takes about 100 years to complete and the one at Tyrna is supposedly 200 years old.
The double-decker root bridge is located deep inside the forests of Tyrna. To visit the same, you must trek through 3,000 steep steps that are well-laid out in the forest.
It is a moderately-difficult trek that requires stamina and strength in your knees. It takes you through one/two single root bridges, two steel-wired hanging bridges and waterfalls/water streams on the way.
Depending on your pace, it can take up to two hours. But I urge you not to hurry because you may want to immersive yourself in the sights and sounds of nature as it's a proper jungle trek.
Take breaks in between, have water and carry snacks as there's no shop until you reach the double decker root bridge. You can also refill your water bottle at one of the water streams.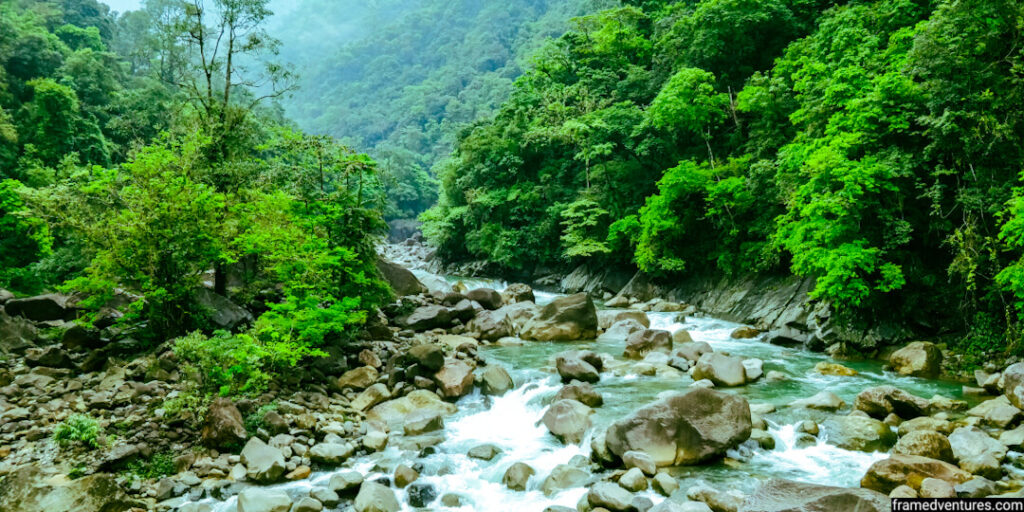 Also, make sure you trek with light luggage else it'll burden you.
The effort required to reach the double decker root bridge isn't going to be easy but once you reach there, you'll be thankful to yourself.
There will be a small entry charge at the entrance. Once you're there, you'll experience the double decker root bridge in all its glory situated above a river flowing through the thick jungle.
You're now in the Nongriat village.
Here, you'll also find a couple of homestays and a shop at the entrance that sells maggie, snacks and juices.
I recommend you take a dip in the pond below the root bridge as the water is clean and its depth is shallow. You can also get a fish pedicure here.
The best time to visit the double decker root bridge is in the morning when there's no crowd and the weather is ideal.
Note: It's closed on Sundays.
You can park your vehicle at the Tyrna village (paid parking) where the trek starts.
You'll find many guides at the start of the trek, however, it's not mandatory to hire them unless you have a lot of luggage to carry because the trail is well laid out.
Note: The guides may tell you that you may get lost in the forest but don't pay heed to them.
At the start, you'll find two trails; one where the steps go up and one where the steps go down. You need to choose the steps that go down on your left. From there, the trek is straightforward.
You also don't need to buy the trekking sticks (made of bamboo) sold by them unless you need something to support your knees.
11. Rainbow Falls
If you thought the double decker root bridge was worth the trek, wait till you experience Rainbow Falls deep inside the jungle.
It is one of the best hidden and adventurous waterfalls in Meghalaya and reminded me of Hebbe Waterfall in Chikamagalur.
Rainbow Falls is a turquoise-blue coloured waterfall that plunges into a pool with a rainbow over it; hence its name.
Note: You'll get the rainbow effect only when it's sunny.
From the double decker root bridge, you'll find another track that is well-laid out and leads you to the Rainbow Falls. You may not find signboards on the way but the trail makes it easy.
You need to trek further 2-3 km through ascents and descents through the forest and it may take up to two hours depending on your speed.
This trek isn't easy but the experience will be worth it in the end. You need to carry snacks and water and take regular breaks in between so that you don't get tired easily.

Once you reach the pool, you can either relax and chill taking in the scenery or swim in the pool as well except during the monsoon season.
The best time to watch the rainbow is between 11 am and 3 pm when the sun is out there so plan your trek accordingly.
To plan your Rainbow Falls trek efficiently, hike to double decker living root bridge, relax for a while and then start your trek to Rainbow Falls. After spending some time at Rainbow Falls, return to the double decker root bridge, take a dip in the river below the bridge and then start your trek back to Tyrna village.
12. Mawlynnong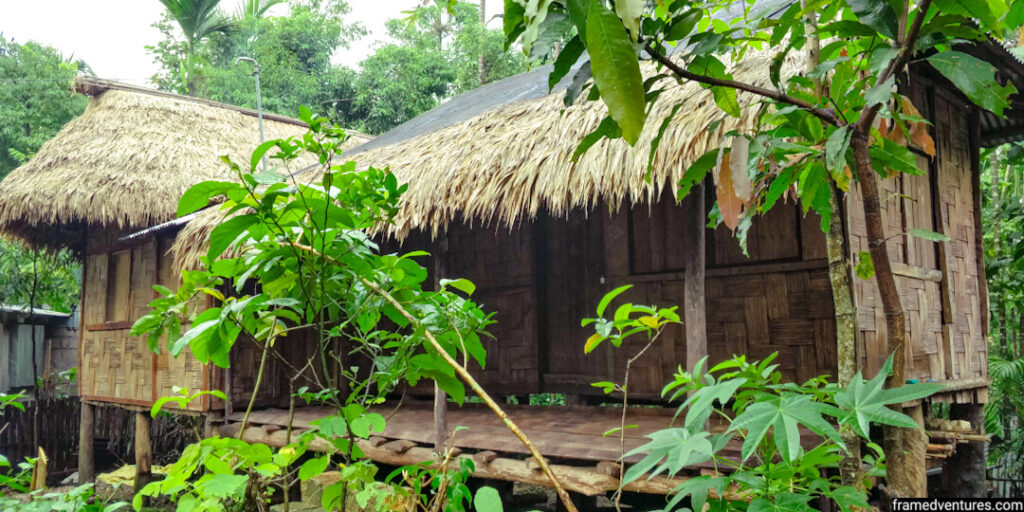 Awarded 'Asia's cleanest village' in 2003 by Discover India, Mawlynnong is a peaceful and beautiful village with homestays, restaurants and friendly locals.
It is a litter-free zone and you'll observe that dustbins are placed everywhere.
You'll hardly find any waste here as the locals make an effort to keep the village clean. Plastic is also banned.
I suggest you stay here for a day as you'll find several homestays and the food is also value-for-money.
In terms of attractions, you can visit the Sky View Bangladesh Viewpoint, a tree house made of bamboo from where you can see the plains of Bangladesh.
Apart from that, you can also visit the single root bridge that is on top of a river, similar to the root bridges you find in Nongriat.
Mawlynnong is an ideal place to unwind after trekking to the double decker living root bridge and the rainbow falls in Nongriat.

Day 4
On Day 4, you travel to the Bangladesh-Meghalaya border to visit Dawki, then go to Krang Shuri Falls after which you go to Umiam Lake, where you can spend your last evening. You'll be covering at least 1-2 hours between each of these destinations but the road trip you have today will be one of the best in Meghalaya.
13. Dawki
Do you want to see the bottom of a river where you can also witness the shadow of your boat?
Then you must visit Dawki.
Located along the border of Bangladesh, Dawki is also among the most popular places to visit in Meghalaya that draws a lot of tourists.
The river Umngot, also known as the Meghalaya river, is shared between Dawki and Bangladesh. It is also among the cleanest rivers you'll find in India. However, during monsoon season, you may not see this effect due to the constant flow of water.
Note: Ensure that you visit Dawki during the daytime when the sun is out.
You'll also enjoy the drive to Dawki along the scenic and winding roads.
Fun fact: The hanging bridge that you see here, also called the Dawki Bridge, was built by the Britishers as a single-lane iron bridge that is still maintained very well.
Boating is one of the popular activities in Dawki. You have to go down to the river to reach one of the boat operators. These operators will take you around for 45 minutes and the rate may vary between INR 600-800 per boat.
Note: You can negotiate the prices.
If you're interested in further adventure activities, you can visit Shnongpdeng, 9 km from Dawki where you can find many tour operators that provide camping, kayaking, boating, cliff jumping, etc.
The best time to visit Dawki is between December and January when the waters are calm.
14. Krang Shuri Falls
Another waterfall that you must visit in Meghalaya is the Krang Shuri Falls.
It is a giant pool with clear blue waters in the middle of a forest. You can also look through the water and see the rocks on the surface.
You can swim in these falls but you'll need to rent a life jacket for the same which is chargeable at INR 50 per head. A guide is always present there for safety.
You can also go for the boat ride. It costs INR 200 per boat for 4 people and lasts for 20 minutes.
When the sun is out, you may observe a rainbow forming in the waterfalls.
Note: The water may not be clear during the monsoon season. Also, you're not allowed to enter the pool at this time due to the heavy flow of water.
The drive to Krang Shuri is also picturesque as you'll be driving through Meghalaya's countryside which is less visited by tourists.
Note: The last 1 km from the main road to Krang Shuri is not well-maintained.
To reach the falls, you need to walk down 200 metres from the parking lot.
15. Umiam Lake
Our last destination for the trip was Umiam Lake and we couldn't have asked for a better ending to our trip.
You might have also noticed this lake while driving down from Assam to Shillong.
Also known as Barapani, Umiam Lake is an artificial lake that is created from a dam to store water for the generation of hydroelectric power in the area.
The lake is picturesque as it surrounds itself with green hills and forest cover. You'll enjoy the views and the cool weather, especially during sunrise and sunset.
Umiam Lake is also a popular destination for various water sports activities like speed boating, paddle boating, kayaking, water scooter and water skiing.
There are 2 ways to visit the lake:
1. Umiam Lake Viewpoint
You'll find this viewpoint at the NH6 highway. There is a separate space on the road where you can park your vehicle.
At this viewpoint, you can see a panoramic view of the lake.
2. Lum Nehru Park
The other way is to visit Lum Nehru Park. Surrounding Umiam Lake, it is a great place to walk around, have a picnic or go for water sports activities.
The lake is open at all times but the water sports activities are open from 9 am to 5 pm only. You can easily spend up to 1.5 hours here.
For the best experience, I suggest you stay at one of the resorts near Umiam Lake. We stayed at the Barapani Boathouse and had an amazing experience (more on this later).
Umiam Lake is at a distance of 15 kilometres north of Shillong.

How to reach Meghalaya?
Flight
The Shillong Airport, also known as the Meghalaya Airport, is located in Umroi, 30 km from the city.
However, the only problem is that you'll get direct flights from Kolkata only and that too on certain days.
To plan better, I suggest you take a flight to Lokpriya Gopinath Bordoloi International Airport i.e. the airport in Guwahati, Assam. You'll get direct flights from all major cities like New Delhi, Mumbai, Chennai, Kochi and Bangalore.
The airport in Guwahati is at a distance of 120 km from Shillong and it may take up to 3 hours to reach there.
Train
Meghalaya has only one railway station i.e. the Mendipathar railway station. Currently, there is only one train that operates between Mendipathatar, Meghalaya and Guwahati, Assam.
However, you cannot rely on this train as it may not be available every day.
Bus
You can easily get frequent government buses from Guwahati, Assam to Shillong, Meghalaya.

How to travel within Meghalaya?
Self-driving car/bike
I highly recommend that you hire a self-driving car or a bike to travel around Meghalaya. It gives you the utmost convenience and flexibility.
If you need a car, you can hire one of your choices from Zoomcar as we did. Their cars are available near the Guwahati airport so you won't have to travel a lot.
If you need a bike, you can hire the same from A R Bike Rental Shillong NorthEast Guide. They have the best ratings and reviews in Meghalaya.
Cabs
You can also hire a cab from the taxi stand in Police Bazaar. You can also get one from your hotel/resort.

Best time to visit Meghalaya
The best thing about Meghalaya weather is that it offers different sceneries according to its seasons.
April to June is the summer season for Meghalaya when the sun is out. So you'll be able to observe clear sceneries.
At this time, the flow of water is also less so you can see transparent blue waters in various falls.
From December to February which is the winter season in Meghalaya, you'll experience a colder climate (and mists and fog) although the flow of water will be less in various falls like in the summer season.
From July to September, Meghalaya experiences heavy rainfall so this season may not be ideal if you want to trek a lot or go outdoors.
If you want to see Meghalaya which comes to life with its greenery and waterfalls, the post-monsoon months from October to November are the best time to visit.

Best hotels in Meghalaya
After roaming around Shillong, you can stay in the Silver Brook Resort. It is a backpacker hostel with an amazing location away from the city.
They have many stay options including tents, bunker beds and private rooms. They also have a restaurant which provides great food.
The resort is well-maintained and the staff is also helpful.
Serene Homestay
Run by Byron and his family, Serene Homestay is among the few accommodations you'll find inside the jungles of Nongriat. It is also close to the famous double decker root bridge.
Serene Homestay is value-for-money with basic rooms, home-cooked meals available throughout the day and common bathrooms. You can also spend time with Byron and the locals as they're very hospitable and friendly.
If you're planning to stay at Cherrapunji, Goshen Homestay is a great value-for-money accommodation suitable for solo travellers, couples and even families.
The rooms and bathrooms are big and clean and the location of the homestay is scenic. You'll find many good food joints and a market nearby.
You can also rent two-wheelers from here.
In the middle of Mawlynnong, Roberts Homestay is a bamboo hut which is spacious, clean and well-maintained.
The host is also very friendly and helpful.
Most importantly, it's located within 100 metres of all the food joints and the taxi stand.
One of my favourite accommodations in Meghalaya is the Barapani Boathouse. As the name suggests, it is a homestay that floats on Umiam Lake.
The main room has a king-sized double bed which is spacious, the bathroom is clean and food is also available on request. They also have a balcony where you can stargaze at night or watch the sunrise.
The water supply may be limited and so will the electricity that runs on the solar panel. Hence, this place is only ideal for couples or a group of friends who want to disconnect and spend a night in nature.
You need to take a 10-minute boat ride to reach the boathouse. The boating facility closes by 4:30 pm so try to reach Umiam Lake early.
For the best experience, I suggest you go for a morning walk around the island and explore other corners of the lake via a small boat. The caretaker will help you with the same.
The caretaker's family lives on top of the hill at a walkable distance.

Best restaurants in Meghalaya
Jiva Veg Restaurant
Jiva Veg Restaurant is a popular eatery located at Nongpoh, on the highway from Guwahati to Shillong.
They have many food options on their menu with great quality and helpful staff. They also have ample space for parking and cosy interiors.
The place becomes crowded during peak hours and you may have to wait some time but it'll be worth the wait.
The milk tea you get here is one of the best in Meghalaya.
City Hut Family Dhaba
Belonging to the Jiva group, City Hut Family Dhaba is a fine-dine restaurant in Police Bazaar that serves traditional North Indian cuisine.
Apart from the quality of their food, they're known for their ambience that gives jungle vibes. They also have an open kitchen, soothing music and good service.
The chicken burmese soup, bhuna duck and caramel custard are some of the best items on the menu.
It's will be better that you make a reservation here before coming or reach an hour hourly as the place becomes crowded during peak hours.
Trattoria
One of the best ways to experience the unique culture of Meghalaya is to have authentic Khasi cuisine. And for that, you must visit Trattoria.
Located in Police Bazaar, this place is known for its pork, fish and chicken thalis. The local Khasi rice dishes Jadoh and Jaleih are must-haves.
Although they have a cramped space and a basic seating arrangement, you'll be blown away by the quality of their food and their affordable rates.
The Wok Restaurant
If you want to have the best Chinese cuisine in North-East India, you must visit the Wok Restaurant in Shillong.
They're known for the quality and quantity of their food items, their ambience and affordable pricing. Although all of their items are equally good, the Cantonese Fried Rice and Balinese Pepper Chicken and Vietnamese Stir Fried Pork are some of their signature items.

Best travel tips for Meghalaya
To have an amazing trip to Meghalaya, keep the following things in mind:
Carry a raincoat as it may rain at any time in Meghalaya.
If you plan to dip in waterfalls, take a swimwear and towel.
Carry some snacks with you always as you may not find many shops while travelling around Meghalaya.
Wear proper footwear for trekking and hiking in the jungle.
You can speak to the locals in the English language as it is one of the official languages in Meghalaya.
The sun rises and sets early in Meghalaya so plan your trip accordingly.
Unlike other North-Eastern states, you don't need to obtain any pass or permit for entry into any region of Meghalaya.
Carrying a power bank is recommended.

Frequently Asked Questions
What is famous in Meghalaya?
Meghalaya is famous for its natural attractions like waterfalls, caves, hills, valleys and clouds. It receives the highest amount of rainfall in India and is renowned for its living root bridges.
Additionally, Meghalaya is known for its unique Khasi cuisine, local handicrafts and its tribal population.
How many days are enough for Meghalaya?
To cover all the essential places in Meghalaya in a relaxed manner, you need at least four days. 
What is the best time to visit Meghalaya?
The best time to visit Meghalaya is after the monsoon season i.e. the months of October and November. At this time, you'll experience heavenly clouds, green landscapes and heavy waterfalls.
If you want to experience clean turquoise blue waters of various waterfalls with clearer views, you can visit Meghalaya from April to June which is the summer season. 
Which are the 10 best places to visit in Meghalaya?
The 10 best places to visit in Meghalaya are:
1. Laitlum Canyon
2. Mawkok Dympep Valley View Point
3. Garden of Caves
4. Nohkalikai Falls
5. Seven Sisters Waterfall
6. Double Decker Living Root Bridge
7. Rainbow Falls
8. Dawki
9. Krang Shuri Falls
10. Umiam Lake
Which are the top 5 places to visit in Meghalaya?
The top 5 places to visit in Meghalaya are:
1. Laitlum Canyon
2. Garden of Caves
3. Nohkalikai Falls
4. Double Decker Living Root Bridge
5. Krang Shuri Falls

Conclusion
If you're a nature lover, Meghalaya is a tourist destination in India you cannot afford to miss in your lifetime.
This state has a wide variety of natural attractions like caves, waterfalls, lakes, hills, valleys and a lot more that'll leave you amazed.
It is also among the most accessible state in North-East India apart from Assam.
To plan your trip to Meghalaya, plan at least four days, book your flight tickets to and from Guwahati and rent a car/bike if possible to roam around. Also, book your hotels in advance.
While roaming around Meghalaya, try having the local cuisine, especially the delicious Khasi cuisine.
You can also go shopping at the Police Bazaar where you'll find local handicrafts at reasonable rates.
Overall, you'll have an enjoyable experience and the road trip you undertake at Meghalaya will be one of your best.
I hope you found this itinerary on the 'top 15 places to visit in Meghalaya' useful. If you have any doubts, do let me know in the comments section below.