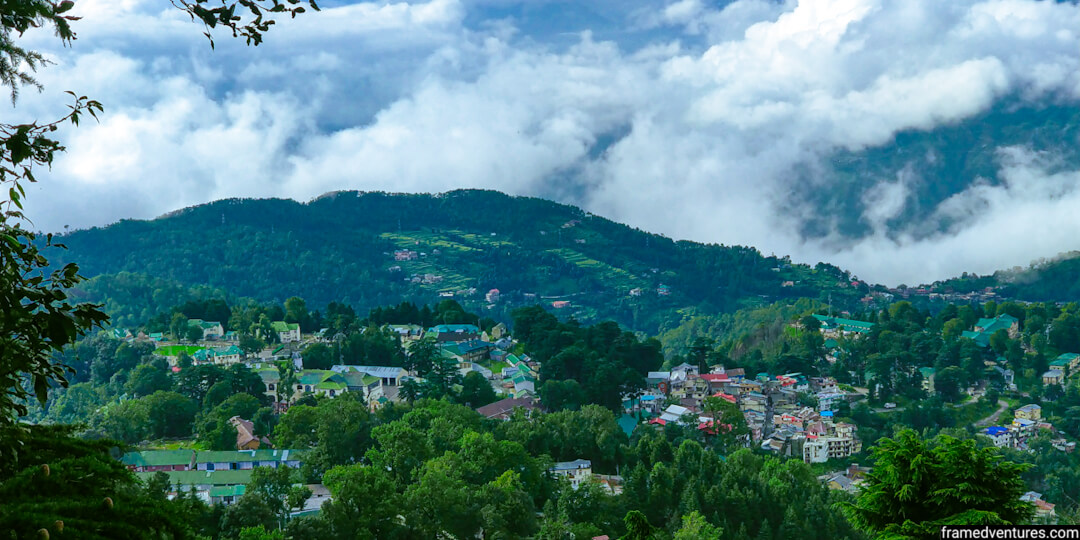 10 Unique Places To Visit in Dalhousie: Better Than Manali?
What is common between Rabindranath Tagore, Subhash Chandra Bose and Rudyard Kipling? All of them had a common love for the peaceful climate and pleasant atmosphere of Dalhousie and spend quite some time here when it was under the control of the British empire.
While Dalhousie has changed a lot since then, it still exudes an old-world charm with Victorian-style mansions surrounded by deodar and pine forests and the snow-capped Himalayas in the background.
It is also home to the mini 'Switzerland of India', has a thriving Tibetan culture and lots of trekking and hiking trails throughout its beautiful landscape.
And the best part is that Dalhousie can be visited by solo travellers, couples or even families during different seasons.
I spent three days in Dalhousie with my family and through this guide, I would like to tell you the '10 unique places to visit in Dalhousie' so that you can plan an amazing trip to this quaint little hill station.



Where is Dalhousie?

Dalhousie derives its name from Lord Dalhousie, the British Governor-General of India who founded it in 1854. The British acquired five hills – Kathalagh, Potreyn, Terah, Bakrota and Bhangora — from the ruler of the Chamba State for developing the area as a summer retreat and in return, his taxes were reduced.
Located in the northeastern part of Himachal Pradesh in the Chamba district bordering Jammu and Punjab, this hill station is 120 km from Dharamshala, another popular hill station in Himachal Pradesh.

10 unique places to visit in Dalhousie
You can cover Dalhousie in two days but if you want to cover the nearby places, I suggest you spend at least three days as I did. At the very least, you'll enjoy the road trips you take across Dalhousie.
With that said, let me tell you about the 10 unique places to visit in Dalhousie if you're planning a three-day trip. I've added them in chronological order to make it easier for you to organize your trip.

Day 1
If you're travelling by bus or train, you'll be reaching Dalhousie in the morning or early afternoon. Hence, to keep things light on Day 1, we'll explore the town on foot and soak in the sights and sceneries.
1. St. Francis Church
After checking in to our homestay and freshening up, we took a stroll through the town and visited St. Francis Church.
Built-in 1894 by army officers and civilians, St. Francis Church is the oldest church in Dalhousie which has Victorian architecture and resembles many of the famous churches in England. It is made of stone structures, wooden roofs and colourful Belgium glass.
It has a well-maintained lawn, is surrounded by pine trees and is covered with fog giving the place an eerie vibe. The church is still functional and has services on all Sundays.
St. Francis Church is located in Subhash Chowk and you can visit this place if you want to spend some time in peace and nature.
2. Garam Sadak and Mall Road
From Subhash Chowk, we take a nature walk through Garam Sadak.
As the name suggests, Garam Sadak is a road that remains warm throughout the year due to the direct sunlight that falls on it. However, you'll enjoy the pleasant walk because the road is covered by lush green trees with misty fog and panoramic views of mountains in the background.
Another reason to take a stroll through this road is that it is a pedestrian-only road. No vehicles are allowed!
This road connects Subhash Chowk to Gandhi Chowk, two prominent intersections in Dalhousie. On the way, you'll also encounter prominent Tibetan rock paintings.
After walking for 1.2 km, you'll reach Gandhi Chowk. Also known as Mall Road, this is the main market of Dalhousie. Here, you'll find many cafes, restaurants, hotels, small shops and street food.
Visit the Indo Tibetan market if you want to shop for woollen clothes, crockeries, women's accessories, souvenirs, etc. The market becomes crowded in the evening and the rates are also slightly higher hence you need to bargain to get a reasonable rate here.
After shopping, you can grab a quick snack or dinner from one of the restaurants/cafes nearby (more on this later).

Day 2
On Day 2, we'll travel to the nearby places in Dalhousie. Make sure you wake up early and leave by 9 am as you'll be covering the bulk of the places in Dalhousie today.
If you're looking for the top places to visit in Dalhousie in 2 days, the places that I've mentioned on Day 1 and on Day 2 should be enough. It's also important to note that apart from visiting these places, you can get down in-between to observe the ever-changing landscapes.
3. Khajjiar
Known as the mini 'Switzerland of India', Khajjiar is the most iconic destination and one of the best places to visit in Dalhousie.
Khajjiar is a hamlet valley with a small pond in the middle covered with evergreen deodar and pine trees and the snow-capped Himalayas in the backdrop. The distance from Dalhousie to Khajjiar is 20 km.
The place derives its name from the Khajji Nag Temple which was built in the 12th century.
The drive to this place is equally mesmerizing. You'll pass through a forest reserve before this place shows up magically out of nowhere.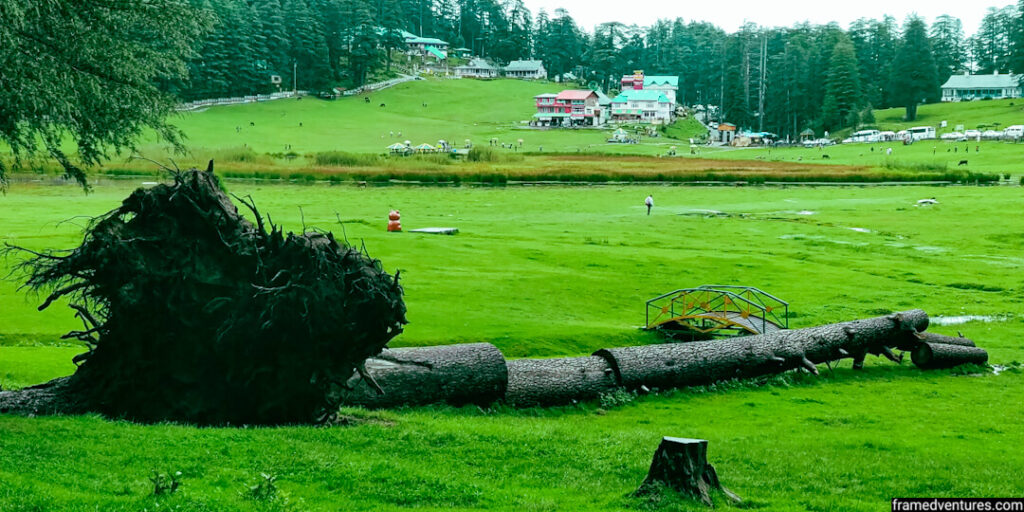 In terms of activities, you can take a walk around the meadows or take part in adventure activities like zorbing, horse-riding and paragliding.
The only con with Khajjiar is that it is the most frequented place in Dalhousie, hence, you may find many tourists here. However, you'll still be able to find a corner of Khajjiar for yourself.
While Khajjiar can also be visited in winters, the best time to visit it is after the monsoon season when the entire landscape including the meadows and the trees is full of greenery enveloped by mists and fog.
4. Lord Shiva Statue
Hardly 2 km from Khajjiar is the Lord Shiva Statue. Instead of taking your car, you can also walk to this place.
You will witness an 80 feet long statue of Lord Shiva here amidst the backdrop of the Himalayas, blue skies and pine trees. The overall setting is peaceful and scenic.
This Lord Shiva Statue reminded me of the Shiva Statue that is found near Gokarna.
The reason why I recommend this place is because it is less frequented and you can spend some time exploring different sceneries from here.
You can also visit the temple near the statue. While you're here, you'll be able to see one of the paragliding landing sites.
5. Kalatop Wildlife Sanctuary
After visiting Lord Shiva Statue, you have to drive back towards Dalhousie to visit the remaining two places. One of those places is the Kalatop Wildlife Sanctuary, which is 16 km or an hour away from the Statue.
Home to the Himalayan Bear and plenty of other unique animal species, the Kalatop Wildlife Sanctuary is located within oak and coniferous forests neighbouring the Ravi River.
At the sanctuary, you will find small restaurants from where you can have tea and enjoy some snacks while watching the Pir Panjal mountain ranges in the background. There's also a souvenir shop that sells local and natural products like honey and pickle.
To get the best experience inside a forest, I suggest you stay in the Forest Rest House, the Kalatop campsite or Smart Hill Kalatop (more on this later). A lot of treks start from the Forest Rest House.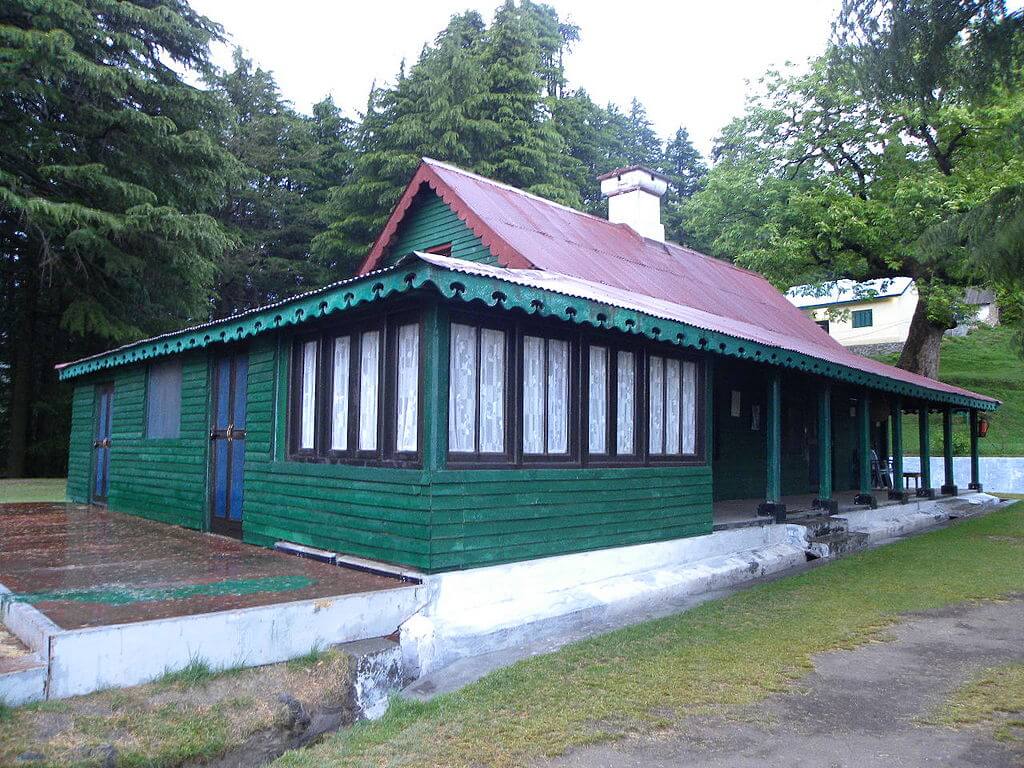 Talking of treks, you can take the help of a guide like Mr Vivek Kumar (enquire about him) who can show you all the places around the sanctuary, tell you about the history of the place and take you for hikes.
In terms of adventure sports, you can try out zip lining and rope-bridge, apart from trekking.
You can reach the Kalatop Wildlife Sanctuary by vehicle or by walking for 3 km. If you have time, I suggest you walk especially if you enjoy hiking through a forest and surrounding yourself with the sounds of nature. Another benefit is that you can save INR 250 which you will have to pay if you take your car.
6. Dainkund Peak
For sunset, make sure you visit the highest point in Dalhousie i.e. the Dainkund Peak. From Kalatop Wildlife Sanctuary, Dainkund is 7 km away.
Dainkund Peak is one of the most offbeat places to visit in Dalhousie.
It is a refreshing 1.5 km trek that takes you through a hill with a bird's eye view of the surrounding green valleys and tall mountains.
The trial is well laid out with steps built in between and slight ascents here and there. The trek can be done by anyone with reasonable fitness including aged people.
At the start of the trek, you will observe the Indian Air Force station situated right opposite the hill.
The last point of the trek is the Pholani Devi temple which also has a small shop from where you can have tea and snacks. Behind the temple, you'll also be able to see 360-degree views of Mount Kailash peak and other mountain ranges.
We enjoyed the overall hike as we witnessed different mountain ranges covered by deodar and pine trees and engulfed in mists.
In winter, this area becomes a winter wonderland as it's covered with snow.
If you're a photographer you cannot afford to miss this place at any cost!

Day 3
On Day 3, we travel to Chamba, an ancient town in Himachal Pradesh that is 53 km or less than 2 hours away from it. While there are interesting places to see in Chamba, you'll also enjoy the road trip from Dalhousie to Chamba which was another highlight of our trip.
7. Chamera Lake Viewpoint and Dam
Chamera Lake is your first stop on the way to Chamba.
Built on the River Ravi, it is created by a dam that supplies water to the nearby villages.
The viewpoint gives you an aerial perspective of the dam that surrounds itself with mountain ranges on either side and the snow-laden Himalayan peaks in the background.
After taking some pictures from the viewpoint, you can also visit the Chamera Dam to have a closer look at the lake and the dam. It is another half an hour from the viewpoint and the drive is also scenic.
At the dam, you can try water sports activities like river rafting, motor boating, canoeing, and kayaking. You'll also find some eateries nearby.
8. Bhuri Singh Museum
Once you reach the Chamba, the first place to visit here is the Bhuri Singh Museum which gives you an artistic, cultural and historical context of the ancient town of Chamba and the nearby areas.
Known as one of the oldest museums in India, the museum was established on 14 September 1908 in honour of Raja Bhuri Singh, who ruled Chamba State from 1904 to 1919. He gifted his inherited art collection and Dr J. Ph. Vogel, an expert in the history of Chamba, set up the museum to preserve the culture and history of Chamba.
The museum contains numerous antiques and artefacts like paintings, coins, jewellery, traditional attires, arms, musical instruments and letters dating back to the 4th century AD.
Watch out for the Chamba Rumaal which is a special embroidered handkerchief that was a common gift item during medieval times. You can also buy the same from the shop nearby.
The museum remains open on all days from 10 AM to 5 PM, except Mondays and it can take up to 45 minutes to cover the entire place.
9. Laxmi Narayan Temple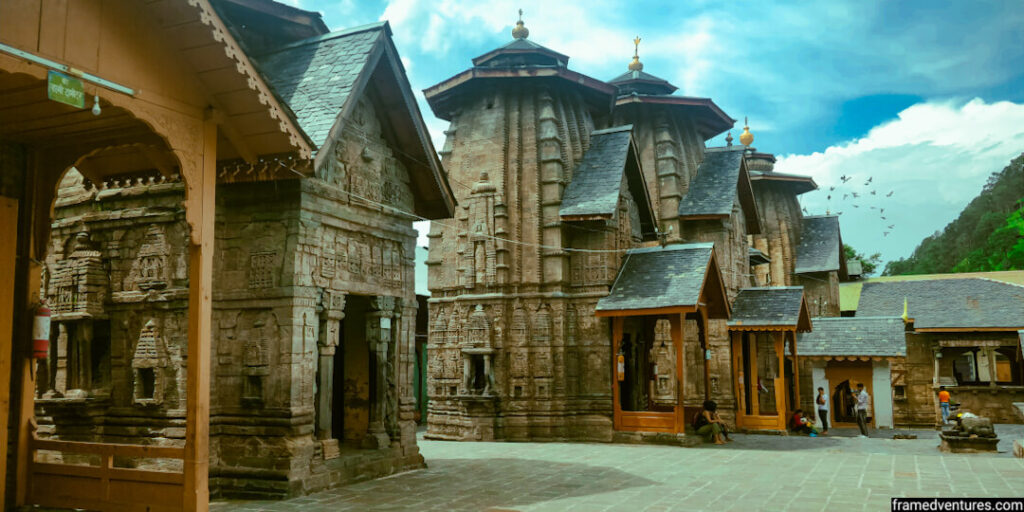 If you're into architecture, you cannot miss the Laxmi Narayan Temple.
Less than half a kilometre from the Bhuri Singh Museum and in the main market of Chamba, the Laxmi Narayan Temple is an ancient temple that was built in the 10th century AD with handcrafted stone blocks. There are six temples in total inside the entire complex dedicated to Lord Shiva and Lord Vishnu.
The main attraction of the temple is that it is built in the Shikhara style i.e. upward in a curved fashion with a wheel-shaped roof that protects the temple from snowfall and intricate carvings.
The surrounding mountain ranges and the Ravi River add to the overall ambience.
The temple complex is open from 6 am to 12.30 pm and 2.30 pm to 8.30 pm.
10. Shri Chamunda Devi Mandir
Our final destination for the trip is the Shri Chamunda Devi Mandir.
Built-in 1762, this is another ancient temple in Chamba with interesting architecture. It is the only wooden temple in Chamba with a gabled roof (triangular roof).
It is dedicated to Chamunda Devi, an incarnation of the Goddess Durga, with elaborate wood carvings and figures of various deities.
Apart from the temple itself, the main reason why I recommend this place is because of the remarkable scenery you get from here.
As it's located on a hilltop, you get an aerial view of the entire Chamba town neighbouring the Ravi River with mountain ranges in the background.
If you're here during sunset, you'll enjoy the scenery even more.

How to reach Dalhousie?
To reach Dalhousie, you need to reach Pathankot which is a small city in Punjab.
Flight
The nearest airport to Dalhousie is the Pathankot airport. You can get direct flights from major cities like Mumbai, Bangalore, Delhi and Kolkata to Pathankot. At the airport, you can find cabs that take you from Pathankot to Dalhousie.
Train
Pathankot Junction railway station is the nearest station at a distance of 80 km from Dalhousie.
There are several overnight trains that you'll get from New Delhi to Pathankot. Hence, if you're coming from any other part of India, it's better to take a flight to Delhi and then take an overnight train from there.
After getting down at the Pathankot Junction railway station, you can walk to the government bus stand nearby from where you'll find frequent buses to Dalhousie.
Bus
If you want to avoid getting down at Pathankot, you'll find plenty of direct government and private buses from New Delhi to Dalhousie through apps like Redbus and Abhibus.

How to travel within Dalhousie?
The best way to travel within Dalhousie is to hire a cab from the homestay or the hostel you're staying at.
We did the same and our cab driver took us around Dalhousie at a reasonable rate. Another benefit is that they know all the local places and they can drive very well on the mountain roads.
Alternatively, you can book a self-driving car via Zoomcar from Chandigarh which is 340 km or less than 7 hours away from Dalhousie.

Best time to visit Dalhousie
The best thing about the weather in Dalhousie is that it has three distinct seasons: summers, winters and monsoon. Every weather has something special for travellers.
Summer (March to May)
You can visit Dalhousie from March to May as the summers are pleasant but also expect a lot of crowds at this time as it is the most frequented season of the year. Plan your booking to avoid missing out on your favoured accommodation.
Monsoon (June to September)
We visited Dalhousie in August and while we faced some mild showers, it was not enough to derail our trip. Contrarily, it turned out to be the best decision because Dalhousie was covered with lush green trees and forests blanketed by mists and fogs.
As a bonus, the crowds were less during this time and the rates were also cheaper.
Winter (October to February)
If you love winters, you can visit Dalhousie in October and November. However, if you're someone who enjoys snowfall, you can visit Dalhousie in December and January as it snows during this time. Do note that certain destinations in and around Dalhousie may remain off bounds especially if it snows heavily.

Best restaurants in Dalhousie
One of the best things to do in Dalhousie is to try out different restaurants and cafes in and around the Mall Road area. Following are some places you can try:
Kwality Restaurant
If you're looking for a no-nonsense, value-for-money North Indian restaurant, you can blindly go to Kwality Restaurant.
They're located in Mall Road, have an extensive menu and serve both vegetarian and non-vegetarian options.
They also do takeaways and deliveries.
Hotel Iravati Chamba
You may not get this recommendation anywhere on the internet but if you're in Chamba, you must visit Hotel Iravati. It is managed by the state government and in our experience, we had the best food of the trip at this hotel.
You get authentic Chamba and 'Pahadi' food at this place which tastes delicious, is good in quantity and at a reasonable rate.
The 'Chamba ka Madra' is one dish I recommend based on my experience.
Bon Appetit Restaurant
This is the go-to place for fast food in Dalhousie and another restaurant that is located on Mall Road.
It is a small shop with a variety of snacking options like burgers, pizzas and frankies in both veg and non-veg options. The portions are good and the prices are reasonable.
Being a small place, they have a couple of benches outside the shop.
Cafe by mongas
Cafe by mongas is a quant-little cafe located 2.5 km away from Mall Road. It's known for serving high-quality continental food including pasta, desserts and pancakes.
The view from the cafe combined with the colourful interiors and good music adds to the experience.
Do not forget to try their coffee while you're here.

Best places to stay in Dalhousie
Whether you're a solo traveller, travelling with a group of friends or with family, you'll find homestays and hostels of all types in Dalhousie.
Dingle House
If you're coming with your family, I recommend staying at Dingle House.
It is an ancient British cottage with an old-world rustic charm that is ideally located in a peaceful setting with a view of the hills and clouds. Another benefit is that it is at a walkable distance from the main market.
The rooms are big and spacious for people travelling in a group.
The caretakers cook authentic food and take care of all your needs. We stayed here and overall, we found our experience to be amazing and value for money.
Zostel Dalhousie
If you're a solo traveller or a backpacker, you can check out Zostel Dalhousie.
They have dorms with clean washrooms, an in-house cafe and helpful staff.
The USP of the property is its location. It's located on the edge of a hill with a beautiful clearing in the woods. The only drawback is that it is 4.2 km away from the main market.
NotOnMap – Mystic Village
NotOnMap is a platform that connects travellers to remote villages across India for people who love to experience and live like a local.
In Dalhousie, they're available at Pukhri, which is a small village located 2.6 km from Khajjiar. Their properties, including dorms, are on top of a hill, lined one after another.
The houses are made of mud and clay and roofs are made of old slates. They offer stunning views of the Dhauladhar and Pir Panjal ranges.
You'll also enjoy the fresh food that is prepared by the local community along with their hospitality.
To reach Pukhri, you need to trek for 2 km amidst the Deodar trees and views of Khajjiar.
This place is ideal for people who love backpacking, prefer living with locals or want to connect with nature.
Smart Hill Kalatop
If you want to live at 8000 ft+ in a forest with a view of the mountain ranges, you can try Smart Hill Kalatop. Located inside the Kalatop Wildlife Sanctuary, this place is ideal for people who want to spend time with nature.
The staff is helpful and you'll also get guided hikes and treks around the property. The rooms are well-maintained and you'll get food at different restaurants here.

Frequently Asked Questions
Which is the best time to visit Dalhousie?
Dalhousie has three different seasons that are worth visiting but depending on what you're looking for, you need to decide when you want to go.
1. Summer (March to May): if you want to experience pleasant summers.
2. Monsoon (July to September): if you want to experience lush green forests covered with mists.
3. Winter (October to February): if you want to experience a colder climate and snowfall.
Which are the places to visit in Dalhousie in 1 day?
If you're in Dalhousie only for a day, you can either choose to walk around the town and explore places on foot or you can travel to nearby places with a vehicle. You can also combine them both depending on the time you have.
If you're walking around the town, you can have the following experiences:
1. Visit St. Francis Church
2. Stroll through Garam Sadak
3. Go shopping and eat at Mall Road
If you want to drive around Dalhousie, you can cover the following places in a day:
1. Khajjiar
2. Lord Shiva Statue
3. Kalatop Wildlife Sanctuary
4. Dainkund Peak
Which are the places to visit in Dalhousie in 2 days?
As Dalhousie is a small hill station, you can cover it at a weekend. Following are the places to visit in Dalhousie in 2 days (in chronological order):
1. St. Francis Church
2. Garam Sadak and Mall Road
3. Khajjiar
4. Lord Shiva Statue
5. Kalatop Wildlife Sanctuary
6. Dainkund Peak
How many days is enough for Dalhousie?
If you want to cover the main town of Dalhousie along with the neighbouring areas, I suggest you spend at least two days here. It'll ensure that you have enough time to cover all the places in and around Dalhousie.
If you have a third day, you can do a road trip to Chamba and cover other interesting destinations on the way.

Conclusion
If you need a less-commercial alternative to other tourist places in Himachal Pradesh like Manali, Shimla or Kasol and want to spend time in a hill station with a peaceful setting and a beautiful landscape, I highly suggest you explore Dalhousie.
You can visit Dalhousie almost any time of the year either as a solo traveller, with a group of friends or as a family. I assure you that your experiences will be different every time because Dalhousie has everything for every kind of traveller.
You can follow my itinerary or choose to take ideas from it at your convenience. Either way, hiring a cab is your best bet to travel in and around Dalhousie. Also, don't forget to gorge on some delicacies and go shopping at Mall Road.
I hope that you found this guide to the '10 unique places to visit in Dalhousie' valuable and wish that you have an amazing time at Dalhousie as I did.
Let me know if you have any doubts in the comments section below.