5 Stunning Places To Visit In Gokarna In 2 Days: An Epic Guide
'Let's plan a trip to Goa.'
You have either said this statement or heard someone in your group mention it.
It is probably one of the most used travel quotes in India.
And it makes complete sense because Goa is the ultimate travel destination in India when it comes to beaches, partying and adventure sports. But on the flipside, Goa has also become one of the most hyped, commercial and overrated Indian travel destinations.
And if you're anything like me, you would rather visit a place that offers all the good things that Goa offers minus the hype and crowd.
And guess what? You can experience the same not very far from Goa.
Gokarna, a small coastal town in Karnataka, is home to cleaner beaches, clearer waters and lesser crowds. Being less commercial and smaller than Goa, Gokarna is comparatively cheaper, and you can cover it in two/three days.
I visited Gokarna twice, and in this guide, I would like to tell you the 5 best places to visit in Gokarna in 2 days so that you can experience a cleaner and better beach destination.



Where is Gokarna?


Gokarna is a small temple town located in Northern Karnataka along the coast, 134 km from Goa. It is an important pilgrim centre, although, the recent rise in its popularity as a beach destination has led to an increase in the number of tourists, thereby giving it a mixed character.
The main attraction of Gokarna is its beaches that surround themselves with thick forests and cliffs.
Due to its location, you can easily combine a trip to Goa with a trip to Gokarna. Alternatively, you can also visit other nearby places like Jog Falls, Murdeshwar and Karwar.


5 places to visit in Gokarna
As Gokarna is full of beaches, you can expect to cover a few beaches when you go there. I've also added other lesser-known natural and historical attractions within one hour from Gokarna to make your trip more fun and diverse.
Given below are the 5 best places to visit in Gokarna in 2 days for a memorable and satisfying trip:
1. Om Beach
Om Beach is one of the most popular and commercial places to visit in Gokarna.
From an aerial view, the shape of this beach resembles the symbol of 'Om' and hence, its name. Two crescents join together to form the 'Om' and you can also view this scenery while doing the Gokarna Beach Trek (more on this later).
Om Beach is a sand and rock beach with clean white sands and irregular rock creations scattered over it with the company of a forest. It reminded me of the beaches in Rameshwaram that have a similar feel.
It has many restaurants and resorts nearby, Namaste cafe being the most prominent one. During the season, you can find many beach shacks on Om Beach.
The USP of Om Beach is that most of the water sports in Gokarna happen on this beach. Jet skiing, surfing, speed boating and banana boat rides are some of them. If you're lucky, you can also spot dolphins.
While you're here, don't forget to witness the amazing sunset from Om Beach.
If you want to visit Half Moon Beach or Full Moon Beach (Paradise Beach), you can take a boat from here. Om Beach is also one of the starting points for your Gokarna Beach Trek (more on this later).
From the parking area, you need to trek for 500 metres through stairs to reach Om Beach.
2. Kudle Beach
Located between Gokarna Beach and Om Beach is Kudle Beach, a wide beach that curves in a C-shape.
Unlike Om Beach, Kudle Beach is one of the more peaceful and relaxed places to visit in Gokarna for people who want to walk along the shore, practice yoga or watch the sunset. And hence, you'll find many solo travellers and backpackers on this beach compared to other beaches.
During the peak months from October to March, this beach becomes more active, especially with foreigners. You'll also find temporary and makeshift shacks and huts here at this time offering food and accommodation.
The sea is calm and the waters are shallow enough for you to take a dip. There are some water sports as well like kayaking and boating.
Like Om Beach, the sunset from Kudle Beach is one of the best you'll see in Gokarna.
3. Gokarna Beach Trek (Half Moon and Paradise Beach)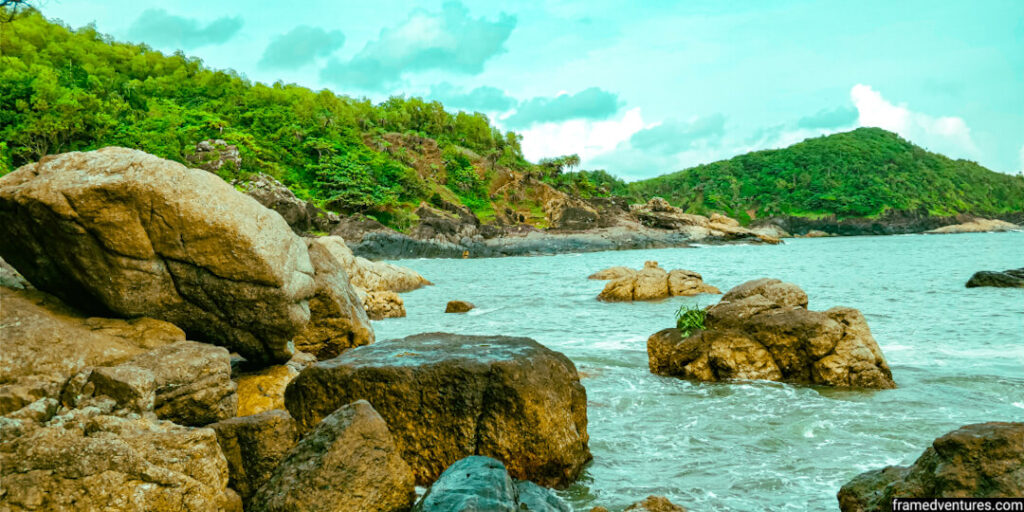 There are only two ways to reach Half Moon Beach and Paradise Beach – hiking or taking a boat from Om Beach. There are no roads to these beaches.
But instead of taking a boat, I recommend you hike to both these beaches because it is one of the most unique beach treks in India, and it offers a different experience from what you usually get on other beaches.
This trek takes you through lush green jungles, huge rocks and boulders and offers different aerial viewpoints, including the Om Beach viewpoint. You can also spot dolphins at the Half Moon Beach.
The Gokarna Beach is a 20 km long trek and it takes 8-9 hours (to and fro) through the following beaches (in order):
1. Gokarna Beach (optional)
2. Kudle Beach
3. Om Beach
4. Half Moon Beach
5. Full Moon Beach
6. Belekan Beach (optional)
Note: You can also start from Gokarna Beach and end at Belekan Beach but, it increases the trekking time.
Also, note that I choose the route from Kudle Beach to Full Moon Beach and back as I wasn't aware of any other option.
The more popular option, however, is to take an auto to Belekan Beach, start your trek from there and trek till Om Beach/Kudle Beach.
Yet another option is to take a ferry from Om Beach to Paradise Beach and start your trek from there.
Both these options halve your trekking distance and time taken for the hike. Another advantage is that you can watch the sunset from Om Beach/Kudle Beach in the evening if you start your trek from Belekan Beach/Paradise Beach on time.
You can follow the path of the Gokarna Beach Trek via Google Maps. There are also markings and graffiti on the route to help you out.
The Gokarna Beach Trek is an easy trek but you should have some basic fitness. Also, apply sunscreen, stay hydrated and carry snacks to replenish your energy.
Half Moon Beach is separated from Om Beach by a cliff from where you can get amazing views of the Arabian Sea. You'll also find some beach shacks on Half Moon Beach during peak season.
The Full Moon Beach (Paradise Beach) is 20 minutes further from Half Moon Beach. This beach is made of rocks and forests with a small area covered with white sand. It is among the remotest places to visit in Gokarna apart from Belekan Beach.
Some offbeat travellers including foreigners prefer to lie on hammocks, camp and spend a night at Full Moon Beach for the privacy and stargazing it offers.
Note: If you're hiking from Kudle Beach/Om Beach to Paradise Beach, ensure you leave Paradise Beach in time so that you reach Kudle Beach by sunset.
4. Yana Caves

Located around 50 kilometres from Gokarna, Yana is a small village and a hill station located in the Sahyadri mountain range of the Western Ghats.
It is one of the wettest villages in the world and the cleanest village in Karnataka.
It is also one of the most unique places to visit in Gokarna due to its two massive irregular rock/cave formations that you must visit if you love architecture. They're made of black limestone and the cave is on top of a hill surrounded by evergreen forests and water streams.
Apart from exploring the caves, another highlight of travelling to Yana is the ride from Gokarna to Yana Caves. This road trip takes you through some remote villages and thick forests as you feel the air becoming cooler and the landscape becoming greener.
The roads are also well-maintained apart from the last approach road to Yana Caves where there is no proper tar. As such, if you're taking a scooty/bike, be careful on this stretch.
From the parking lot, you need to walk for 1-2 km to reach Yana Caves. While you do so, you'll be hearing the sounds of water streams and entering a thick forest.
You must carry enough water and snacks since there is only one shop nearby. Also, be careful of the monkeys here.
The journey to Yana Caves takes an hour and you can spend a couple of hours at least exploring the caves.
5. Mirjan Fort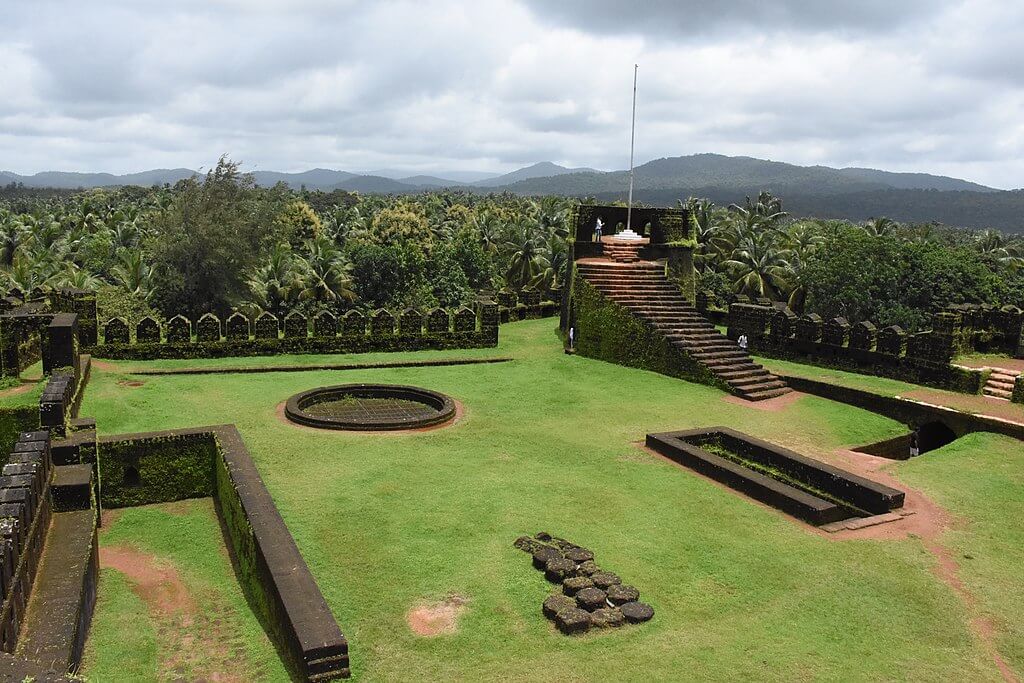 If you're into history and architecture, you must visit Mirjan Fort, 21 km from Gokarna.
Spread over ten acres, Mirjan Fort is a 16th-century fort built during the reign of Queen Chennabharadevi, who was known as the pepper queen of India. It is believed that she controlled the pepper business through this fort.
Known for its architectural beauty, the fort is double-walled, has four entrances and is built using laterite stones. Inside the fort, you can find deep wells, watchtowers, tunnels, secret doors, kitchens, assembly halls and prayer halls.
To add to its beauty, the Mirjan Fort is flanked by the Agnanishi River and surrounds itself with coconut trees, paddy fields and the hills of the Western Ghats in the background. You can easily get a bird's eye view of the surrounding areas from the watchtower.
For a fort that has seen plenty of battles and was built during the 16th century, it has stood the test of time and is well-preserved today by the ASI (Archaeological Survey of India).
The best time to visit Mirjan Fort is after the monsoon season when the temperatures are less and the surrounding areas liven up with greenery.


How to reach Gokarna?
Flight
The nearest airport to Gokarna is the Dabolim airport (Goa International Airport), 140 km away followed by Mangalore which is 230 km away.
Train
Gokarna Road railway station is the nearest station from Gokarna, 10 km away. It is well-connected to major nearby cities like Bangalore, Mangalore, Mumbai and Goa.
For other cities like Hyderabad, Kochi and Chennai, there are no direct trains. So it's always best to start your journey from one of the aforementioned cities.
Bus
You can easily get buses from Mangalore and Bangalore to Gokarna via the government buses from Karnataka (KSRTC). You can also get government buses from Goa to Gokarna. There are buses available from Mumbai as well but it's preferable to take a flight or a train from there because the journey is long.
Self-driving
Alternatively, if you're coming as a group, you can travel to Gokarna by hiring a self-driving car from Zoomcar and starting your trip from either Mangalore or Bangalore. The trip from Mangalore takes four hours while the trip from Bangalore takes eight hours.
The roads from either of these starting points are amazing and you'll also enjoy the diverse sceneries en route, especially when you drive along the coastal belt of Karnataka.


How to travel within Gokarna?
The best way to travel within Gokarna is to rent a scooty from one of the bike rental shops in the town. If you're staying in a hostel, you can easily get their contact numbers as the hostels have tie-ups with the bike rentals in Gokarna.
To make it easier for you, I suggest you hire your scooty with Wicked Ride. I hired them while I stayed in Zostel and I had no qualms with the quality of their scooty and their pricing.
Note: Always ask for a helmet and take your scooty for a test ride before picking one.


Best time to visit Gokarna
The weather in Gokarna from October to March is pleasant and hence, it's the best time to visit this beach town. The months of summer are very hot and hence, you may not enjoy roaming around on the beaches as much.
You can also visit Gokarna during the monsoon season because it is cheaper during this time, however, do note that doing the beach trek will be a task.


Best restaurants in Gokarna
One of the best things to do in Gokarna apart from exploring all the places is to try out the variety of food you'll get at different places. There are cafes and restaurants of all types. Following are some great cafes/restaurants I can recommend if you're a foodie:
1. Mantra Cafe
Mantra Cafe is an in-house cafe from Zostel Gokarna that provide North Indian/South Indian and Continental cuisine apart from beers and cocktails.
They're known for their good food at comparatively cheaper rates, natural settings and the view of Gokarna Beach from the top.
2. Namaste Cafe
Namaste Cafe is the most popular cafe on Om Beach and one of the oldest cafes in Gokarna. It is a great place to chill and relax if you want to watch the beach shore while having food.
They have an extensive menu that covers both vegetarian and non-vegetarian food. Their cuisine is mainly North Indian/Chinese/Continental.
3. Chez Christophe
If you're into European/French cuisine, you must try Chez Christophe. Located on the Middle Beach (near Gokarna Beach), it is a fine dining restaurant known for its fresh sandwiches, pasta, and desserts apart from seafood.
Although the food is pricey, you won't be disappointed by its quality because it is owned by a French guy. To add to that, you can enjoy the sea view as it is located on the beach.
4. Prema Hilltop Restaurant
The Prema Hilltop Restaurant is a no-nonsense vegetarian North/South Indian restaurant located on the hill between the Gokarna Main Beach and Kudle Beach. They're known for their masala dosas, puri sabzis, kombucha, coconut ice cream and juices.
Their rates are also reasonable and you can come here for breakfast to gorge on their delicacies.


Best places to stay in Gokarna
1. Zostel Gokarna
One of the best hostels in Gokarna is Zostel Gokarna which is located on the hill that connects Gokarna Main Beach to Kudle Beach. As it's on the top of a cliff, you get amazing views of the Gokarna Main Beach and the Arabian Sea.
The dorm rooms are clean, they have their cafe (Mantra Cafe) and they conduct live events and group tours every week.
2. Trippr Gokarna Beach Hostel
If you need an exclusive beach to yourself, you can opt for the Trippr Gokarna Beach Hostel. Located in Middle Beach, Trippr Gokarna Beach Hostel is the most peaceful hostel out of the lot and runs on renewable energy.
They're pet friendly, organize bonfires and can also pitch tents/camps for you on the beach apart from their standard dorm rooms. They also have their restaurant and they organize gigs and events frequently.
3. HosteLife Gokarna
HosteLife Gokarna is located a few metres away from Zostel Gokarna, but unlike the former, it is on a top of a flat hill that is sea facing.
Apart from dorms, they provide tent stays, an in-house cafe and air conditioning throughout the day. Unlike Zostel and Trippr, their rooms are mostly available for booking.


Frequently Asked Questions
How can I spend 2 days in Gokarna?
The following are the places to visit in Gokarna in 2 days:
1. Om Beach
2. Kudle Beach
3. Gokarna Beach Trek (Half Moon Beach and Paradise Beach)
4. Yana Caves
5. Mirjan Fort
If you have more time on your hands, you can try the water sports at Om Beach/Kudle Beach, shop at the flea market in Gokarna and go cafe-hopping.
Is Gokarna worth visiting?
Gokarna is worth visiting if you're looking for an alternative to Goa that is cheaper and less commercialised. It is also an ideal destination if you prefer to explore a beach town in one weekend because Gokarna is a small town.
If you're from Bangalore or Mangalore, you can easily plan a day/overnight trip to Gokarna for the weekend.
Why is Gokarna famous?
Gokarna is a famous temple town that is known for the Mahabaleshwar Temple, a 4th century Hindu temple and many other temples that are present there.
Apart from temples, Gokarna is also famous for its clean beaches, clear waters and cheaper food and accommodation as compared to Goa. Due to this reason, Gokarna has been touted as a favoured destination for solo travellers and backpackers over Goa.
Which are the places to visit in Gokarna in 3 days?
You can cover the following places in Gokarna in 2 days:
1. Om Beach
2. Kudle Beach
3. Gokarna Beach Trek (Half Moon Beach and Paradise Beach)
4. Yana Caves
5. Mirjan Fort
Apart from these, you can also cover the following destinations which are within 200 km of Gokarna (if you want to explore another day in Gokarna):
1. Jog Falls
2. Murdeshwar
3. Sathodi Falls
4. Dandeli
5. Udupi
Which is the best time to visit Gokarna?
The best time to visit Gokarna is from October to March. You should avoid the summers because the temperature is hot and only mornings/evenings are ideal at this time.
You can also visit Gokarna during the monsoon season to enjoy lesser crowds and cheaper costs, however, do note that if you do the Gokarna Beach Trek, you might face slippery terrains.

Conclusion
Gokarna is one of the most underrated beach destinations in India that has everything you need to unwind and relax much like Rameshwaram. Clean beaches, lesser crowds and cheaper food and accommodation make it a better alternative to Goa.
If you want even lesser crowds and cheaper rates, you can visit Gokarna during the monsoon season. Alternatively, you can also visit Gokarna from October to March when the weather is better.
You can easily cover Gokarna in a weekend by renting a scooty from one of the bike rental shops in the town. While you can stay in resorts, go for a hostel because you'll meet like-minded people and experience the ambience that Gokarna is known for.
Cafe hopping, indulging in adventure sports and shopping in the flea market are some of the other things to do in Gokarna if you have more time. Apart from that, I've given you a list of all the essential places to visit in Gokarna so that you take back amazing memories and even come back again for more!
With that said, I hope you found this guide useful. Let me know if you have any questions in the comments below.