Gandikota Canyon: The Ultimate Guide to India's Grand Canyon
The Grand Canyon in the USA is one of the top attractions in the world that attracts thousands of tourists every year. But did you know India has its Grand Canyon with an intriguing history and geography?
Known as the Grand Canyon of India, the Gandikota Canyon is a gorge carved by the Penna River in Andhra Pradesh. A gorge is a valley formed by the erosion of rocks due to the river flowing through the rocks over centuries, eventually cutting it and creating a path of its own.
This continuous water flow is why Gandikota has unique boulder formations, deep valleys and a landscape that looks like it's from outer space.
I visited the Gandikota Canyon along with my friends as we drove from Bangalore. We also visited Belum Caves, the second-longest cave in India which looks similar to the Antelope Canyons in Arizona, USA.
In this guide, I would like to tell you about my overall experience of visiting the Gandikota Canyon (and Belum Caves) and share my itinerary with you so that you can plan your trip effectively.



Where is Gandikota?


Gandikota is a small village in the Kadapa district of Andhra Pradesh. The closest major city to Gandikota is Bangalore, at 280 km.
Historically, Gandikota was also the centre of power for many dynasties. It is why you'll also see attractions like a couple of ancient temples, a mosque and a 12th-century fort that sits atop the hills.
There are plenty of other structures in ruins here, reminding you of Hampi in Karnataka.
We also visited Belum caves, 60 km away from Gandikota. Much like Borra Caves in Araku Valley, Belum Caves is also known for its stalactite and stalagmite formations and was formed by the constant flow of underground water from a river for over a thousand years.


How to book your stay at Gandikota?
One of the best things to do in Gandikota is to camp at the Gandikota cliff. This activity has become so popular that now you'll see many private tour operators offering Gandikota camping packages.
Alternatively, you can also book your stay at Haritha Resort, a state-run resort which is the only proper accommodation you'll find in Gandikota.
Let me tell you about both these stay options in detail.
1. Go for a camping package with a tour operator
This option is ideal for solo travellers, a group of friends or even a couple.
Typically, the itinerary for every Gandikota camping experience lasts for two days and one night and includes food, accommodation and transportation in the package.
Your accommodation will be at a campsite on the Gandikota cliff with a view of the gorge. At night, you'll also be having a bonfire.
Some tour operators begin their journey from Bangalore, while others expect you to reach Gandikota on your own.
The following are some activities covered in the Gandikota camping package (varies from tour operator):
Rock climbing
Trek to Gandikota waterfalls
Visiting Gandikota Fort
Visiting Belum Caves
Kayaking
Thrillophilia and Freakouts are two tour operators you can check out for camping at Gandikota as they have good ratings and reviews. You can also check out other tour operators online at your convenience.
Note: Every tour operator doesn't cover a visit to Belum Caves, which is one of the best places to visit near Gandikota. So keep this in mind while planning your trip.
Alternatively, there are some locals in Gandikota village who provide camping at the Gandikota cliff along with food. You can choose this option if you want to follow your own itinerary.
2. Book your stay at Haritha Resort, Gandikota
The second way to explore the Gandikota Canyon is to drive down from Bangalore, stay near Gandikota at a resort and drive to Belum caves. It is what we did as it gave us better flexibility in deciding our itinerary.
For our accommodation, we booked our stay at Haritha Resort, the only resort near Gandikota Canyon (1.2 km away). They provide AC rooms, dorms and even camping tents. You can visit the APTDC website for more details or you can call them to know more about the availability.
The drive from Bangalore to Gandikota is another reason you'll enjoy this DIY trip. The entire journey is on a well-maintained highway, and you'll enjoy the landscapes that keep changing regularly.
In the next section, I'll be talking extensively about this experience so that you can plan your itinerary for Gandikota Canyon (and Belum Caves) from Bangalore and enjoy your trip.


Exploring Gandikota Canyon (and Belum Caves): A DIY itinerary
Before heading off to Gandikota, you must pre-book your hotel/camp at Gandikota. It ensures that you don't have to scramble for accommodation at the last moment.
We booked our camp stay at Haritha Resort for two days and one night. You can also opt for their dorms and AC rooms.
We also rented a car from Zoomcar for our trip. It is a convenient and affordable option to have when you're in a group of 3-4 people.
P.S. You can also hire a bike if you're a solo traveller or a group of two.
I won't recommend travelling to Gandikota by public transport because the journey is long and you'll want to stop in between to explore the landscapes. Alternatively, you can also book a cab from Bangalore but keep in mind that it will be expensive.
In summary, plan your stay and your mode of transport to have the smoothest trip to Gandikota.
With that said, let's get our trip started.


Day 1
After getting ready, we collected our rented car from one of the Zoomcar parking spots in Bangalore. Thereafter, we had breakfast at one of the cafes in Bangalore and by 10 am, we started our journey.
You'll find traffic in Bangalore while leaving for Gandikota. But once you reach the outskirts of Bangalore, driving becomes a breeze because you'll be passing through the NH 44 highway for most of your trip.
I have taken various road trips across different parts of India, but from my experience, the NH 44 highway remains one of my personal favourites. The NH 44 highway is the longest in India, and it stretches from Jammu and Kashmir to Kanyakumari.
The roads are broad on both sides, there are signboards at regular intervals, and most importantly, you can find several dhabas/restaurants on the roadside throughout your journey.
We stopped for lunch at one of these restaurants and took regular breaks in between to re-energise ourselves. 
After crossing the Andhra Pradesh border, the landscape changes. You'll pass through acres of barren land, rural villages and encounter deserted areas. These sights make the trip more memorable.
We reached Haritha Resort around 8-9 pm as we had faced some issues with our Zoomcar in the afternoon, but usually, the entire drive from Bangalore to Gandikota takes 7-8 hours, depending on your speed.
Note: We had to break in the afternoon as we faced an issue with our Zoomcar. We waited two hours before Zoomcar replaced our car. It is a reminder that you should always ensure your car is in optimal condition before planning a long trip.
Our camp was on the ground in front of Haritha resort. This tent could accommodate four people.
Apart from the campsite, there are dorms and rooms in the resort. There is also a canteen from where you can order food and a place to have your food.
The resort is on ten acres of land, and hence, there is plenty of space inside the resort. There is greenery around the resort, and being the only resort in Gandikota, it is in an isolated location.
Overall, you'll enjoy the ambience that this resort offers. The only drawback is that as it is a government resort, it is not always well-maintained. As we stayed only for a night, we didn't face any difficulty.
After a tiring journey, we took a bath and retired for the night. As we had dinner on the way, we skipped dinner at the resort.


Day 2
We woke up by 6 am, freshened up and had breakfast. For breakfast, you'll get traditional South Indian food like idli, dosa, etc.
By 9 am, we checked out from Haritha Resort as we planned to go straight to Belum Caves after visiting Gandikota.
Gandikota is our first destination, and it was 1.2 km from Haritha Resort. We parked our car outside the Gandikota fort and started walking.
As you enter the fort, you'll see ruins and architecture of various kinds like a granary, a step-well and a jail. The fort is spread across a vast area, and you might get lost if you explore it.
To make it easier for you, I've listed down the 5 essential places to visit in Gandikota:
1. Jamia Masjid
Jamia Masjid is one of the main attractions inside the Gandikota fort.
It is a mosque with a multi-arched entrance on the outside and the main prayer hall inside it. The main prayer hall resembles the Charminar mosque in Hyderabad.
It is made entirely of red sandstone and has Islamic architecture.
It is adjacent to the Raghunathaswamy Temple, built years before this mosque.
2. Raghunathaswamy Temple
Made of red granite, the Raghunathaswamy temple is a complex system of pillars, halls and corridors that doesn't have any idols of Gods. It looks similar to the temples you see in Hampi.
3. Madhavaraya Temple
This temple was built during the reign of Sri Krishnadevaraya of the Vijayanagara Kingdom and dedicates itself to Lord Vishnu.
The temple has sculptures of Hindu Gods and everyday rituals of people carved on its walls.
The temple has five floors, and you can see the tower from anywhere in Gandikota. We were able to see it from our resort as well.
4. Gandikota Canyon/Fort Viewpoint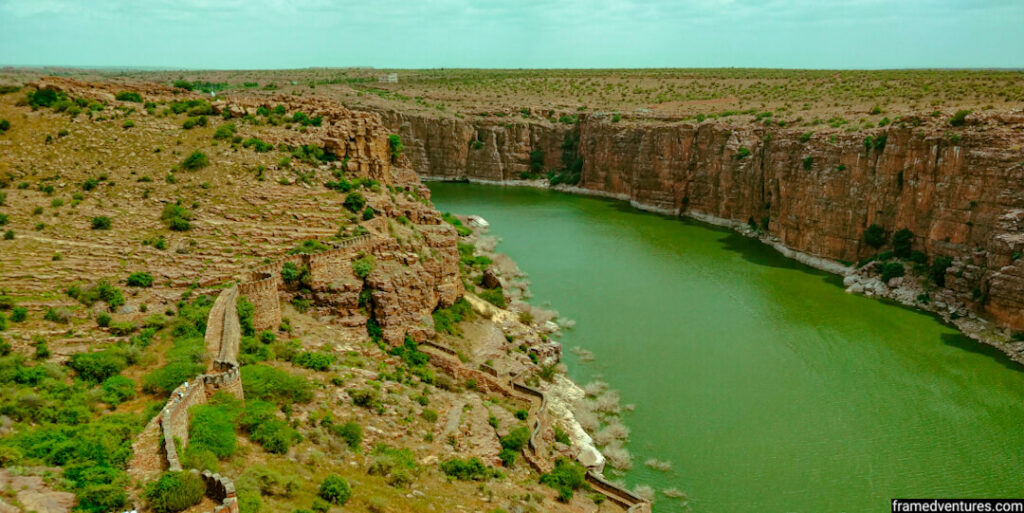 The main attraction/USP of Gandikota is the view of the Penna River gorge a.k.a. the Gandikota Canyon from the Gandikota cliff.
You have to climb several rocks and boulders to reach the top. Once you reach the cliff, you'll be amazed by the surreal landscape that you'll see in front of you.
The Penna River gorge is 300 ft deep from the cliff. The river flows through the gorge flanked by hills made of rocks and boulders that appear as if someone assembled them manually.
On the opposite side, you'll also notice the boundary of the Gandikota fort, which stretches along the banks of the Penna River gorge. You won't realise how big the fort is until you view it from the top.
The best time to visit these viewpoints and Gandikota, in general, is during sunrise or sunset when the temperature is cooler, and the colours in the sky are more vibrant.
5. Gandikota Waterfalls
Gandikota has a hidden waterfall that is unknown to many people.
From the cliff, you've to descend for 2 km via boulders and rocks till you reach the waterfalls. You'll find white-painted spots from the camping area at the cliff guiding you to the waterfall.
There's a small pond and a waterfall with clean waters where you can soak yourself as it's not very deep. You can also get your pedicure done for free by the fish in the pond.
It is a great way to end your trip at Gandikota as you'll feel fresher and ready to go to the next destination, i.e. Belum Caves.
Belum Caves

After exploring Gandikota, we continued our journey to Belum Caves, the second-longest cave in India. The distance from Gandikota to Belum Caves is 60 km, and it can take up to two hours by road.
Once we reached Belum Caves, we had lunch at the restaurant there. You'll get different kinds of rice varieties and some snacks here.
To visit Belum Caves, you need to purchase a ticket from the ticket counter. You can also hire a guide to help you understand the various structures inside the caves.
To enter the caves, you have to descend the stairs inside a well-like entrance and from there, you'll be exploring a different world underground.
You'll find irregular stalactite and stalagmite formations, spacious rock chambers and freshwater galleries inside the cave. The colourful lighting installed in the cave adds to the ambience and is similar to what you see in the Borra Caves of Araku Valley.
The overall look and feel of the cave will remind you of the Antelope Canyons in Arizona, USA.
Due to the irregular and weird rock formations, you'll have to bend and crouch at certain places. Oxygen is less inside the cave and will get hot as you go deeper, but thankfully, it is well-ventilated.
It can take 1-2 hours to cover the entire cave. Only 1.25 km of the cave area is open to the public.
After exploring the cave, we made our way back to Bangalore as we reminisced about all the sights we witnessed at the Gandikota Canyon and Belum Caves.


Some essential tips for exploring Gandikota
Following are some tips that you may find essential while visiting the Gandikota Canyon and Belum Caves:
Wear proper shoes that have a good grip on the rocks.
Wear light, cotton clothes and shorts because the weather in Gandikota and Belum Caves remains hot throughout the year.
Carry a towel and swimwear if you plan to visit Gandikota waterfalls.
Carry a filled water bottle with you when visiting Gandikota/Belum Caves.
Try to reach Gandikota before sunset (on Day 1) because the surrounding area is completely isolated.
Keep low expectations if you stay at Haritha Resort as it is not well-maintained.
If you plan to stay at Haritha Resort, book your stay in advance as it is the only resort in Gandikota.
Always wear a hat outdoors to protect your head from the heat.
Carry a power bank as a backup for your phone.
You will not find shops in Gandikota, and hence, it's always preferable to carry some snacks.


How to reach Gandikota?
I highly recommend starting your journey from Bangalore by renting a car (via Zoomcar or other sources) and driving down to Gandikota.
It is the most convenient and fulfilling way to explore Gandikota because the drive from Bangalore to Gandikota is equally as good as the destinations you'll be visiting.
If not, you always have the following options:
Flight
The nearest airport to Gandikota is Tirupati, followed by Bangalore airport. Tirupati airport is 222 km from Gandikota, whereas Bangalore airport is 257 km away. 
Depending on where you're coming from, you may get lesser flights to Tirupati compared to Bangalore, so keep this in mind.
Train
The nearest railway station to Gandikota is at Jammalamadugu, at a distance of 18 km from Gandikota. At Jammalamadagu, you'll get trains from major cities like Bangalore, Hyderabad and Chennai.
However, the caveat is that you need to change two trains if you're coming from these places as there are no direct trains to Jammalamadugu. Only Vijayawada has direct connectivity with Jammalamadugu.
From Jammalamadugu, you can hire autos or take a bus to Gandikota.
Bus
If you're coming from within Andhra Pradesh/Telangana, you can get buses to Jammalamadagu. You can book these tickets online at the APSRTC website.
Alternatively, if you're coming from Karnataka, you can book your bus ticket to Kadapa (86 km from Gandikota) from the KSRTC website.
From Jammalamadagu and Kadapa, you can hire autos or take a bus to Gandikota.


Where to stay in Gandikota?
There is only one resort in Gandikota, i.e. the Haritha Resort run by APTDC. Hence, if you plan to visit Gandikota, ensure that you pre-book your stay at Haritha Resort.
Alternatively, you can book your stay at Gandikota with one of the private tour operators like Thrillophilia and Freakouts, which provide a complete Gandikota camping package that takes care of your food, accommodation and itinerary.

If you want to follow your own itinerary but want to camp at the Gandikota cliff, you can book your tent stay and food with the locals in Gandikota that provide the same on the hilltop.


Weather in Gandikota
The weather in Gandikota is hot in general because Gandikota and Belum caves are in Kadapa, which is a dry area and remains hot and humid throughout the year.
Hence, avoid Gandikota during the summer months at any cost. The months from September-February are ideal for visiting Gandikota as the temperature is comparatively lower.


Frequently Asked Questions
Is camping allowed in Gandikota?
Yes, camping is allowed in Gandikota. But it's always preferable that you know the local language, in case, you have to negotiate with the guard. Keep in mind that there are no fixed toilets in Gandikota and you also have to arrange everything on your own.
Hence, it's always best you sign up with tour operators like Thrillophilia and Freakouts, who provide Gandikota camping packages that take care of your food, accommodation and itinerary.
As an alternative, you can also book your camp stay at Haritha Resort, 1.2 km away from the Gandikota Canyon.
Is there trekking in Gandikota?
You'll be trekking in Gandikota to cover all the places inside the Gandikota fort. It is because they're scattered all over the fort. However, the important places are concentrated in one location. 
As an example, to reach the Gandikota Gorge Viewpoint from the entrance of the Gandikota fort, you've to cover 1 km on foot. Similarly, if you plan to take a dip in the Gandikota Waterfalls, you need to trek 1 km further down from the Gandikota Gorge Viewpoint.
How is the road from Bangalore to Gandikota?
The road from Bangalore to Gandikota follows the NH44 highway, the longest highway in the country. 
As per my experience, it is also one of the best highways in India as the roads are broad, there are adequate signboards to guide you, and you'll also find roadside restaurants/dhabas at regular intervals.
The landscape also changes as you travel from Bangalore to Gandikota as you observe windmills on the side, pass through villages and encounter acres of dry land. It adds to the experience of visiting Gandikota.
What is the best time to visit Gandikota?
The weather in Gandikota and Belum Caves is dry and hot throughout the year. During summer, it becomes impossible to visit both these destinations in the scorching heat.
Hence, the months of September-February are the best time to visit these places as the temperatures are relatively lower. However, do note that the weather will still be hot and dry.

Conclusion
The Gandikota Canyon (and Belum Caves) remain one of my most memorable travel destinations in India due to their weird natural formations and the history they bring with them. They remind me of Hampi in Karnataka, another architectural marvel that remains off the tourist radar.
If you're from Bangalore, you can easily plan a 2-day trip over the weekend by renting a car (e.g. Zoomcar) and covering Gandikota and Belum Caves. Like these destinations, you'll also enjoy the road trip from Bangalore to Gandikota.
If you're from another state, it's always preferable to come to Bangalore and start your trip there.
Alternatively, you can sign up with the tour operators that provide Gandikota camping packages which take care of everything. They may also include additional activities like kayaking, rock climbing and rappelling.
Either way, I'm sure you'll enjoy exploring both Gandikota and Belum Caves, marvelling at the weird structures and formations and understanding the history behind them.
With that said, I hope you found this Gandikota Canyon guide helpful, and I wish it helps you plan your trip effectively. Let me know in the comments if you have any doubts.